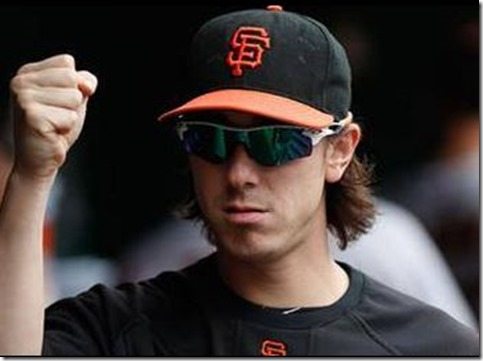 "The Freak" "The Franchise" known for his overpowering fastball and his classic vertical breaker curve, Tim Lincecome is definitely a fan favorite.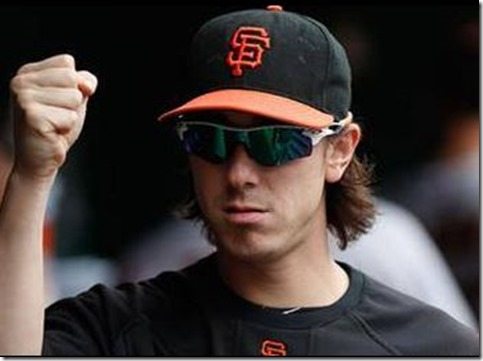 The SF Giants pitcher is a 2x CY Young, 4x MLB All-Star, and 2010 AND 2012 World Series Champion and the 2010 Babe Ruth Award winner (Postseason MVP).
The 30-year-old retired all five batters he faced, including two by strikeout, in his first game action since Sept. 28; but after a pitch to Alex Gordon, "Big Time Timmy Jim" felt uncomfortable to say the least!
We thought, is someone taking care of him? Any special girls around to give the man some support?
Apparently not! He hasn't been in high profile relationships either. In the past he was said to be dating a girl named Ruth with whom he allegedly was with for years, including during San Francisco's title season in 2010.
In 2012 The Giants were once again in the World Series, he was seen and pictured several times with a cute, blonde girl who was nicknamed "kart-girl." At the time he wasn't having the best of times on the field, so we forgive him for his poor taste in choosing his women, his head wasn't clearly in the right place.
Now a days, the 30-year-old pitcher –who still looks like a teen –is ready for game 3! Even thought he left game 2 feeling lower back tightness, he is said to be ready if needed according to a report.
An MRI on Thursday showed no structural damage in his back, so he has nothing to worry about. This new sign of relief should also help him concentrate on his personal life, don't you think? And if he is already dating, his girl should be very happy to hear her man is good to go!
Find him on Twitter here.