Toni McAdoo
Toni McAdoo is the loving, caring and supportive wife of NFL coach Ben McAdoo. Her husband currently serves as the head coach for the Chicago Giants. Keep reading to know Toni McAdoo's biography.
Toni McAdoo's beloved husband was born Benjamin Lee McAdoo, on July 9, 1977 in homer City, Pennsylvania. Her man went on to graduate from Indiana University of Pennsylvania, earning a degree in health and physical education. He also holds a master's degree in kinesiology from Michigan State University.
Ben first arrived at the Giants in 2014 and worked for the past two seasons as the teams offensive coordinator before being promoted to head coach this January.
Toni's hubby first began his coaching career as an assistant coach for his alma mater, Homer-Center. From 1998 to 1999, he was hired by Indiana Area High School.
Following his college graduation, he became a graduate assistant for the Michigan State Spartans football team. In 2001 he was named offensive line and tight ends coach at Fairfield University –earning his first collegiate coaching position.
After coaching in college, Toni's man got his first stint in the NFL with the New Orleans Saints in 2004, as an offensive quality control assistant.
He spent five years coaching the tight ends for the Green Bay Packers and then the quarterbacks from 2012 until 2013. He helped the Packers win the 2010 Super Bowl.
In January 2016, he became the 18th head coach in Giants' history, his first time as a head coach.
When speaking about his wife, Toni McAdoo, Ben said during an interview:
She has the identity of our football team — she's sound, smart and tough, committed to discipline and poise. She's everything you want. She's a perfect complement to myself.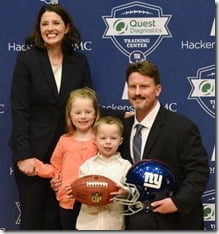 Toni and her hubby know each other since they were teenagers. They met while attending Homer-Center Junior/Senior High School. The two began dating when Ben was a senior in high school.
Toni's father was actually Ben's peewee football coach.
Toni McAdoo has certainly been there for Ben way before he became a successful figure in the NFL or at any level for that matter.
Toni McAdoo is the mother of the couple's two young children. They first welcomed daughter, Larkin who's seven-years-old. Toni gave birth to second child, son BJ in 2013.