Samiya Edwards
Samiya Edwards is the lovely wife of TV host and sports personality, Anthony Joseph Paul best known as Tony Reali.
Samiya's hubby is most likely recognized for his hosting gig at ESPN's 'Around the Horn.' Born July 4, 1978; the NJ native also has played the role of "Stat Boy" on ESPN's Pardon the Interruption.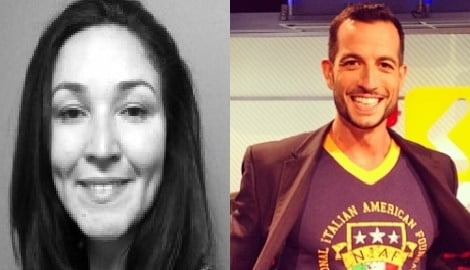 He began his career as a sportscaster while attending college at Fordham University for WFUV from 1997 until 2000. He received a Bachelor of Arts degree in both Communication and History from Fordham.
Reali joined ESPN in July 2000, writing and researching trivia questions for the quiz show Two Minute Drill.  In October 2001, he was hired as researcher on Pardon The Interruption.
It was in 2004 that he landed the full-time job as host of Around the Horn, where he engages the national panel in lively discussion and debate of the day's leading sports stories.  Other work has also included lending his voice to the character of The Dark One on the animated television series Kick Buttowski: Suburban Daredevil, in 2012.

But when he is not armed with mute buttons and joysticks, Reali is the happily married husband of Samiya Edwards.
The two have been married since 2007 and recently became parents for the second time. Samiya and Reali are the proud parent of one young daughter, Francesca Zahra Reali, born in 2014. The couple also welcomed twin boys recently, Enzo and Amadeo. However, Tony revealed in an emotional Instagram post that only one of the babies survived.
Samiya Edwards is a financial analyst who is a Partner at Libera Partners. According to her LinkedIn, she is listed at the firm's Vice President a job she's held since 2012. Previous jobs includes working at Development Bank of Japan where she served as a policy analyst; from 2004-2007 she worked at Good Governance Group as their Senior Analyst; she was also a summer associate for Emerging Capital Partners and most recently a Public and Global Policy at Facebook, Inc.
Samiya Edwards who goes by Sam holds a Masters in International Economics and International Development from the Johns Hopkins School of Advanced International Studies. The wife and mother is a graduate from the University of Maryland –where she obtained a BA, Journalism and Japanese; and lastly she holds a Certificate, Japanese from Stanford University.
As an interesting fact, just days after Tony popped the question to then girlfriend Samiya –his apartment caught fire. Luckily, no one was injured. Samiya Edwards doesn't seem to be the social media type and she's not even featured on her hubby's Instagram.