Meet Nina Weiss
Nina Weiss is the lovely wife of the number one goalkeeper on Germany's national team and one of the best goalkeepers in the world, Manuel Neuer; who is, in addition, the goalkeeper for Bayern Munich.
Born March 27, 1986, in Gelsenkirchen-Germany, Manuel began his 14-year youth career with Schalke 04 in 1991, where he remained until 2011.
His dream to play on a professional level for the team he loves finally came true on August 19, 2006, against Aachen; because his competitor Frank Rost was down with an injury.
Due to differences between Rost and the coach, Mirko Slomka, Rost left Schalke 04, and Manuel Neuer became the new number one goalkeeper.
Neuer then signed a 5-year contract with Bayern Munich. Neither fans of Schalke nor fans of Bayern could understand this transfer as their teams are great rivals. He joined Bayern Munich for the 2011/12 season for a $25 million fee.
Neuer also launched The Manuel Neuer Kids Foundation; which aims to enable unprivileged children and adolescents age-appropriate development and to accompany adolescents on their way to their future careers.
Mrs. Neuer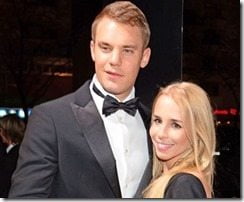 Neuer dated Kathrin Gilch for a number of years but the couple split up in 2014. After his split from Kathrin Gilch, he found according to media reports early 2015 a new love, with Nina Weiss.
The lovebirds were spotted at last year's Oktoberfest, but it was at the Opera Gala Deutsche AIDS-Stiftung in Berlin; that the keeper presented his new love officially. But the pair did not give interviews. Instead, Manuel and Nina's hands holding mixed into the crowd.
Nina Weiss is the daughter of Alfred Weiss; who was able to take a look at his son-in-law as Weiss was the initiator of the opera gala.
According to Alfred Weiss, when Nina and Neuer met, she didn't know who he was. When asked about the couple possibly getting married and having kids, Weiss said with a laugh, "Nina should first study done before thinking about marriage".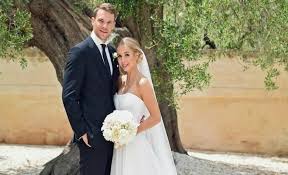 Nina and Manuel exchanged their vows first in a civil ceremony on May 21, 2017, in Tannheim, Austria, and on June 10, their religious wedding in the Cathedral of Santissima della Madia in Monopoli, Italy.