Treska Groves
Treska Groves Is the wife of former defensive end player Quentin Groves.  He played with the Jacksonville Jaguars,  the Raiders, Browns, Cardinals, Texans and the Buffalo Bills.
Quentin played college football at Auburn prior to the NFL. He was 32, when  he died of a heart attack on October 15, 2016.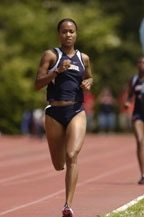 Quentin Groves' wife 34-year-old Treska J.(nee. Baptiste) originally from Trinidad and Tobago met her husband in 2003 at Auburn where she was a member of the track & field team.
Treska and Quentin had two beautiful children together; son Que'Mani Kassan Shiloh and their pretty daughter Que'Jaah.
Our thoughts and prayers go out to his beloved family, throughout this time of sorrow.