Sara Perlman
Meet Sara Pearlman! She is the beautiful girlfriend of MLB player Trey Mancini; her son is a first baseman and an outfielder for the Houston Astros, who previously played for the Baltimore Orioles.
Trey Mancini MLB
June 2013: The Baltimore Orioles selected Trey Mancini out of the University of Notre Dame, with the 249th selection in the 8th round of the 2013 MLB draft.
He started his career with the Aberdeen Birds of the Class A-Short Season New York Penn-League.
2014 season: Played for the  Delmarva Shorebirds of the Class A South Atlantic League.
2015 season: Played for the Frederick Keys of the Class A-Advance Carolina League.
2016 season: Trey played for the Triple-A Norfolk Tides.
September 18, 2016: Trey Mancini was promoted to the Baltimore Orioles.
September 20, 2016: Mancini made his MLB debut against the Boston Red Sox.
March 7, 2020: He left the Baltimore spring training to undergo a medical procedure.
November 20, 2020: He announced he was cancer free.
February 28, 2021: He returned to the field with the Orioles.
August 1, 2022: Mancini was traded to the Houston Astros.
November 3, 2022: Trey Mancini replaced Yuli Guriel, who left the field with knee discomfort in Game 5 of the World Series against the Philadelphia Phillies.
Trey Mancini Net Worth
As of 2022, Trey Mancini's net worth has been estimated at $3 million. According to Spotrac, Trey Mancini has earned $15,870,754 in seven seasons with the MLB.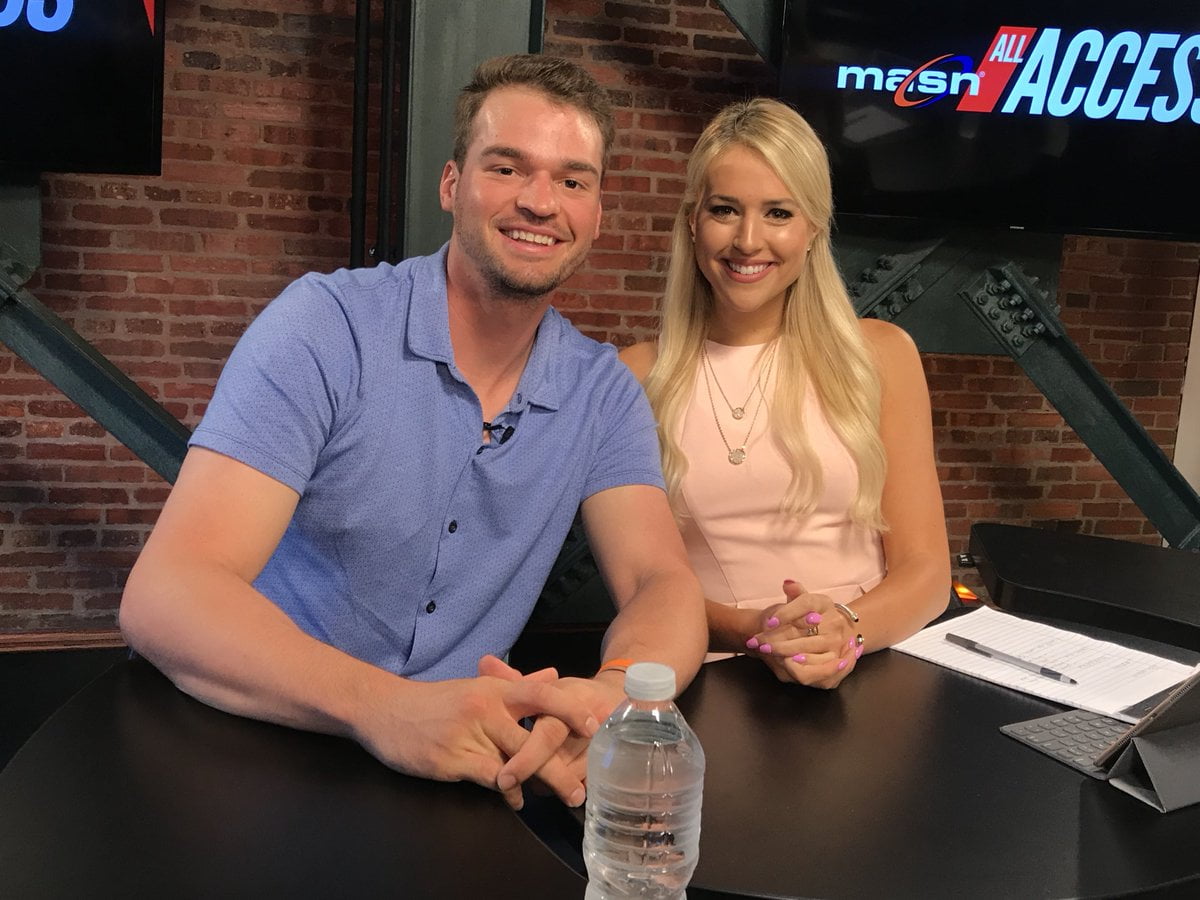 Trey Mancini Contract and Salary
On April 3, 2022, Trey Mancini signed a one-year, $7,750,000 million contract extension with the Baltimore Orioles; he earns a salary of $7,750,000.
June 19, 2013: He signed his first MLB contract with the Orioles.
February 24, 2017: Mancini signed a one-year, $536,000 contract with Baltimore Orioles.
March 18, 2018: Trey signed a one-year,$556,500 contract with the Orioles.
March 5, 2019: He agreed to a one-year, $575,500 contract with Baltimore.
January 10, 2020: Mancini signed a one-year, $4.75 million contract extension with Baltimore.
January 15, 2021: Trey signed a one-year, $4.75 million contract with the Orioles.
Trey Mancini Cancer
On April; 28, 2020, Trey revealed he was battling stage 3 colon cancer. On March 12, 2020, he underwent surgery to remove a malignant tumor discovered during a colonoscopy;  today, Trey shares his cancer diagnosis on the Players Tribune; the article also mentions the support he has received from his family and his girlfriend Sara Perlman.
When the anesthesia put me under, I believed everything was going to be O.K.  And then I woke up.

My girlfriend, Sara, had just flown down that day from Washington, D.C., and she was there at my bedside. She was holding my hand — squeezing it, actually — when I woke up.

The doctor was with her; and he very calmly and matter-of-factly began to explain the results of the colonoscopy. He started by eliminating all the possible things it could have been.

I was still woozy from the anesthesia, but before he even said the word cancer I was thinking to myself; There's no way that he's about to say what I think he's about to say. And then he said it: They had found a malignant tumor in my colon. My dad's an ob-gyn. I'm familiar with the way doctors talk. I knew immediately that this was real.

Sara was great. She took care of everything. She called my parents right away. I'm from Winter Haven, Florida, and they got in their car right then and drove two hours down to Sarasota. My doctor was awesome. I was surrounded by people I love.

And without the Orioles I never would have caught this before it may have been too late.

There was really no indication that anything was wrong other than me just feeling a little more tired than normal. Everything that comes up when you google colon cancer? I didn't have any of it. And so without that second blood test I probably would not have discovered the tumor until I had a total blockage of my colon. Instead, from the day I was diagnosed to when the tumor was removed was just six days; March 6 to March 12.

I have Stage III colon cancer.

I started chemotherapy on April 13.

And I am so lucky.
Trey Mancini Girlfriend
As noted, Trey Mancini has been dating Sarah Perlman for a while; he asked her to marry him on November 7, 2021, at Cliffs of Moher Experience in Liscannor, Ireland.
Sara Perlman

Pretty 28-year-old Sara Ashley Perlman was born in Florida on September 16, 1994. She. graduated in 2013 from Saint Thomas Aquinas High School. She holds a Bachelor's Degree in Broadcast Journalism from the American University, where she also played soccer, and a Bachelor's degree in Telecommunications from the University of Florida.
While in college, Sara did internships with Sirius XM Radio in Washington and Comcast SportsNet in San Francisco.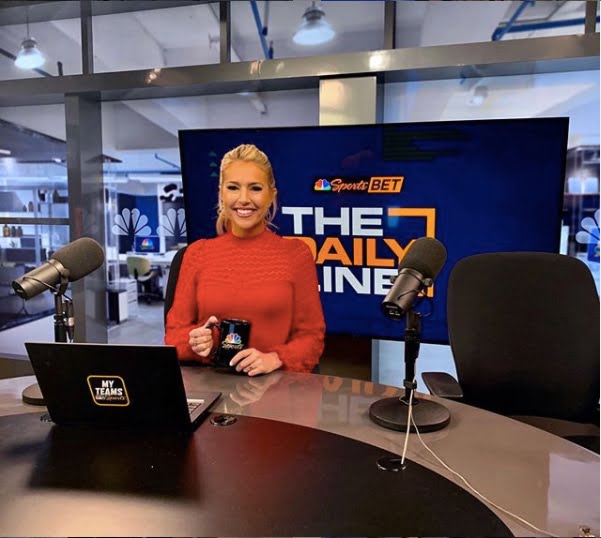 Later in August 2015, she joined ESPN as their Sports Update Radio anchor and campus connection contributor; around that same time, she was a sports anchor for WUTF News.
Later, she served as a  field reporter and host for the Fort Lauderdale Strikers; subsequently, in May 2016, she hosted for CBS Interactive and was a reporter for UFC Fight Pass.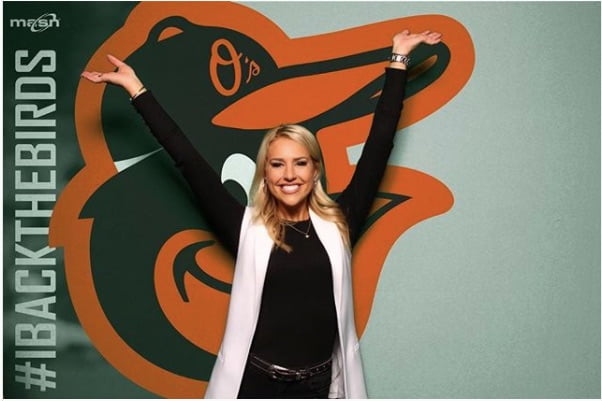 Nowadays, Sara Perlman is the co-host of NBC Sports' The Daily Line; she initially joined NBC Sports in January 2019 as an on-field reporter for the Baltimore Orioles.