Reagan Howard
Meet pretty Ms. Reagan Howard now Reagan Bregman! She is the beautiful wife of MLB player Alex Bregman, the amazing shortstop and third baseman for the Houston Astros.
Alex, as you all know, played college baseball at Louisiana State University before getting drafted by the Astros in the first round (2nd overall) in the 2015 MLB Draft; made his grand debut on July 25, 2016, against the New York Yankees.
Alex Bregman Family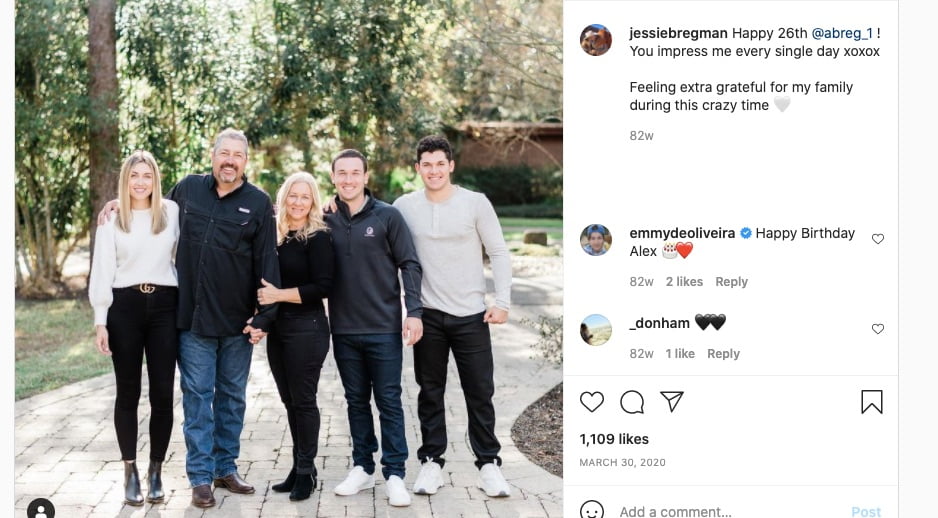 MLB shortstop Alex Bregman is one of three children born to Jewish lawyers Jackie De Oliveira Bregman and her husband, Samuel Bregman. Also, proud parents to Alex's siblings Jessica and Anthony.
Alex Bregman Parents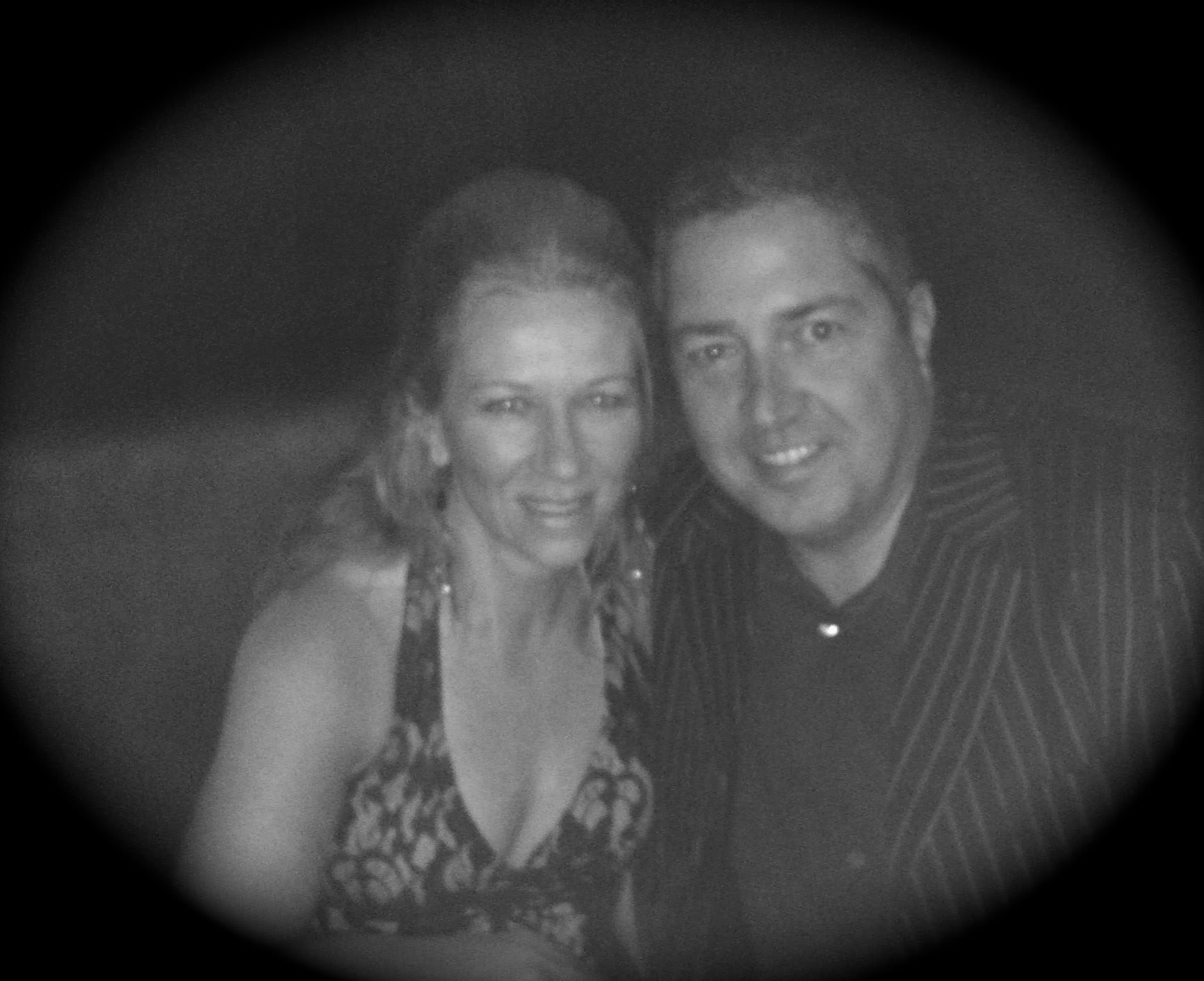 Alex's dad Sam Bregman graduated from Walter Johnson High School before he received his B.A. in Economics from the University of New Mexico and a J.D. from the UNM School of Law. From 1994 to 1997, Mr. Bregman was an Assistant District Attorney for the State of New Mexico, and from 1995 to 1999 served on the Albuquerque City Council and was Deputy State Auditor for the State of New Mexico.
Mrs. Bregman, originally from East Islip, NY, holds a B.A. in English from the College of the Holy Cross and a J.D. from Touro College Jacob D. Fuchsberg Law Center. From 2005 to 2009, Jackie Bregman owned the NBA minor-league team, the New Mexico Thunderbirds; in addition to law, Jackie is a realtor at Bregman Real Estate.
Jackie and Alex Bregman founded Bregman Law Firm in Alburquerque in October 1998.
Alex Bregman Siblings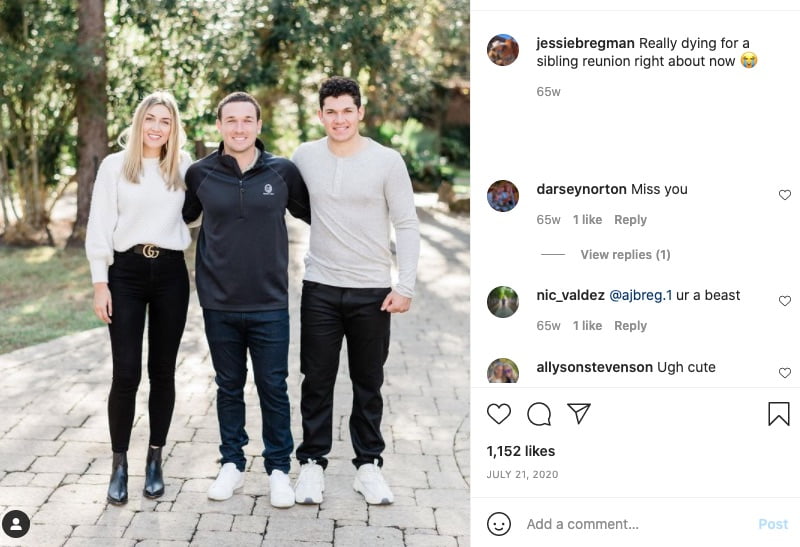 Alex has two younger siblings, his brother Anthony A.J who also plays baseball, and his sister Jessica Bregman. A.J. attended Albuquerque High School and the University of New Mexico.
Jessica Bregman, a marketing director for the Marnie Greenwood Group in Houston, graduated from the Albuquerque Academy in 2014 and from Tulane with a Bachelor's Degree in business, management, marketing, and related support services in 2017.
Jessie Bregman interned with Sprinklr in 2015; that same year, she founded the baseball brand Rakecity Apparel. She was a designer and event producer for Sapphire Events from 2018 to 2020 and a project manager and designer for Todd Events from January to April 2020.
Alex Bregman High School and College Career
Before he joined the MLB, Alex Bregman, who started playing baseball at age four, played catcher at Alburquerque Academy before transitioning to shortstop in 2009, when he left his team for the state championships.
The Boston Red Sox drafted Bregman in the 29th round (9901st overall) during the 2012 MLB draft; however, he did not sign and opted to play with the LSU Tigers, from where he graduated with a Bachelor's Degree in Sports Administration.
He batted .369 (104-for-282) with 18 doubles, seven triples, six homers, 52 RBI, 59 runs, and 16 steals in 17 attempts in 2013.
Bregman batted .316 (77-for-244) with 16 doubles, six homers, 35 runs, and 12 stolen bases in 2014.
During the 2015 season, Bregman batted .323 (84-for-260) with 22 doubles, three triples, nine homers, 49 RBI, 59 runs, and 38 steals.
Alex Bregman College Awards & Recognitions
2015 First-Team All-American.
2015 Second-Team All-American.
2015 Golden Spikes Award Finalist.
2015 ABCA Gold Glove Award Team.
2015 First-Team ABCA All-South Region.
2015 First-Team All-SEC.
2015 SEC All-Defensive Team.
2015 Louisiana Player of the Year.
2014 Second-Team All-SEC.
2014 NCAA Regional All-Tournament Team.
2014 SEC All-Tournament Team.
2014 Second-Team All-Louisiana.
2014 and 2013 USA Collegiate National Team.
2013 National Freshman of the Year.
2013 National Shortstop of the Year (Brooks Wallace Award).
2013 First-Team All-American.
2013 SEC Freshman of the Year.
2013 First-Team All-SEC.
2013 ABCA First-Team All-South Region.
2013 NCAA Baton Rouge Regional Most Outstanding Player.
On March 25, 2013, he was named SEC Player of the Week.
He was named the 2013 Louisiana Freshman of the Year.
Alex Bregman MLB Career
On June 10, 2015, Bregman was selected second overall in the first round of the 2015 MLB draft by the Houston Astros. He signed his rookie-level deal with Houston in June 2015.
Alex was assigned to the Class A Midwest League team, the  Quad Cities River Bandits, in June; a month later, he was promoted to the  Class A-Advanced California League, the Lancaster JetHawks.
He started the following season with the AA Corpus Christi Hooks and, later on, played with the Fresno Grizzlies. Finally, on July 25, 2016, Alex Bregman made his MLB debut with the Astros against the New York Yankees.
On July 31, 2016, against the Detroit Tigers, Bregman recorded his first major league hit and his first home run against the St. Louis Cardinals on August 16. In 2017, not only did Alex win a gold medal with Team USA at the World Baseball Classic but won the World Series in four games against the Los Angeles Dodgers.
He renewed his contract with the Astros in 2018, and that same season, he was named  AL Player of the Month (June),  AL Player of the Week  (June 25- July 1st), and was named to the MLB All-Star Game.
He participated in the 2018 MLB Home Run Derby, was named Astros' first All-Star Game MVP, was a finalist for the Gold Glove Award, and was named the Astros MVP by the Baseball Writers' Association of America.
Bregman underwent surgery to remove bone chips on his right elbow in January 2019; re-signed with the Astros in March, was named the American League Player of the month in August, received the 2019 American League Silver Slugger Award in November, and was voted 2019 All-MLB Team Second Team in December.
Bregman hit his 100th career home run on July 27, 2020, against the Mariners. He sustained a left quadriceps injury on June 16, 2021, returning to the field until August 25. Alec was named  AL Player of the Week on April 10, 2022.
Alex Bregman MLB Awards
2017 World Series Champ.
2018 All-Star Game MVP.
2018, 2019 All-Star Game
2019 Silver Slugger Award recipient.
Alex Bregman Net Worth
As of October 2022, and according to Wealthy Gorilla, Alex Bregman's net worth has been estimated at $10 million.
Alex Bregman Contract  & Salary
On March 20, 2019, Alex Bregman' signed a six-year contract worth $100,000 million, the deal included a $10 million signing bonus, and his annual salary is $20 million.
In June 2015, Bregman signed a deal that included a $5,900,000 signing bonus with the Houston Astros.
Signed a $507,500 deal in 2016 and $539,400 for the 2017 season.
Bregman renewed his contract at $599,00 with the Astros in 2018.
He agreed to a contract extension for the 2019 season at $640,500 in March.
Alex Bregman Wife
Alex went public with his relationship with Reagan in July 2019, when he posted a photo of her on Instagram, and the internet went MAD!!!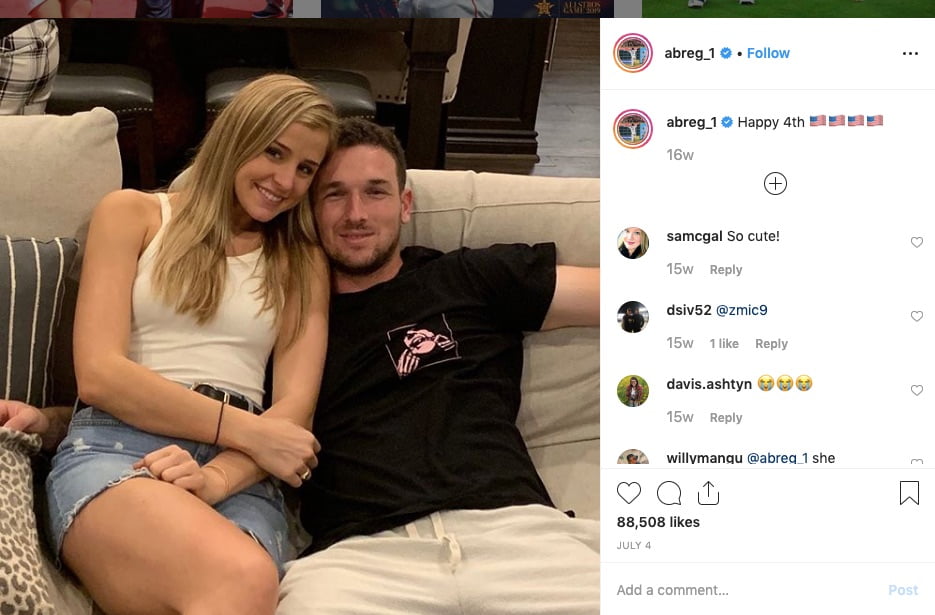 So what is there about this MLB Wag? Check her out!
Reagan Howard / Reagan Bregman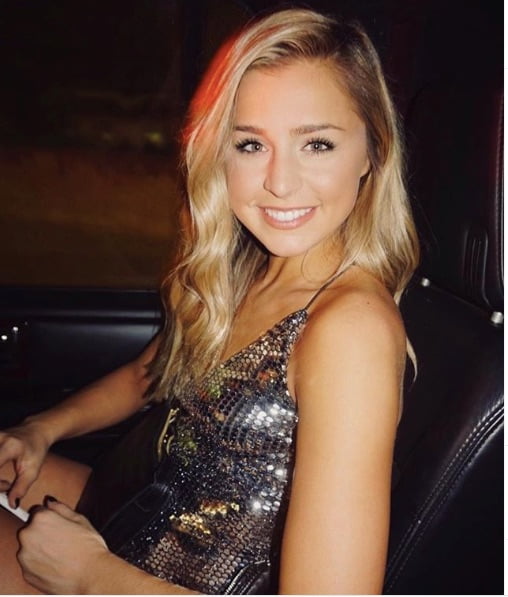 27-year-old Reagan Elizabeth Howard was born on August 26, 1994, in Mandeville, Texas; she is one of two children born to Grant and Laurice Howard (nee. Ricca) both 52 years old.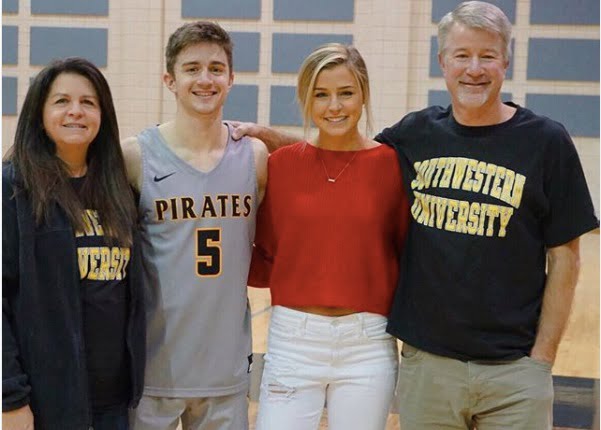 Reagan has one younger brother, Kyle, 21, a basketball player with the Pirates at Southwestern University.
Ms. Howard graduated in 2017 with a Bachelor's Degree in Marketing from Texas A&M University and studied the Marketing and Business Reciprocal exchange program at the Universitat Pompeu Fabra in 2015.
Reagan was an intern at the McCarthy Building Companies in 2016; she became a marketing consultant for TasteBud and a Business Development representative for Oracle. Nowadays, Bregman's better half works in the Business Development & Customer Enablement department at Google in Austin, Texas.
Reagan and Alex Bregman announced their engagement on January 27, 2020; he popped the question with a massive rock in Aspen, Colorado.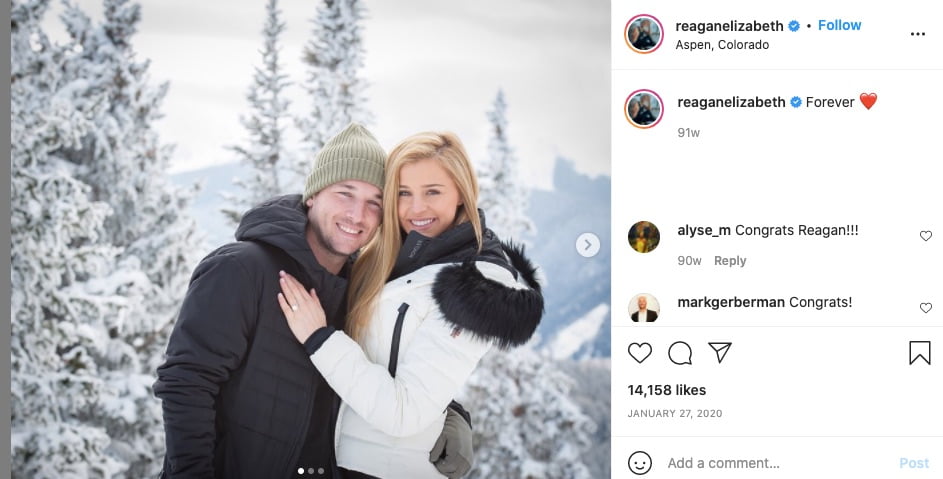 Reagan became Mrs. Reagan Bregman on December 6, 2020; their nuptial with only their closest friends and family was held in their backyard.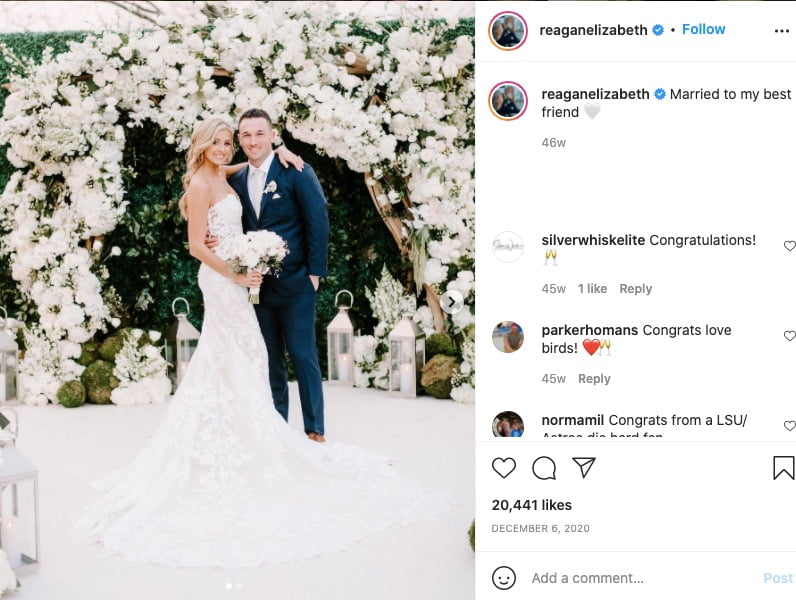 In April 2021, Reagan Bregman filed a lawsuit against San Antonio's La Cantera Resort and Spa for their $80,000 deposit; they planned to get married at La Cantera but were forced to postpone due to the pandemic.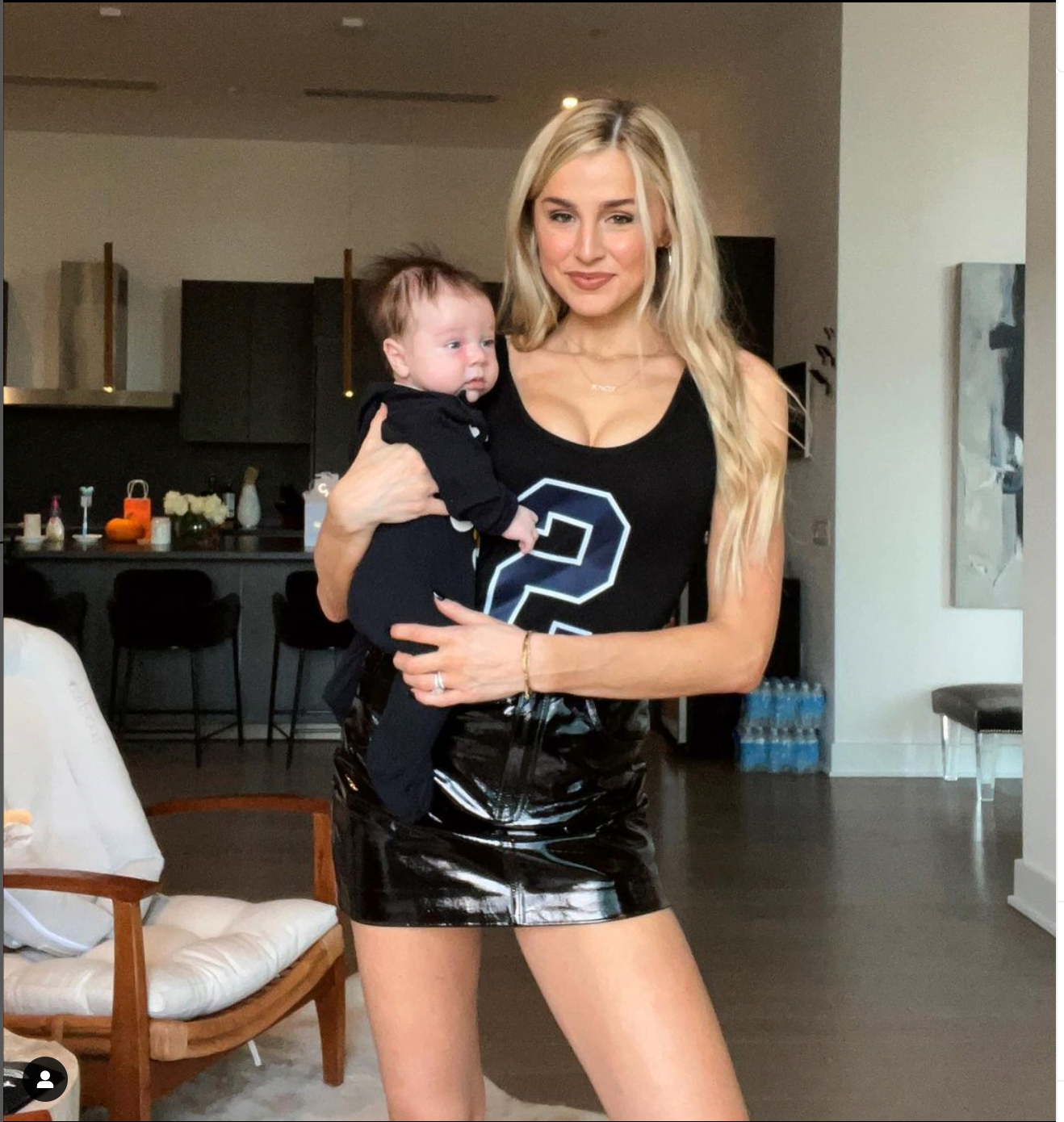 Reagan Bregman gave birth to their beautiful son d Knox Samuel on August 1, 2022.