Natoshia Mitchell
This amazing gal is Natoshia Mitchell; the beautiful and wonderful mother of college football player Trey Sermon, the Ohio State running back with the Buckeyes, who prior to joining Ryan Day and the Buckeyes in the spring of 2020 played for the Oklahoma Sooners at the University of Oklahoma in Norman, OK.
Trey Sermon
6'0 Trey Sermon was born An'treyon O. Sermon was born January 30, 1999, in Marietta, Georgia, he is the youngest son of Natoshia Mitchell, and younger brother of O'Neisha K. Sermon aka Nique.
Trey Sermon High School Stats
Trey attended Sprayberry High school in Marietta, before committing to play at the University of Oklahoma; he also received offers from Ohio State, Michigan and Alabama.
Sermon played under head coach Billy Shackelford at Sprayberry, he finished her senior year with  1,227 yards and 16 touchdowns on 166 carries completed  825 Average Rushing Yards, 111 carries, and  11 rushing touchdowns.
Trey Sermon Oklahoma Sooners Stats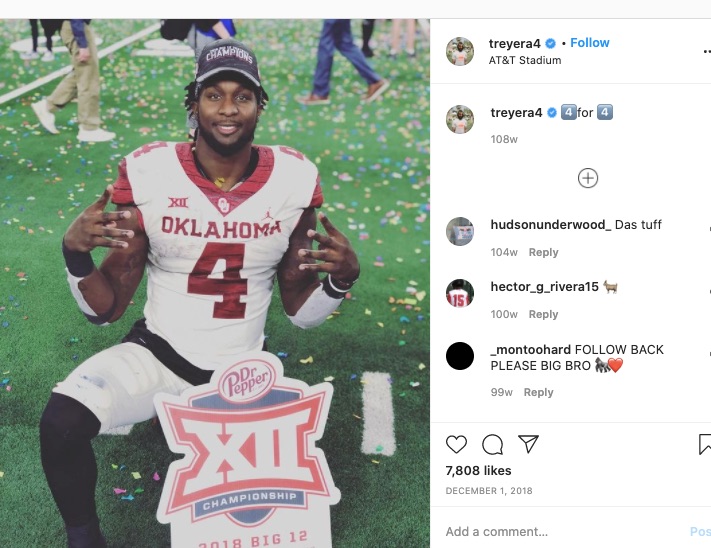 In his first year playing with the Sooners, Trey completed 744 rushing yards, 5 touchdowns, and 165 receptions in 13 games. He was also named All-Big 12 Honorable Mention for Offensive Freshman of the Year.
Trey played in 14 games with the Sooners his sophomore year, he had 947 rushing yards, 13 touchdowns, and 12 receptions. He also received All-Big 12 Honorable Mention selection by the league's coaches.
In his last year with the Sooners, Trey was named to Academic All-Big 12 Second Team; he played in 10 games, had  385 rushing yards, four touchdowns, and eight receptions.
Trey Sermon Ohio State Roster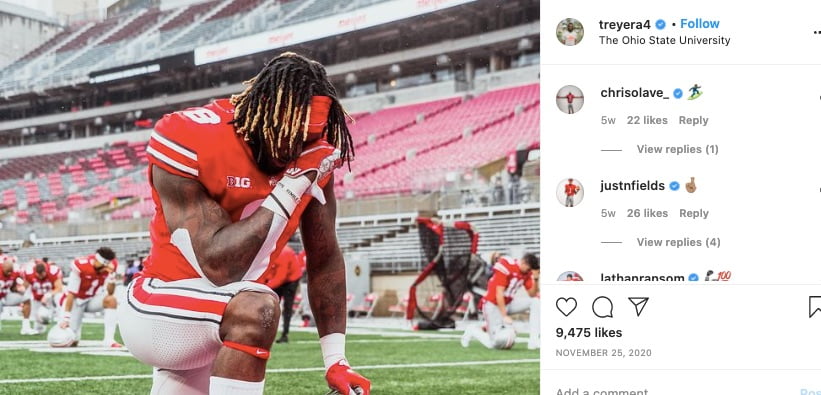 With one year of eligibility left, Trey Sermon decided to transfer on March 14, 2020, he would have his eligibility as a graduate transfer immediate joining the Ohio State football roster.
"I just believe it's the best situation for me," Sermon told Letterman Row. "I know that I have the opportunity to play there considering the depth, and I had a relationship with [running backs coach Tony] Alford during my recruiting process coming out of high school. He was a great guy then, and I just feel like I connected well with him. I know I'm going to have to go in and compete for the job, but I feel like it's the best situation for me to go into now."
He graduated with a major in human resources in May 2020.
So far with the Buckeyes, Trey had played in six games, had 675 rushing yards, three touchdowns, and eight receptions.
When Ohio State defeated Clemson at the Sugar Bowl on January 1, 2021, Trey recorded  193 rushing yards, 31 carries and scored one touchdown
Trey Sermon Injury
At the time Sermon announced his intention to transfer to OSU, he was recovering from a knee injury, however, the Buckeyes expected him to be ready to play in April.
"I'm feeling pretty good right now," Sermon said. "I've made a lot of progress, and I met with the doctor last week and he said I'll be cleared in a month instead of late-May. So, I mean, it was my LCL, a little setback.

"But having my injury, I had a lot of time to think about my future and how I should go about things. That's why I came to this decision."
Trey Sermon's knee injury happened after a 14-yard run in the second quarter of the Sooners' game against Iowa State in November 2019.
Trey Sermon Mother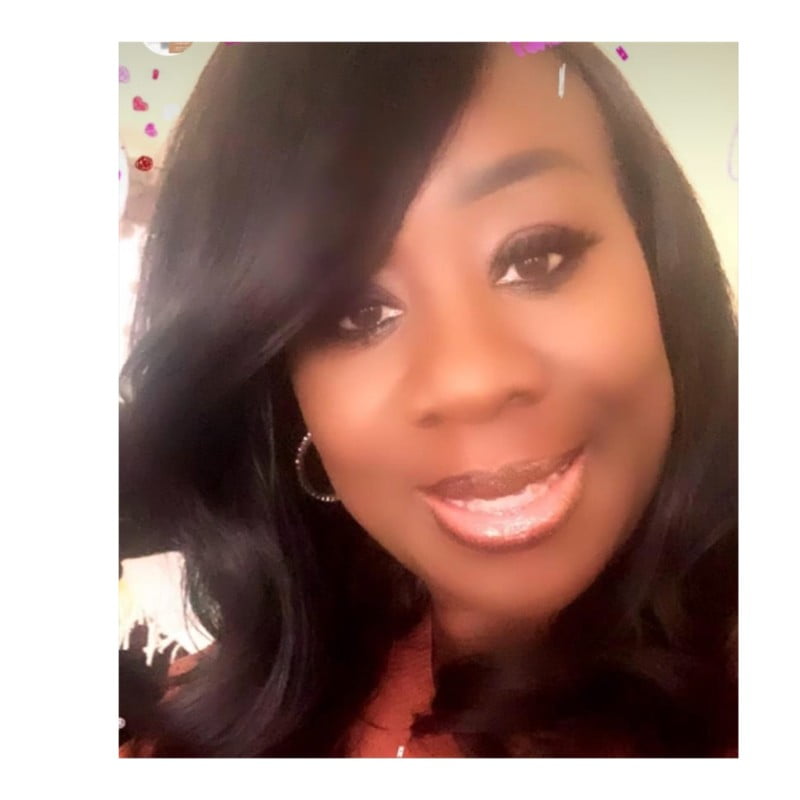 47-year-old Natoshia E'leece Mitchell was born on September 4, 1974, to Liz L. Wells and Darrell T. Mitchell.
Natoshia has 4 sisters Tenisha, Tareyia, Shakita, Ashley, and late brothers Vernin M. Mitchell and Stanley T. Mitchell.
She attended Dixie Hollins High and graduated with a bachelor of science in Business Administration and Management from the University of Phoenix-Atlanta Campus in 2010; she also holds an MBA in Health Care Administration from Strayer University and a Doctor of Philosophy with a focus in mental and social health services from the University of Arizona.
Back in 2011, Trey Sermon's mother was a managed care data specialist for Payments MD; in worked for seven months in 2016 as a Revenue Cycle Specialist for Avery Payments Healthcare. That same year she joined Parallon Business Solutions (Managed Care Refund Analyst); was a clinical research analyst for Emor Healthcare in February 2018. In April 2018, Natoshia founded and served as Chief Executive Officer at Arise by Faith in Atlanta, Georgia.
Natoshia Mitchell Book
Natoshia Mitchell bare her soul in her autobiography titled When my Soul Cried, published in 2012.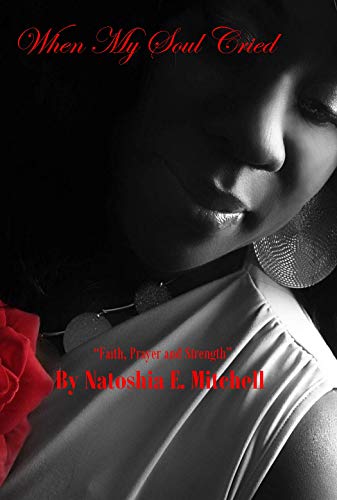 The following is a passage from her book.
The taste of blood curled in her mouth making her nauseous. She had escaped death again. Each time curling her lifeless limb close to her heart she reminded herself of one thing. Her son. She wanted to die but the thought of leaving her precious baby alone was enough to keep her away from the medicine cabinet. But how would she survive?
She still felt the gaping emptiness inside her as she recalled the last time she kissed his lips. The last time she tucked him in or saw him smile. She'd have her mother or would she? She'd have her father, gone most of her life, but would he stay? Pain, Death, and Resurrection are three words Natoshia is well acquainted with. Her story will take you with her through overwhelming loss and pain. Discover through her painful testimony that a journey begins first with accepting God's design for your life.
She has been thru too much pain, not only she had top raised her two children as a single mother, she also suffered the death of two children A'miya Janea Mitchell and Antonio De'Shawn Brazel
Natoshia and her partner Freddie Pope Jr., suffered the loss of their daughter A'miya Janea Mitchell on Saturday, June 23rd, 2001.
Her son Antonio died from a head injury in 2005, at that time Natoshia Mitchell, then 19, was a senior at Dixie Hollins High School; she was dating 30-year-old Greg Flournoy, who took care of two-year-old Antonio while she was in school.
He told her Antonio hit his head into the dashboard of his 1989 Ford Bronco after he stopped abruptly to avoid hitting a car that pulled abruptly in front of him, Antonio was not sitting in a car seat he wasn't wearing a seat belt either.
"I wanted something different for them. I wanted them to see life other than Florida. So I just stepped out on faith and brought them here," says Mitchell, who now works as a financial analyst at Parallon after going back to school for her degree in 2005. "I stopped everything in my life and just focused on both my kids."
Trey Sermon's sister Oneisha Mitchell
Trey didn't have a father figure himself, (Trey'sdad lives in St. Petersburgh) but he knew he had to be a father figure for his sister Oniesha's daughter Amia; his niece who was born when he was 13.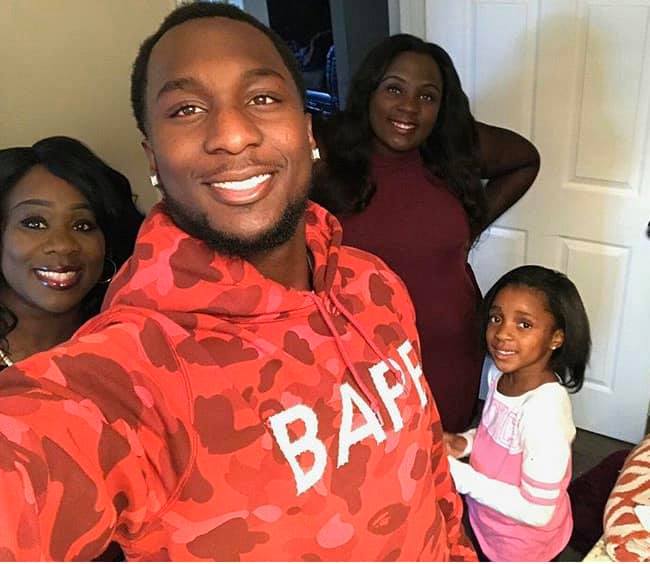 Trey's sister Oniesha who attended Kennesaw State in Georgia recalled.
"(Amia) loves him," Oneisha said. When he left, it was very devastating for her. She's adjusted to it now, but he's a really big help especially when it comes to disciplining her. Whatever I need he always has my back. You would think they were brother and sister. He's been there since day one for her."
Trey Sermon Girlfriend
The question we all have been asking ourselves, who is Trey Sermon's Girlfriend? Is he dating anyone? Is Trey Sermon married? No to all three questions, Trey Sermon is not married, doesn't seem to have a girlfriend, he is free as a free, anyone interested?