The lovely Megan Hevner is the current girlfriend of NHL player Tyler Johnson; the Spokane native is a center playing for the Chicago Blackhacks. Johnson is also a member of the roster representing the United States with the United States Men's National Ice Hockey Team.
Tyler Johnson Family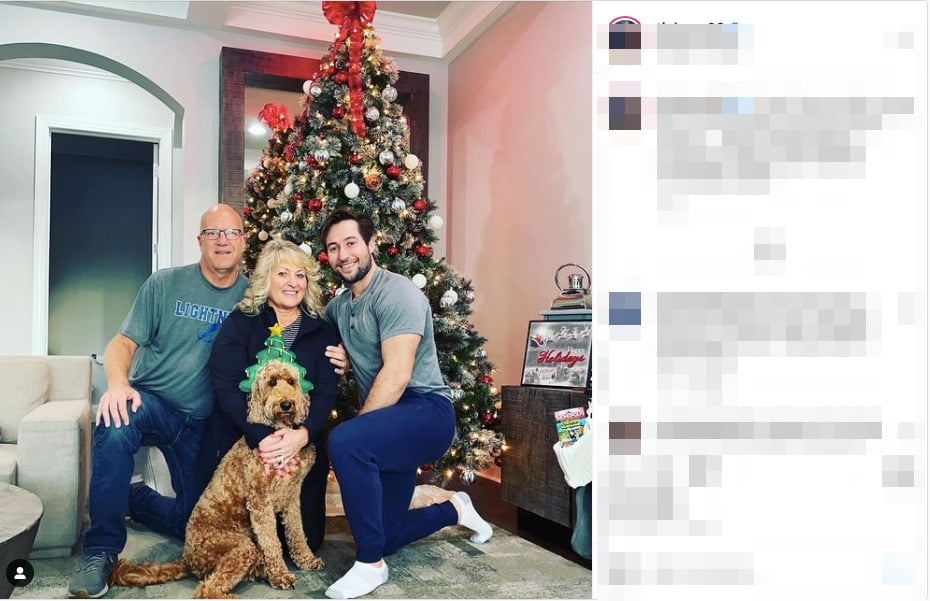 Tyler Johnson was born on July 29, 1990, in Spokane, Washington; he is Ken and Debbie Johnson (nee. Mitchell). Debbie Johnson was a skating coach; her husband and Tyler's dad Ken Johnson is a circulation district manager for The Spokesman-Review and a former hockey coach.
With two skating parents, it was only logical Tyler starling skating at an absurd early age, 18 months to be exact; by the time he was four, Debbie and Ken talked to local organizers into including him in the league when the minimum age was six.
"My parents are kind of influential in the hockey world back home," he says. "It's a smaller town. My mom taught basically all the kids in my area how to skate. I started skating when I was really young, so it was just one of those things that was bound to happen. My mom and dad gave me every opportunity possible," Johnson says.
"That was a big sacrifice for my parents to do that every weekend, financially and emotionally. But without that, I don't think I would be where I am today."
Tyler Johnson Career Timeline
Tyler Johnson started his career during the 2005-06 season, playing with the Coeur d'Alene Colts of the Northern Pacific Hockey League.
Joined the Coeur d' Alene Laker during the 2006-2007 season.
The Spokane Chiefs of the AHL selected Tyler in the 11th round during the 2005  WHL Bantam draft.
Made his debut with the United States Men's National Ice Hockey Team at the 2009 World Junior Championships.
Tyler and the United States Men's Ice hockey Team won the gold at the 2010 World Junior Championships in Canada.
He went undrafted during the 2011 NHL draft; however, his stats didn't go unnoticed, and the Bolts signed him.
Broke his wrist early in the 2005 Stanley Cup Finals.
Scored his  100th career goal on December 31, 2017.
Defeated the Dallas Stars in six games during the 2020 Stanley Cup Final on September 28, 2020.
Tyler and the Bolts won their third Stanley Cup in Game 5 against the Montreal Cnadiens.
On July 27, 2021, Tampa Bay announced they traded Tyler Johnson and a second-round pick in the 2023 draft in exchange for Brent Seabrook.
Tyler Johnson Height & Weight
Tyler Johnson's height is 5'8 or 173 cm; he weighs 185 lbs or 83.94kg; he had put on a little weight since he signed with the Bolts when he weighed 175 lb. Tyler Johnson started his career with the Northern Pacific Hockey League (NPHL), later played in the Western Hockey League (WHL), American Hocleague (AHL), and finally arrived at the National Hockey League in 2012.
Tyler Johnson Highlights and Awards
He was the MVP during the 2008 Playoff while playing with the Spokane Chiefs.
Won the 2008 Memorial Cup with the Chiefs.
Named into the 2011 West First All-Star Team.
Won the 2011 Brad Hornung Trophy.
Named 2011 West Player of the Year.
Named 2012 All-Rookie Team with the Norfolk Admirals.
Won the 2013 Calder Cup.
Named into the 2013 First All-Star Game & All-Star Game.
 Won the 2013 Willie Marshal Award.
Recipient of the 2013 Les Cunningham Award
2013 won the President's Award.
Named into the 2014 NHL All-Rookie Team.
Named into the 2015 NHLAll-Star Game.
Won the 2020 Stanley Cup.
Tyler Johnson Net Worth
It is estimated that NHL player Tyler Johnson has a net worth of $5 million. It is believed he went undrafted due to his height, but he has proven heigh is not an issue for him; Tyler has been playing with the Tampa Bay Lightning since the 2011-12 season; since then, he has recorded 153 goals and 186 assists.
Tyler Johnson Contract and Salary
Tampa Bay Lightning's center Tyler Johnson has an annual salary of $5 million. His current contract guarantees he will remain to play with the Bolts until 2024.
Tyler Johnson signed his three-year entry-level contract worth $10 million with the Tampa Bay Lightning on March 7, 2011.
On July 10, 2017, agreed to a seven-year contract extension worth $35 million with the Tampa Bay Lightning.
Tyler Johnson Jersey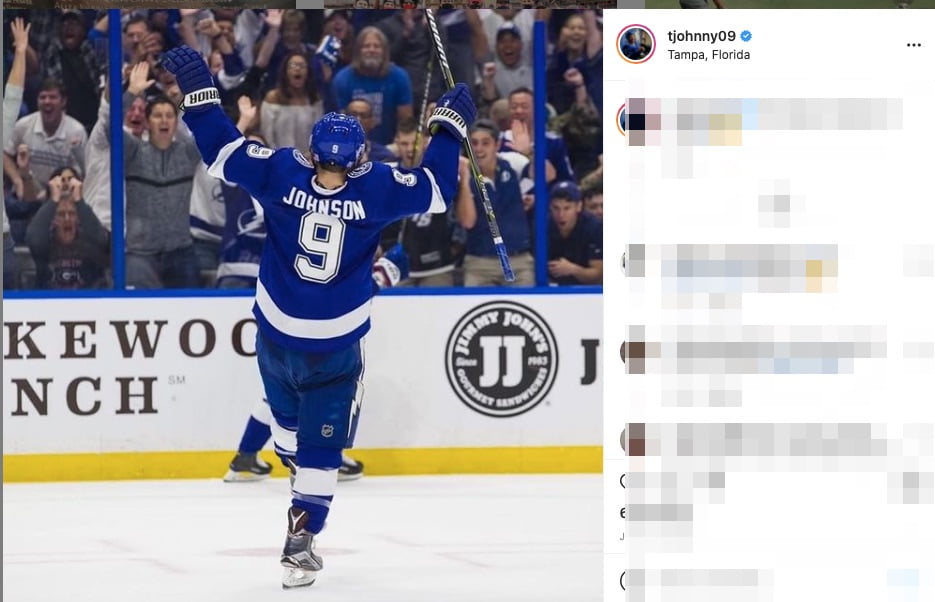 Tampa Bay Lightning's fan, you can get your hands into Tyler Johnson's #9 jersey through the Lightning Shop, and also, you can head out to the NHL shop.
Tyler Johnson Dog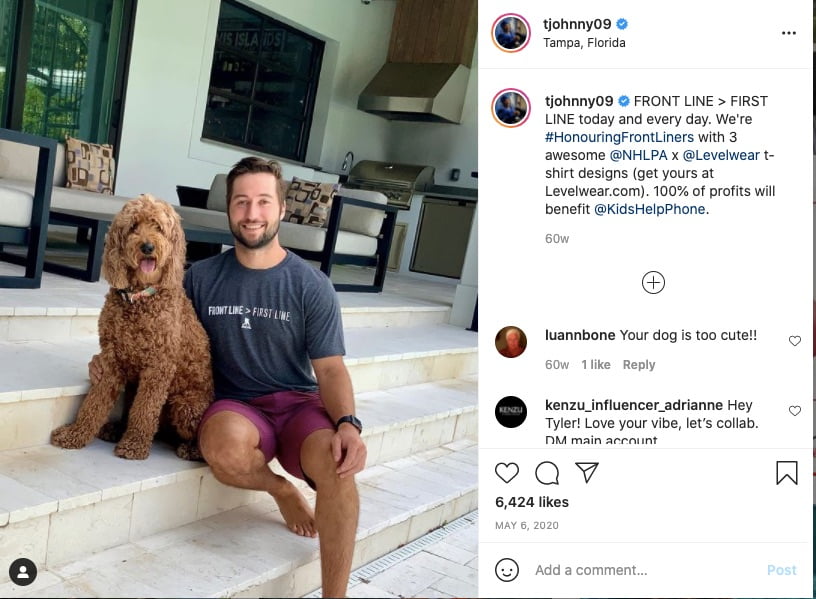 Tyler Johnson's adorable dog Reese is a Goldendoodle; he makes regular appearances on Tyler's social media.  And Tyler is not the only one who enjoys the company of a Goldendoodle fur friend; his girlfriend Megan Hevner has one of her own, her Goldendoodle is called Remy.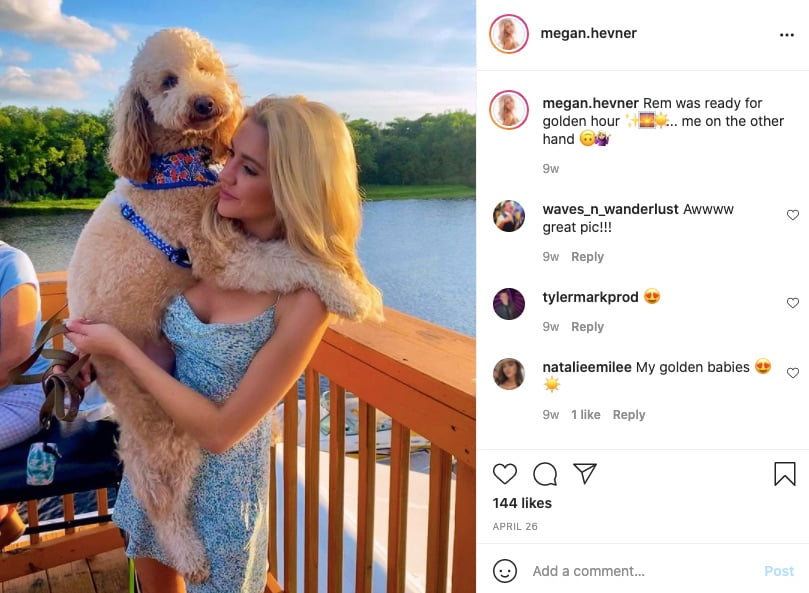 Tyler Johnson Girlfriend
Over the years, we had the pleasure of meeting Tyler Johnson's ex-girlfriends, starting with Marissa Mazzolini. Tyler and Marissa split up several years ago, and now he is madly in love with former NFL cheerleader Megan Hevner; this is what we can tell you about her.
Megan Hevner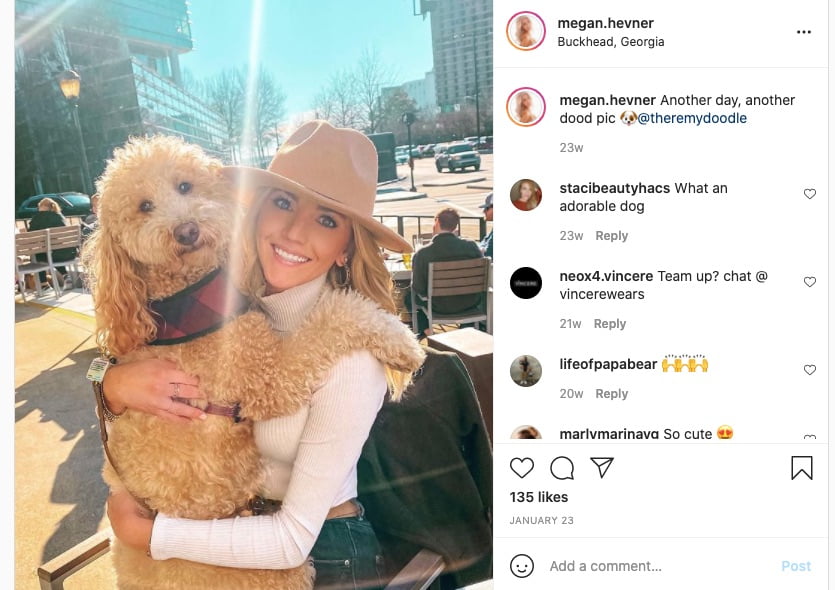 Pretty Megan Hevner was born on August 14, 1990, in DeLand, Florida; she is the daughter of Jane Hevner-Jackson and Patrick Sean Hannigan, who died at 55 on June 22, 2013; Megan has one older brother, Brett Jackson. She graduated in 2012 with a Bachelor of Arts and Sciences in communications and marketing from Stetson University.
Megan was a senior global intern for Insight Global from May 2012 to October 2015.
Joined Collabera Inc. as regional sales manager and National account in October 2015.
From March 2018 to March 2019, she was regional business manager for 4 Corner Resources.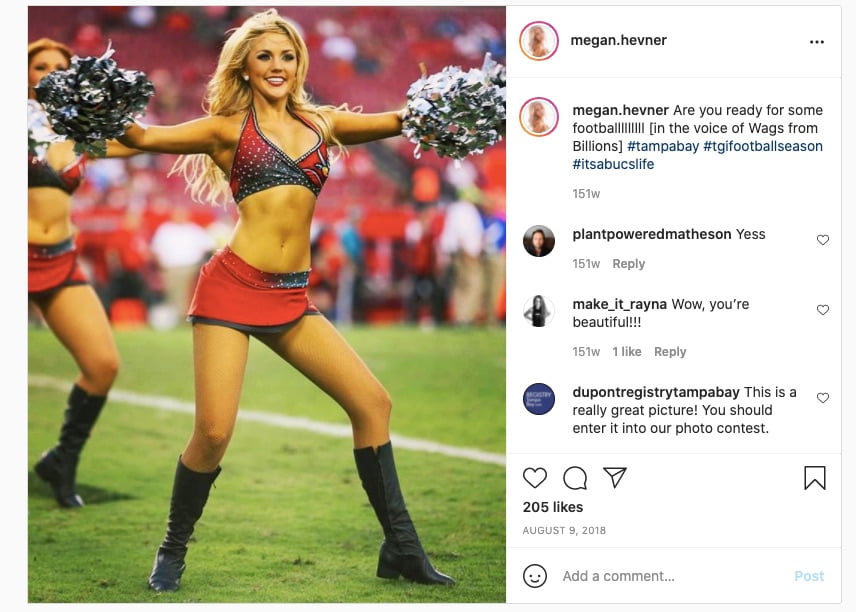 From February 2013 to February 2016, was a cheerleader for the Tampa Bay Buccaneers.
She was crowned Miss Orlando USA in 2017.
Megan is currently living in Atlanta, where she is a senior account director for eHire.
Since January 2020, Megan Hevner has been a Disney Princess in Bert's Big Adventure.
I have been given the pleasure to join Bert's Big Adventure as a Disney Princess. I am privileged to be able to spend time with these incredible children and their families.
Megan Hevner is pretty active on her social media, especially on
Instagram
, with over 3K followers.