Tywanna Patterson
Tywanna Patterson is the loving, supportive and proud mother of NBA player, Patrick Patterson. Her 27-year-old boy currently plays with the Toronto Raptors.
Tywanna Patterson and her husband, Buster Patterson Jr. welcomed son Patrick on March 14, 1989 in Washington, D.C. Her son played three years of college basketball at Kentucky from 2007 to 2010 –where he earned a communications degree.
The D.C. native began his career with the Houston Rockets in 2010. Tywannas' son was traded to the Sacramento Kings in February, 2013 as part of a six-player deal. On December 9, 2013, the Kings traded Patterson to Toronto.
In 2014, her son re-signed with the Raptors, to a reported three-year, $18 million contract.
Growing up, Patrick Patterson was introduced to a wide array of activities and sports by his parents. He was a Cub Scout, honor roll student and finished second in his fifth-grade spelling bee. A natural athlete, Patterson played basketball and football in elementary school. He received his first basketball lesson at age five from his mother. Back in 1994, Tywanna yelled to her son "Pat, put your hands up! Defense!"
Patterson played basketball at the YMCA until he was 12 years old. He suited up for his eighth grade youth team and played well against All-Stars. His parents enrolled him in AAU basketbal. He earned McDonald's All-American and Jordan Brand All-American honors.
Patterson was a key member of the the Huntington High dream team that took West Virginia by storm. His squad won three state championships from 2005 through 2007 –gaining plenty of exposure on the nationally-ranked team.
That's when Tywanna Patterson figured her son was really good and could end up getting a college scholarship. Her son got 18 college offers.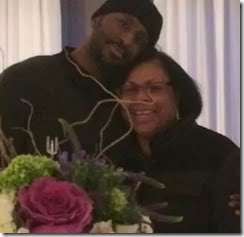 When her son was traded to Toronto, the supportive mom showed her excitement saying: "Canada. Great. We're going to Canada."
Tywanna Patterson is a former employee from Huntington's Social Security office. She took an early retirement from her job in 2014, so she could watch her son play.
Patrick is the couple's only child. She said of him during an interview
I am always so proud of him. He's our pride and joy."
No doubt Tywanna Patterson is the main woman in the 6-foot-9 forward's life, and a committed Toronto fan. Her son is apparently single and has said he does not want to get married until he is at leas 30. To what Tywanna replied: "I can wait on a daughter-in-law. I can wait on a grandchild. I'm not in a hurry."