Joseph Lewis
Joseph Lewis is a former USC Wide Receiver who was removed from the team following his sentence in his domestic violence case.
Lewis has been favored following a tough year which saw him losing virtually everything he worked for. The 19-year-old served nearly six months of his one year sentence due to overcrowding and good behavior reports say.
He was arrested a second time back in July on a domestic violence charge. At the time his girlfriend told police he had punched, scratched and strangled her. According to the TMZ report, Lewis and his girlfriend/victim, got into a physical altercation at home and Lewis was arrested after she fled and called the police.
She was able to obtain a 10-year restraining order against him.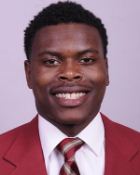 Lewis was arrested back in February for a similar charge – in May, Lewis pleaded no contest to two misdemeanor counts of domestic battery with an injury, stemming from two incidents in February. He was sentenced to serve 60 days but was released after 21 days in jail.
He had been out of jail for about two weeks when he was arrested the second time.
Joseph Lewis IV, who played at Los Angeles Hawkins High, was a five-star recruit.
Coming out of L.A. Hawkins High, the 6-foot-2 Lewis was rated the No. 31 overall recruit in the 2017 class and the No. 4 wide receiver, according to the 247Sports Composite. Lewis, a U.S. Army All-American, played sparingly as a true freshman, catching four passes for 39 yards despite flashing in fall training camp.
Lewis committed to USC on national television on National Signing Day, picking the Trojans over Oregon, Nebraska, Arizona and UCLA. He was considered one of the gems of USC's 2017 class.
Joseph Lewis can still be found on Twitter here.