Gianni Infantino just landed the top job in soccer. On February 26, he was revealed as the new FIFA president, having won the presidential election on Friday.
We know for a fact that he is a married man and is also a father of four. However, not much is known about his wife –who seems to know a thing or two about football and is also super private.
Gianni Infantino has been General Secretary at UEFA since October 2009. He first joined the organization in 2000, working on a range of legal, commercial and professional football matters, before being appointed as Director of UEFA's Legal Affairs and Club Licensing Division in January 2004. He then went on to become interim Chief Executive and Deputy General Secretary before taking up his current role.
Prior to joining UEFA, Gianni worked as the Secretary General of the International Centre for Sports Studies (CIES) at the University of Neuchâtel, having previously been an adviser to a variety of football bodies, including the Italian, Spanish and Swiss football leagues.
Gianni was born March 23, 1970, in Brig, Switzerland; but also holds Italian nationality. He speaks Fluent Italian, French, German, English and Spanish.
He did not have a footballing background as a youngster and continued his education to the University of Friborg (Switzerland), where he studied law.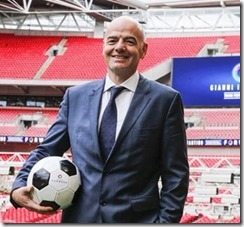 His roles in football began in the year 2000. Infantino has helped strengthen the national and international game across Europe, as well as try to increase the credibility and respect of UEFA throughout the rest of the world.
He is at the helm of UEFA's administration and has tried to create a sustainable future for the game, including the introduction of Financial Fair Play, which he championed.
Infantino has also increased the participation numbers in Euro 2016 from 16 to 24 teams and spearheaded the campaign to have Euro 2020 hosted across 13 countries.
Gianni Infantino has become the ninth FIFA president. Infantino will be president through May 2019, completing the remainder of Blatter's term. He says on his FIFA bio
I'm also very proud of the way that I have led the fight against social ills and threats to the integrity of football in Europe including all forms of racism and discrimination, violence and hooliganism and match-fixing. Throughout these years, I have also had the privilege to build a reliable network of contacts in the FOOTBALL communities of all continents.
Infantino's manifesto includes promises of financial rewards for member nations. Around $5 million will be given for projects, that will be up from $2 million during Blatter's reign, reports the Washington Post.
Not much is known about his personal life, but is just a matter of time before his life is on display by media. His wife is a Lebanon native. According to The Star, she used to work with the Lebanese football federation and that's when the couple met and fell in love. The enigmatic woman is the mother of the couple's four children. Is clear football has also influenced his personal life.