We wonder who is Glen Rice Jr's Girlfriend? Whoever the gal is, she must super worried about her basketball player man.
The Rio Grande Valley Vipers, shooting guard, Glen Rice Jr. has been shot in the leg! Recent reports say.
Rice Jr., who is the son of former NBA player Glen Rice, was at a party when the accident took place. According to TMZ, Glen Rice Jr. was at an Atlanta restaurant owned by rapper T.I. when a fight broke.
The argument, escalated to the parking lot and bada bim bada boom, a bullet ended on his leg. According to police reports, they have footage of Glen Rice Jr. running from the scene of the crime and ditching a gun by throwing it on a stairwell.
The young player allegedly got into a Porsche with Steven Pryor as the driver.
They were later stopped by police and found him bleeding from his leg. But his troubles don't end there. Following a car search, police also found 240 grams of and $6,000 in cash. He was hit with charges including reckless conduct and possession of weed.
This is not the first time Rice Jr. and Steven Pryor are connected to a shooting. In 2012 he was stopped by police. At the time, it was Rice driving a Cadillac Escalade when cops responded to shots fired. Pryor was a passenger in the car and admitted to police, to firing a gun. The two were charged but Rice took the hardest part after getting kicked off the Georgia Tech basketball team.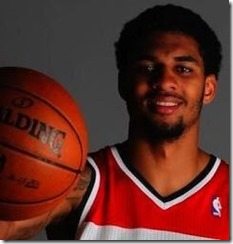 The 24-year-old was selected by the Philadelphia 76ers with the 35th overall pick of the 2013 NBA draft. Rice Jr. is the oldest of six-children. His siblings are, 23-year-old G'mitri Rice, 16-year-old Brianna Rice, 14-year-old Giancarlo Rice, 11-year-old Giovanni Rice and 5-year-old Bella Rice.
Rice –who hasn't been as lucky as his three-time NBA All-Star father –was waived by the Washington Wizards back in January, appearing in only 16 games across two seasons with the Wizards. Apparently, he had been exploring options to play overseas. Though now, his future is not exactly clear.
Find Glenn Rice Jr. on Twitter here.