Gleyber Torres
Gleyber Torres was a 19-year-old shortstop in the Cubs minor-league system but today, the young base baller was traded to the New York Yankees.
Reports say the Yankees traded LHP Aroldis Chapman to the Chicago Cubs, as the centerpiece of a package that includes Gleyber Torres. Torres will reportedly shift from shortstop to second base with Yankees.
Gleyber David Torres was born December 13, 1996 in Caracas, Venezuela. 2013 was a big year for Torres, who was signed to the Chicago Cubs to a minor league contract.
In early 2014, Gleyber Torres was assigned to VSL Cubs, in June 2014 moved to the AZL Cubs and by August 2014 he was assigned to Boise Hawks from AZL Cubs.
March 2015 saw the player back to the Cub but in April he was assigned to South Bend Cubs from Eugene Emeralds. The then 18-year-old was named the Midwest League Prospect of the Year after batting .293/.353/.386 with 53 runs scored, 3 home runs, 62 RBIs and 22 stolen bases in 119 games with low Class A South Bend.
By September 2015, Torres had also played with the Myrtle Beach Pelicans from South Bend Cubs. This March, Torres was assigned once again to the Cubs.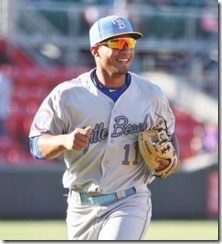 Torres has been ranked as one of the top 30 prospects in baseball, and though he's been thriving as a shortstop the last few months, his near future might see him in second base.
According to MLB.com Torres would "profile well offensively and defensively at either second or third base" should the shortstop changes positions."
Baseball America has Torres ranked No. 27 on its Midseason Top 100 Prospects list. Last year he had been ranked No. 2 in the organization behind Schwarber in their Midseason Prospect Update and wrote:
"Just 18, Torres had been one of the low Class A Midwest League's top hitters, with a smooth swing and solid present strength. The MWL's youngest player, Torres has caught up to the speed of the game defensively; he has middle-infield hands and will stay at shortstop unless or until he outgrows it physically."
Torres has kept a quiet profile and that translates to his social media updates. He seems to be close to his parents, of whom he often shares photos with and writes he misses them. No special lady has been identified on his part, though he has an old photo where Mariana Jimenez writes (in Spanish): "your day my love, I love you" –an old girlfriend perhaps?
Not much more is known about his personal life, thought we have a feeling that, will change.
You can find Gleyber Torres on Instagram here.