Lucky Whitehead
Lucky Whitehead, the NFL player for the Dallas Cowboys is currently in a little bit of a pickle! As much as we'd like to tell you about his progress as a player or that he is dating a smoking hot girl, or even tell you about his chiseled abs, that is just not the case.
The 25-year-old born Rodney Darnell Whitehead on June 2, 1992 –has been busted for shoplifting. Apparently the Virginia native was taken to Prince William County, VA on June 22 for shoplifting/petit larceny under $200.
A police statement said an employee reported to police that "a man ran out of a convenience store without paying for some merchandise. When officers arrived, they located the man in the parking lot."
Whitehead, who turned out to be not so lucky after all, was charged with petit larceny and released on a court summons.
Whitehead who was supposed to appear in court on July 6, was a no show, and now a warrant has been issued for his arrest.
Whitehead who was born to Rodney Sr. and Karen Morris –attended Osbourn High School where he earned first team All-Conference honors as a wide receiver and defensive back.
Lucky was named an All-American at Dean College. He later transferred to Florida Atlantic University where he lead Conference USA in receptions as a senior.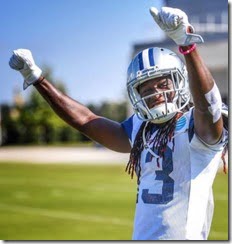 Whitehead was undrafted but signed a 3-year $1.5 million contract with the team in 2015. He was one of just two rookie free agents (La'el Collins) to make the club out of training camp.
The wide receiver and kick returner had only six catches his rookie season, but made his impact on special teams by averaging more than 28 yards per kick return.
In 2016, his second pro season, he went on to play in 15 games with one start.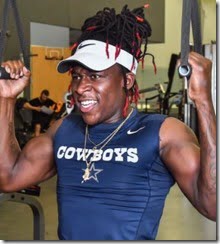 Whitehead who majored in public safety administration, listed as a career goal creating a program to keep children out of trouble. But can he keep out of trouble himself?
This isn't the first time we hear about NFL players getting in all kinds of nonsense with the law. This is however Lucky's first legal issue.
Whitehead made news a few days ago for saying his XL Bully puppy had been stolen and was being held for ransom. On Tuesday he announced on Snapchat that he had been united with Blitz.
Aside from his beloved Blitz, there's apparently no other special someone in his life at the moment.
What would you advice Lucky to stay out of trouble?
Check him out on Twitter here.