25-year-old professional MLB player Ruben Tejada can't do anything about the Mets 5-2 loss against the Dodgers in game two of the NLDS but at least he can take solace in the fact that LA Dodgers Chase Utley has been suspended for Games 3 and 4 of the series.
If you watched Game two, you'll recall Utley' slide in the seventh inning. Major League Baseball considers Chase Utley's slide into second base during Game 2 worthy of a suspension.
The controversial slide, into second base, broke Mets shortstop Ruben Tejada's right leg and sparked the critical four-run rally that allowed the Dodgers to win 5-2.
According to Bleacher Report, Chase Utley will appeal the suspension, the infielder will "cite a number of similar slides that did not result in discipline." The Dodgers support his decision.
According to ESPN, Tejada suffered a broken right fibula. He'll miss the rest of the postseason.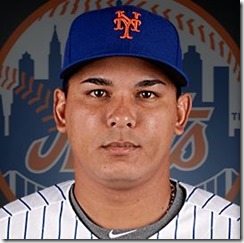 Ruben Dario Tejada was born in Santiago de Veraguas, Panama. He is the son of mechanic Rubén, Sr., and secretary Donaji Tejada. His father playes as a pitcher for Los Indios de Veraguas. He joined the team his father used to play with at age 13. Tejada has a younger brother named Eric.
He was signed by the New York Mets as an amateur free agent in 2006. He represented Panama at the World Baseball Classic in 2009 and 2013.
Ruben debuted in professional baseball the following year. He has played for the Gulf Coast Mets, Venezuela Mets, St. Lucie Mets and Binghamton Mets. He also played for the Surprise Rafters of the Arizona Fall League.
He was invited to spring training with the Mets in 2010. He was the youngest position player on the Mets Opening Day.
According to Yahoo, X-rays on Ruben Tejada's injured leg showed a fractured right fibula and minor league middle infielder Matt Reynolds has officially replaced him.
Earlier this year, Ruben became a father! He joined his family and girlfriend to attend the birth of his daughter, last June. He was placed in Paternity leave. According to Spanish outlets, his baby mama is also from Panama.
Tejada will turn 26 later this month, we wish him a speedy and full recovery!