Meet Deborah Collins
Deborah Collins is lovely wife of Terry Lee Collin, better known as Terry Collins, the manager for the New York Mets.
Now that we are into game three of the National League Division Series, we want to know much of what Terry Collins has to say! According to ESPN, the 66-year-old Mets manager indicated that Michael Conforto and righty-hitting Michael Cuddyer are options to start in left field, instead of his initial take to put Conforto only against right-handed pitching.
Terry stated Sunday: "We're going to think about all the options"
Terry was born May 27, 1949 in Midland, MI. He was a scout for the Chicago Cubs, a coach for Tampa Bay and a minor league field coordinator for the Los Angeles Dodgers. He managed in Japan and coached China's team in the World Baseball Classic. He oversaw the Mets' farm system in 2010, and got another chance at managing in 2011.
Collins never played in the majors, but he has been a manager for more than two decades in the minors and majors. Deborah Collins, is actually Terry's second wife, she is better known as Debbie Collins. Her hubby is currently the majors' oldest manager.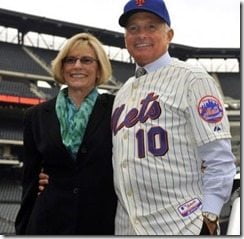 He told the NY Times, in early October:"I don't want to do a story on me. I'm not the story. Those guys are the story. They're the guys that got to go and win every night, and tomorrow they've got to get ready to do it again. My job is to make sure they do that."
Deborah Collins has said about her husband: "He's very mellow. But I think he really has maintained pretty much a balance all the time. I've never seen him get angry, really."
According to News Day, Deborah Collins and Terry ave known each other since he was 10 years old. Both grew up in Midland and attended the same high school, where Collins was captain of the football, baseball and basketball teams.
In college, they dated briefly before the years pulled them apart. They reconnected once Collins was coaching in the minors. She had married, had a family and then had become a widow. He had married, never had children and ultimately wound up on his own.
They married in 2010, just before Collins joined the Mets as field coordinator. He suddenly acquired a new role, that of a grandparent. They both like to keep things private.
According to one of his profiles, Terry and Deborah Collins, reside in Midlothian, Virginia. She previously lived in Florida.