23-year-old Michigan State baller, Adreian Payne certainly has captivated fans all over with talent but has also warmed out hearts with his support to 8-year-old "Princess Lacey"
The bond between the gifted athlete and his young friend sparked two-years-ago when he was touring a hospital in which she was undergoing treatment for neuroblastoma. She walked onto the court with him during senior night, he attended a fundraising party for her and, after Michigan State won the Big Ten tournament, she helped Payne cut down the net.
What else is there to know about this 6-10 / 245 lb's of skills and humility?
Payne who has become a role-model lost his mother at age 13, and those struggles made him connect right away with little Lacey, which can only tell how great of father he will be!
He was born Feb. 19, 1991. The Son of Thomas Payne and Gloria Lewis, he was raised by his grandmother Mary Lewis and as a kid struggle with a learning disability. He had to work harder than the other students at his high school to fare well academically. In kindergarten, he was diagnosed with a cognitive disability that prevented him from learning at the same pace of his classmates. After he was presented with the idea of competing at the Division I level he showed the same intensity in the classroom as he did on the basketball court. Now he is a Interdisciplinary studies major.
Payne epitomizes the meaning of hard work and how far your dreams can take you, he still continues to work hard on studies, is that why we haven't seen him dating?
Some of his career highlight up until now include leading Jefferson High School to Division IV state championship • 2010 First-Team Division IV All-State • 2010 Ohio Division IV Player of the Year • Averaged 15.6 points, 11.3 rebounds and 4.0 blocked shots as a senior • Averaged 15 points, 12 rebounds and four blocks as a junior • Shot 53 percent from the field • Helped lead Jefferson to a 19-5 record • Named first-team All-Area in Division IV by the Dayton Daily News.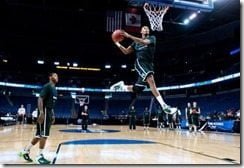 But a nice guy like him also needs some social activities right? Could it be any special ladies around, other than Lacey on his mind? So far no word about his status but he is certainly one to watch on and off the court. Adreian who averages 16.2 points and 7.7 rebounds is considered the future millionaire who projects as a first-round pick in this summer's NBA draft. So, do you need any other reasons not to like him?
Follow him on twitter here.