Greg Bird
Greg Bird, the 24-year-old slugger for the Yankees just put the team ahead with his first homer since Oct. 1, 2015.
The 6-foot-4, 240-pound first baseman recently made a comeback after no play time in the Majors in 2016. He suffered a recurrence of his right shoulder injury during the 2015-16 offseason, which was diagnosed as a torn labrum. On Feb. 2, 2016 Bird underwent successful surgery, and was ruled out for the entire 2016 MLB season.
He is a player with a mere 54 career major league games but he will likely be overshadowed by anyone.
Bird was born Gregory Paul Bird on November 9, 1992 in Memphis, TN.; and moved to Colorado when he was 10 years old.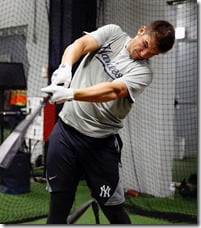 Greg attended Grandview High School in Aurora, Colorado –where he was named the Colorado Gatorade Baseball Player of the Year as a senior. He later committed to attend the University of Arkansas to play college baseball for the Arkansas Razorbacks.
The first baseman was drafted by the New York Yankees in the 2011 MLB Draft. Greg was initially drafted as a catcher. He got his first hit during his Yankees debut and hit two homeruns in one game four days after making his debut in 2015.
He ended the season with 11 home runs in 46 games in 2015, when he was called up from the big leagues to replace Mark Teixeira.
Last month Greg bird said of his year away from the sport:
I've never really wanted to take a year off from baseball. But not to be able to really do baseball, and much else, so early in my career was extremely difficult for me.
During the interview Bird revealed he actually feels he became a better player after not being able to play for a whole year. He rehabbed to regain strength, but he had to regain the lost feel of his swing. He said about lessons learned
"I learned patience and staying within the day, that's a big lesson to learn in baseball,'' "It's a lesson in a lot of different things, level-headedness, modesty, it can change quickly.
Bird is clearly on cloud nine these days, however, it seems the hunky player enjoys his well deserved popularity with his cat #MrDelicious.
You can check him out on Instagram here.