Zach Werenski
Zach Werenski, the 19-year-old NHL player will have to sit the remainder of the playoffs after being stuck in the face with a puck –which resulted in a facial fracture.
During Sunday's loss to the Pittsburgh Penguins, the Columbus Blue Jackets defenseman took the hit in the second period before briefly returning in the third.
The Michigan native showed just how tough NHL players are by getting stitched up and returning to the game, however, his eye began to swelled up between the third period and overtime making it impossible for him to come back out.
He shared a picture after the game sporting a massive, swollen black eye with a gnarly cut underneath, clearly his eye too swollen to see properly.
Werenski, has emerged as one of the best young defensemen in the sport. He recorded 47 points (36 assists, 11 goals) during the regular season and scored his first playoff goal earlier in the Blue Jackets' Game 3 loss to Pittsburgh.
Zach Werenski was born July 19, 1997 to parents Kristen and Ken Werenski. He has one older brother, Brad Werenski who also played hockey growing up.
Zach who started skating when her was 3 and started playing when her was 4, enrolled in the College of Literature, Science and the Arts at the University of Michigan.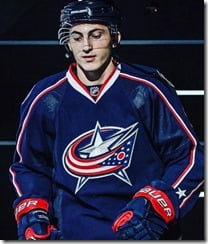 During his freshman season, at the University of Michigan, Werenski recorded nine goals and 16 assists. Following an outstanding rookie season, Werenski was named to both the 2014–15 Big Ten All-Freshman Team and the All-Big Ten First Team.
Zach also represented the U.S at the 2014 World U-17 Hockey Challenge, where he recorded one assist in six games, and won a gold medal. He was named captain of the Team USA at the 2016 World Junior Ice Hockey Championships.
He accelerated studies to become NCAA-eligible in summer 2014 and was drafted eighth overall by the Blue Jackets in the 2015 NHL Entry Draft –becoming Michigan's highest draft pick since Jack Johnson (3rd overall, 2005).
Last March he signed a three-year, entry level contract with the Columbus Blue Jackets, beginning with the 2016–17 season.
Those rooting for the young star, have nothing to worry about. The recent injury, though looking very disturbing will like cost him just one game, let's face it, the Penguins currently lead the Jackets three games to none in their opening-round series. We took a closer look at Zach's social media and so far, no sign of being in a relationship.
You can follow him on Instagram here.