The play of the day comes in the form of Kristaps Porzingis' fast break dunk!
Meet one of the new faces in the NBA, Kristaps Porzingis is a 20-year-old Latvian power forward/ center who made his NBA debut earlier this week.
The 7 ft 3 in player, was selected by the Knicks with the fourth overall pick of the 2015 NBA draft. Last July he signed his rookie scale contract with the Knicks and made his debut on Wednesday, October 28.
Porziņģis, who averaged 10.5 points and 3.2 rebounds per game in four Summer League games with the Knicks, made his debut in the team's season opener against the Milwaukee Bucks.
According to ESPN, Porzingis scored 16 points (3-for-11 FG, 9-for-12 FT) with five boards, a trey, an assist, a steal, a block and two turnovers in 24 minutes of his NBA debut on Wednesday.
Porzingis was especially aggressive as a scorer, drawing 12 free throws and adding another 11 field goals in only 24 minutes of action in his first NBA game. His defensive contributions helped make it a stronger all-around effort as well.
According to his prospect analysis, his strengths include: mobility and athleticism of the charts for players his height. He is an excellent shooter with quick release, potential 20 and 10 guy.
His weaknesses are listed as, lack of aggressiveness, (we can scratch that after his Wednesday debut); frame still needs to fill out and he also needs to work on defensive awareness and rebounding instincts.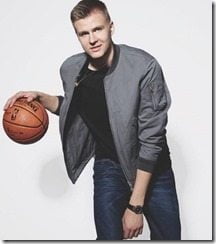 Kristaps Porzingis was born Aug 2, 1995 in Latvia. According to info online, he showed an interest and skill for the game from a very young age. He started out his career in youth team in his home country until being discovered in Latvia in 2010 when he was 15-years old and already 6-8. Despite his youth, he moved to Spain to sign with Cajasol Sevilla, where he's been playing for four years already.
Although he didn't win many games with Sevilla, he had a solid 2014/2015 season with them.
He was given the 2015 Eurocup Rising Star. He also competed with the Latvia youth national team at the 2013 FIBA Europe Under-18 Championship.
Not much is known about his more private and personal life, so the idea of a girlfriend/dating seems pretty far from his mind at the moment! Though with his baby face and his swagger he definitely looks like a chick magnet!
As of now Kristaps Porzingis is all about stats and numbers but keep coming back for updates and have no doubt we'll be hearing more from him in the near future.
Check him out on Instagram here.