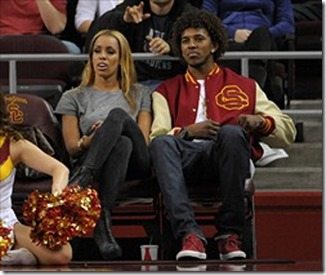 L.A Lakers star and former Ex-Philadelphia player Nick Young is quite the ladies man, the 28-year-old has been getting his fame down with the ladies but he hasn't been that lucky so far.
The rapper-looking baller who is involved in a sexual battery lawsuit has filed documents showing he is "no rapist." According to TMZ, he claims the woman is just making a money grab! And that the DNA is not his! The lawsuit was filed back in May and it basically said Young not only drugged the woman but raped her after they met at a bar in West Hollywood.
Raised in Los Angeles, California, Young entered the NBA draft before his senior year and was selected 16th overall by the Washington Wizards in the 2007 NBA Draft.
He and Puerto Rican sprinter Carol Rodriguez-pictured below- were an item for a while, actually for years! They were a college couple while at USC. They broke it off when Young allegedly fathered a  baby by another girl named Keonna last year. Keonna as the new girl in his life attended all of his games. It was also believed she was the one who sent photos of Young's ex-fiancée Rodriguez and were leaked last year.
During an interview about a year ago he was asked "what's your favorite Olympic event?" And he replied
Actually, my college girlfriend is in the Olympics. She runs track.
This is a picture of his baby mama-pictured below-and was said he was very much in love with her, but sources say they are not together any more, so is he single? He sure has had major drama with women, let's do a recap; first he was in a nice committed relationship with another athlete he the messed up and had a baby and is currently in the middle on a legal battle trying to prove he is innocent of rape… Does he have the clear head to be in a relationship right now? Well, you know man, he probably does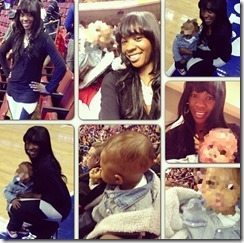 The Graffiti art, skate boarding and video game player seems to be getting his life back on track, he is a successful player after all and "Swaggy P" Young has showed his swagg before.
You can find him on twitter here.