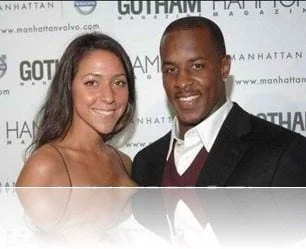 Former Jets safety Erik Coleman and his beautiful wife Sabrina Gardner posed for photographer Jordan Matter for his series "Athletes Among Us" and these two looked better than ever. want to know more about Erik's pretty lay Sabrina? check her bio below.
31-ear-old safety Erik Coleman currently a free agent, was selected by the New York Jets in the fifth round of the NFL Draft, he played in NY until 2008 when he signed with the Atlanta Falcons, he left Atlanta in 2010 when he joined the Detroit Lions who released him last December. Coleman is happily married to Mrs. Sabrina Coleman aka Sabrina Garner who you might remember from Ariana Castelli's music video Love is Love.
28-year-old Sabrina Gardner born on on February 21, 1985, dated her fab NFL hubby for two years before getting married on June 29, 2009 in New York; they welcomed their first daughter in 2009 and their youngest princess last year.
Follow Erik Coleman wife Sabrina Coleman on Twitter here.