Scott Tolzien
Scott Tolzien, the 29-year-old Indianapolis Colts quarterback was signed to the team on a 2-year contract, earlier this year.
Scott Jeffery Tolzien was born September 4, 1987 in Rolling Meadows, Illinois. The Illinois native has an older brother, Michael and a younger brother Mark. Both played football collegiately.
Scott attended William Fremd High School in Palatine, Ill. –where he passed for 4,145 yards and 40 touchdowns and was twice named to the all-conference and all-academic teams.
Tolzien –who was named conference player of the year and an academic all-state selection as a senior –lettered in football, basketball, baseball and track.
He went on to have an illustrious career at the University of Wisconsin, including winning the 2010 Johnny Unitas Award. He also received the UW Wayne Souza (offense) Coaches' Appreciation Award.
Tolzien went undrafted in the 2011 NFL Draft.After going undrafted he signed with the San Diego Chargers; after a preseason game against the 49ers, the Chargers cut him, and the 49ers promptly signed him.
He made his NFL debut in 2011 for the San Francisco 49ers, and made his first start in 2013 for the Green Bay Packers.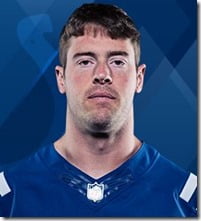 Scott had his first starting opportunity in 2013 after an injury to Packers' quarterback Aaron Rodgers. During the three-game stretc, he threw for a lot of yards — 717 — with a .611 completion percentage and rushed for 55 yards and a touchdown on five carries. But he also threw a single touchdown with five interceptions while Green Bay went 0-2-1 in those three games.
Now that he is signed to the Colts, it appears history repeats itself as, Tolzien will be starting on the Thanksgiving game due to an Andrew Luck concussion.
So, that's all good and dandy, but what about his personal life? Scott Tolzien is quite the private guy. He isn't much of a fan of social media and we assume he isn't married.
He could be however, in a relationship with a special lady, but we have no confirmation about it.