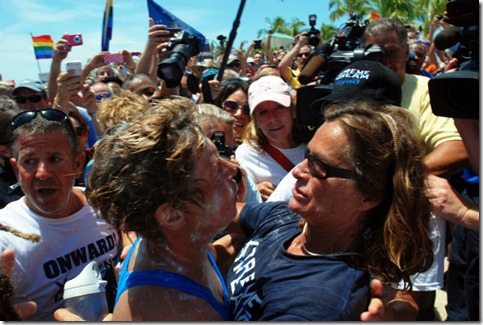 It might come as a shock for some but 64-year-old World champion swimmer, record breaker, journalist and motivational speaker Diana Nyad has been chosen to be part of DWTS season 18! But if we think about it, makes perfect sense, who better than Diana to have the endurance the competition requires! The other contestants should be really afraid of the first person to swim from Cuba to Florida, she is the ultimate competitor of the upcoming season!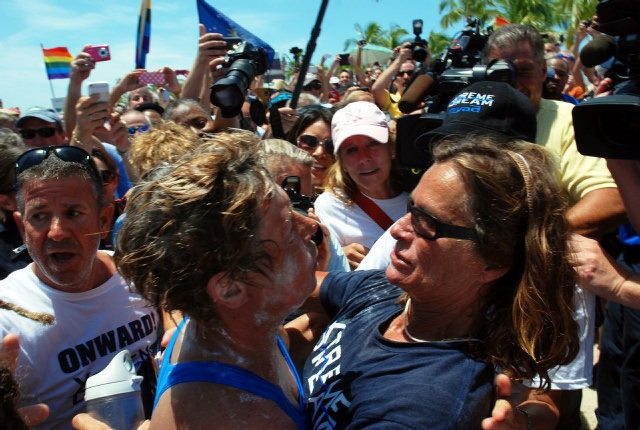 She and former No. 3 in the world on the Pro Racquetball Tour, trainer and best friend Bonnie Stoll have a long-time relationship/partnership. The two women formed a company called BravaBody which is aimed at providing online exercise advice to women over 40, with the two world-class athletes giving direct inspiration and custom-made work-outs.
A Facebook page for their partnership reads
We are fed up with the shame women feel over their bodies. And we intend to literally raise the collective self-esteem of women our age around their bodies. Let's be bold and go out and enjoy this beautiful planet of ours! Let's be confident and walk down the streets of America as if we own them! Let's be competent and hoist the kitchen water bottles onto the dispensers all on our own! Let's throw gusto into our days and romp with our children and grandchildren as if we're their ages!
Diana and the racquetball champion Bonnie Stoll have been pictured together in many occasions and a closer than friends relationship has been reported between the two of them. What do you think? Diana who has publicly spoken about her sexual trauma as a child, is also openly .
Of course Diana, being as famous as she is, she has been pictured with many friends, fans, TV personalities and the list goes on. Below we can see a few of her snaps with Ironman Sabrina Haun, TV host Chelsea Handler and others.
The endurance swimmer and Bonnie embraced after Nyad walked ashore Monday, Sept. 2, 2013 in Key West, Fla. after swimming from Cuba. Nyad became the first person to swim from Cuba to Florida without the help of a shark cage. She arrived at the beach just before 2 p.m. EDT, about 53 hours after she began her swim in Havana.
Are you rooting for Nyad??
Follow closely her performance on her twitter here.