Sandra Quesada
Meet Sandra Quesada, this stunning brunnette is the MLB WAG and girlfriend of Yoenis Cespedes. The Cuban MLB player who is an outfielder with the NY Mets.
Cespedes a member member of the Cuba national baseball team, played with the Detroit Lions, the Boston Red Sox and the Oakland Athletics, prior to his contract with New York.
Cespedes is  as we all known a talented and extremely famous athlete, but he has forgotten where he came from. He still is the same humble guy, he used to be, the only thing different is that he is rich now.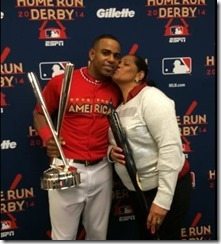 The family was finally reunited after they spent nearly a year and a half apart while Céspedes' mother and cousins struggled to arrive from Cuba.
During an interview last year Estela Milanes described the family's harrowing departure from Cuba and the year and a half they spent trying to join Yoenis in the U.S. Now his family is settled in Cuba but they often visit him at his home in the Oakland Hills.
Céspedes is the son of Estela Milanés, a softball pitcher who appeared in the 2000 Olympics for Cuba. His father, Cresencio Céspedes, was a former Cuban League catcher who separated from Milanés around the time his son turned 1.
Like mother like son
Unlike his mother, Yoenis has made his mark as a hitter. He broke in with the 2003-2004 Serie Nacional for Grandma, hitting .302/.382/.503 and garnering consideration for the Rookie of the Year Award but losing out to Frank Montieth.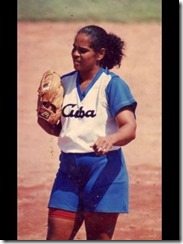 Céspedes was Cuba's starting center fielder in the 2009 World Baseball Classic.The budding baseball star fled Cuba, in search of a prosperous life.
He thought he would never leave but things changed after his national team snub, and he said he soon connected with Edgar Mercedes, a well-known agent in the Dominican Republic.
Thus began a series of steps in the journey.Céspedes established residency in the Dominican in January 2012. A month later, the A's signed him to a $36 million, four-year contract, the biggest ever for a Cuban defector.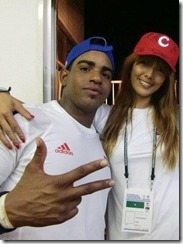 Things haven't been easy for the player whose young son lives in Cuba. He met the boy's mother when he was 14, they were together for nine years, and they are on good terms.
He and his son –also named Yoenis –talk on the phone every two or three days.
Over the years,  tons of photos showed Yoenis with an array of beautiful women. Neither was properly identify and to be quite honest, only he knows which of those women, he dated if he ever did. but things have changed, there is just one beautiful girl and she has been properly identified by FabWags.
As you can see, Yoenis Cespedes couldn't feel more proud of the woman who holds his heart. Her name is Sandra Quesada and yes, she is a stunner!!!
More photos below
 You can find him on Twitter here.