Zenobia Dobson
Zenobia Dobson is the mother of late teen, Zaevion William Dobson. Her son tragically died a hero last December after he gave his own life in order to save the life of three girls during a random shooting in Tennessee.
Zaevion Dobson was a sophomore and football standout –who was liked by teachers and students at Fulton High School. He also worked with younger boys at the Emerald Youth Foundation.The 15-year-old didn't think twice in jumping on top of three girls to shield them from a spray of bullets in Knoxville, Tennessee.
Thanks to Zenobias' son incredible act of selflessness, the girls were not injured.
Zaevion whose dream was to become a football player or coach, will be honored by ESPN with the Arthur Ashe Courage Award –which is presented each year to individuals whose contributions transcend sports and recognizes those individuals who embody the spirit of the honor's namesake.
Zaevion's mother, Zenobia Dobson, will accept the award on his behalf, and she will be joined on the stage by his brothers, Zack Dobson and Markastin Taylor.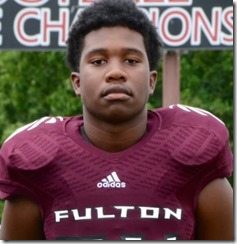 Zenobia Dobson said in an ESPN press release. "We feel truly blessed and honored that our Zaevion joins the ranks of honorees. Like Arthur Ashe, Zaevion faced obstacles, but he overcame them. With this award, we know that Zaevion's name and example will never be forgotten."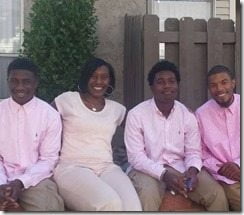 Zenobia Dobson cried tears of joy when earlier this year, President Obama mentioned her son's name during a speech on gun control. A still grieving Zenobia said at the time:
"To know that his actions reached that far … it brought me a sense of peace, that someone would even know my son by his name and that the President would call out his name in a press conference, it is just truly an honor,"
Obama praised Zaevion for his bravery while speaking about his executive action to impose stricter gun control laws. Zenobia Dobson is also the mother of Dobson's brothers 17-year-old Zach and 23-year-old Markastin –both have been deeply affected by the loss of their youngest brother. Zaevion's father is Lionell Kimber.
According to people close to the family, Zenobia Dobson raised her three sons to be "the kind of boys who get up and go to church, get up and go to school, you don't have to pressure them to do the right thing."
Zenobia Dobson made plans for her son's funeral, set for the day after Christmas at 11 a.m. at Overcoming Believers Church on Harriet Tubman Street, to accommodate the expected crowd that her home church, Martin Chapel United Methodist, can't hold.
According to her her Facebook page, Zenobia Dobson works at Senior Nutrition Program.