Kiara Morrison
Kiara Morrison is the girlfriend of NBA shooting guard, DeMar DeRozan. The 26-year-old California native, currently plays for the Toronto Raptors.
DeMar DeRozan was born August 7, 1989. His parents are Fran and Diane and has a brother, Jermaine. DeMar has been playing since he was a little boy. He captured the Slam Dunk competition at the McDonald's All-America game, getting perfect scores on his last two dunks. DeMar Scored 10 points on 5-for-10 shooting for the West squad at the McDonald's All-America game. He was also named to USA Today's 2008 All-USA Second Team and invited to play in the Jordan Brand Classic at Madison Square Garden. Other highlights from his senior year at Compton High School, include scoring a team-high 17 points to help lead Team USA to a 98-78 win vs. the World Select Team at the 11th Annual Nike Hoop Summit in Portland in April 2008.
He was named the Most Outstanding Player in the Pac 10 tournament during his only season at the University of Southern California. Most likely you know all about Kiara's man being drafted 9th overall by the Toronto Raptors in 2009 and being called to his first NBA All-Star game in 2014, so is time to learn more about the pretty Kiara Morrison instead.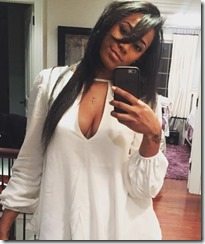 Kiara Morrison is half-Pinay and half black. She and DeMar DeRozan have history, they have been a couple for a long time. Kiara and her man both attended USC together and believe it or not, she also played basketball. Kiara happens to know all there is about the game. She is the daughter of Keith Morrison, who played for Alaska in the PBA in the late 1980s.
The pair, seem to be doing just great in Toronto as her man, makes his way into a record-making season this year with the team. Kiara on the other hand has shown herself very supportive attending all of his games.
Together the couple are the proud parents of a daughter, Diar. Kiara Morrison gave birth to their adorable baby girl in 2013. According to playerwives, the couple has been engaged since 2013.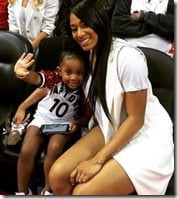 Kiara Morrison takes her little mini me to her daddy's games and little Diar is known for rocking a #10 onesie with a "Baby DeRozan" nameplate.
Nowadays, the full time mommy, has become somewhat of the 'go-to' in between of everything for her man; which, she says, is a full-time job. She's also a fixture at Raptors games, where she can be heard calling out plays and defensive rotations from her seat behind the basket.
You can find the lovely, Kiara Morrison on Instagram here.