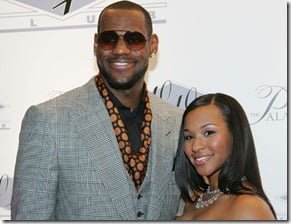 LeBron James and longtime girlfriend Savannah Brinson have finally set a wedding date. They have sent a "Save the Date" note to family and friends to make no plans for the weekend of Sept. 13 – 15 for the nuptials in San Diego.
The note from the couple features a caricature of the family all dressed up, grinning and piloting a plane into San Diego (picture below).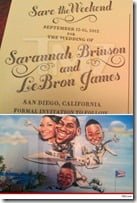 Savannah Brinson is the mother of the NBA star's two sons: LeBron Jr. (8 years old) and Bryce (5 years old) . They were high-school sweethearts in Ohio. Miami Heat star LeBron James proposed on New Year's Eve at the end of 2011, celebrating also her 27th birthday. They currently reside in Coconut Grove, a Miami suburb, where James bought a three-story mansion overlooking Biscayne Bay for $9 million.
"When it happens, it happens," Brinson told Harper's Bazaar on the subject of marriage in 2010. "If we do it, I want it to be forever."
Savannah  is from Akron, Ohio. She conducted in her hometown the Ninth Annual Sapphire Ball on September 11, 2009. This is a charity event that raises money for the Women's Health Center at Summa Akron City Hospital in support of gynecological-related services for women of all ages in need. Brinson has also devoted her time to the LeBron James Family Foundation whose mission is to empower children to be physically fit, academically focused and environmentally aware, and empowers single parent families to succeed.
Follow Savannah Brinson on Twitter here. On Tumblr here.