Aaron Nola Wife
This stunning gal named Hunter Jayde Harrington is the beautiful wife of MLB player Aaron Nola, a pitcher currently signed by the Philadelphia Phillies. Nola, a Baton Rouge native, also played college baseball at Louisiana State University from 2014 to 2015.
Aaron Nola Parents
6'1 Aaron Nola was born in Baton Rouge, Louisiana, to Stacie (Barrios) and A.J. Nola. Stacie's dad Richard Barrios, who served as Louisiana House of Representatives sergeant at arms, taught her discipline.
Aaron Nola Brother
Austin Nola
As you probably know, Aaron Nola has one brother, Austin Nola, the catcher with the San Diego Padres, who previously played for the Seattle Mariners from 2019 to 2020 and college baseball at LSU from 2008 to 2012.
Austin Nola is married to Michelle, mother of the couple's son Vincent Nola born on March 26, 2020, and a second one on the way.
Aaron Nola MLB Career
June 2011: The Toronto Blue Jays selected Aaron Nola in the 2011 MLB draft, but he opted not to sign.
June 5, 2014: The Philadephia Phillies drafted Nola in the first round (7th overall) in the 2014 MLB draft.
June 10, 2014: Signed his rookie contract with the Phillies.
He played with the Clearwater Threshers (Class-A-Advance minor League), Double-A Reading Phillies, Triple-A Lehigh Valley IronPigs during the 2014 season.
July 21, 2015: Nola made his MLB debut against the Tampa Bay Rays.
April 2, 2016: Nola was named to the Opening Day Roster.
August 3, 2016: He was placed on disabled list after suffering a right elbow strain.
April 2, 2017: He was named on the Phillies' 25-man roster.
March 2018: He was named to the Phillies' Opening Day.
February 13: 2019: Nola signed a contract extension with the Philadelphia Phillies.
In 2020, Nola joined the Phillies' spring training late due to a COVID-19 quarantine. He made his third consecutive Opening Day start, leading to a 5–2 loss against the Miami Marlins.
He pitched two complete games in 2020, both shortened to seven innings due to a rule change for doubleheaders.
Nola's start against the Nationals on August 26 marked Joe Girardi's 1000th managerial win.
Despite a 5–5 record and 3.28 ERA in the 2020 season, a 5–0 loss against the Rays saw the Phillies miss out on wild card contention in the postseason.
Nola was chosen for the fourth consecutive Opening Day, a feat not seen from a Phillies pitcher since Steve Carlton (1977-1986).
On April 18, 2021, he achieved his first complete game shutout in the MLB, defeating the St. Louis Cardinals 2–0.
On June 1, Nola recorded his 1,000th career strikeout, making him the fastest Phillies pitcher to reach this milestone.
He tied Tom Seaver's record of 10 consecutive strikeouts in a game against the Mets on June 25.
However, he posted the lowest LOB percentage among pitchers in the majors at 66.8% for the 2021 season, finishing with a 9–9 record, a 4.63 ERA, and 223 strikeouts.
Nola made his fifth consecutive opening day start due to an injury to Zack Wheeler, pitching 6 innings and winning against the Oakland Athletics.
Despite pitching a complete game on August 13, he lost in a close contest with Jacob deGrom 1–0.
On October 3, 2022, Nola led the Phillies to a playoff-clinching win over the Houston Astros, maintaining a perfect game through 6+2⁄3 innings.
He finished the 2022 season with an 11–13 record, a 3.25 ERA, and 235 strikeouts, leading the Majors in strikeout-to-walk ratio.
Nola also played a key role in the Phillies' victories in the National League Wild Card Series and Division Series.
Despite his performances in Game 1 and Game 4 of the 2022 World Series, the Phillies lost the series in six games.
On November 7, 2022, the Phillies exercised their $16 million club option on Nola for the 2023 season.
Aaron Nola Contract and Salary
Aaron Nola's four-year contract with the Phillies is worth $45 million; the deal included a $2 million signing bonus, $45 million guaranteed, and an annual average salary of $11.2 million.
Aaron Nola Wife
One thing you should know is that Hunter Jayde Harrington is not only Nola's longtime girlfriend but also his fiancee since December 23, 2021, when he asked her to marry him on top of Yonah mountain.
My fiancé & best friend forever!!!!! An answer to many prayers, and a dream come true. I Can't wait to marry you, Aaron Michael🤍🙏
Hunter Jayde and Aaron Nola got married on December 31, 2022, at the Barnsley Gardens in Adairsville, Georgia.
Aaron and Hunter revealed they are expecting their first child on October 4, 2023.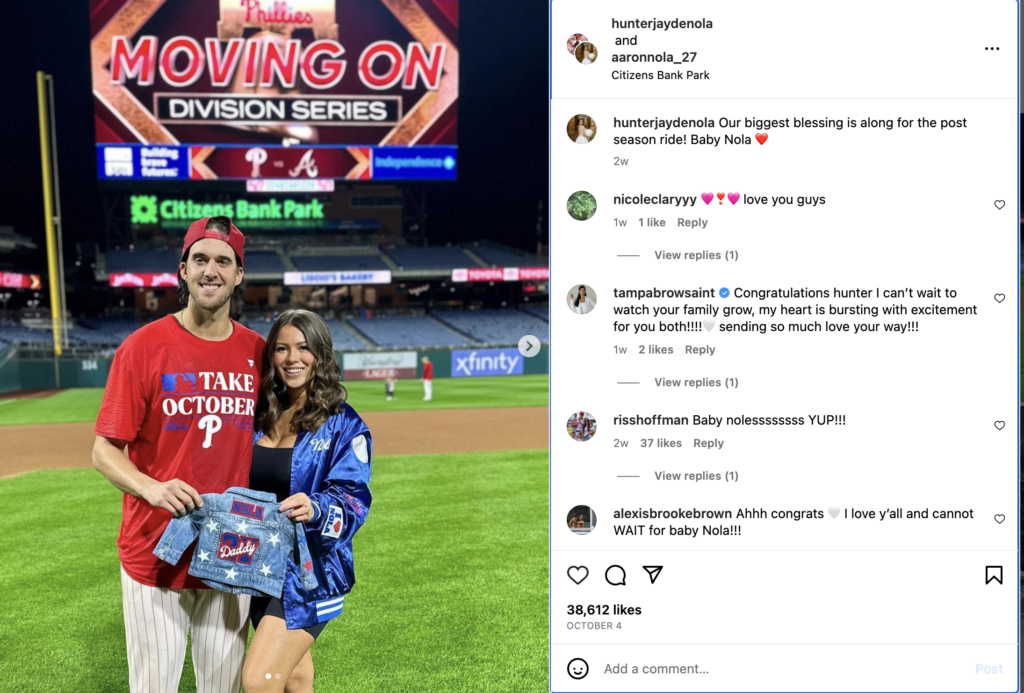 Hunter Jayde Harrington
24-year-old Hunter Jayde Harrington, now Hunter Jayde Nola, was born in Jasper, Georgia, on February 11, 1999. Hunter is the daughter of Donnie and Jessica Suzanne Harrington. She graduated from the University of North Georgia, and before that, Hunter attended Pickens County High School.
Hunter and Aaron live together in Philadelphia with their two fur babies, Boone and Boudreaux, a Bernedfoodle and miniature bernedoodle, respectively.
These cuties are on Instagram.
Related Story: Connor Brogdon Girlfriend Toni Gillingwater