Alexis Realmuto
Have you met Alexis Realmuto? This gorgeous and lovely lady is the wife of MLB player J.T. Realmuto, currently the catcher for the Philadelphia Phillies. He previously played for the Miami Marlins from 2014 to 2018 and high school baseball at Carl Albert High School in Midwest City, Oklahoma.
J.T. Realmuto Parents, Sisters and Brother
J.T. realmuto was born Jacob Tyler Realmuto on March 18,n1991, in del City, Oklahoma. He is one of the children born to David and Margaret Smith Realmuto, who attended Del City High School and workedat MTM Recognition. David Realmuto (b. Sept. 25, 1954) played college baseball at Southwest Missouri State University.
J.T. Realmuto has two sisters, Amanda Realmuto, now Amanda Smith and Ryan Realmutio, now Ryan McMullen, who played catchers at Northwestern State and Oklahoma State, respectively.
J.T. also has one older brother, Tony Realmuto, a wrestler at the University of Central Oklahoma, earning All-American honors in 2000.
J.T. Realmuto High School
J.T. Realmuto played baseball (shortstop), football (quarterback) and basketball (power forward) at Carl Albert High School from 2006 to 2010. He received All-American team selections from both the ABCA and Louisville Slugger his senior year, when he also averaged .595, 21 home runs, 22 doubles, and 88 hits.
After high school, Realmuto committed to play at Oklahoma State on an athletic scholarship, but then the Marlins came knocking on his door.
J.T. Realmuto MLB Career
The Miami Marlins selected J. T. Realmuto in the 3rd round (104th overall) in the 2010 MLB draft.
The Marlins assigned to the GCL Marlins of the Rookie Gulf Coast League.
He was later promoted to the Greensboro Grasshoppers during the 2011 season.
In 2012, played for theJupiter Hamnmerheads of the Florida State League.
Realmuto was assigned to the Double A Jacksonville Suns, during the 2013 season.
The Miami Marlins called up J.T. Realmuto on June 1, 2014.
On June 5, 2015, Realmuto made his MLB debut against the Tampa Bay Rays.
The following season despite he joined the Marlins for spring training he was assigned to the Triple A New Orleans Zephyrs.
In April 2015, he was named starting catcher for the Marlins.
On April 26, 2016, J.T. Realmuto was named the Miami Marlins Rookie of the Year.
He suffered bone bruise on his lower back after the 2017 season and was therefore placed on the disabled list.
He won his first Silver Slugger Award in 2018, and his second a year later.
The Miami Marlins traded J.T. Realmuto to the Philadelphia Phillies on February 7, 2019.
 In 2019, Realmuto won his first Gold Glove Award.
In September 2019, he underwent a minor meniscus surgery.
On November 11, 2020, Realmuto became a free agent.
He signed a contract with the Phillies on January 29, 2021.
On February 18, 2021, Realmuto fractured his thumb.
In May 2021, suffered a bone bruise on his left hand.
He hit an inside the park homerun in the postseason against the Atlanta Braves on October 15, 2022.
Realmuto recorded a hit for the cycle against the Arizona Diamondbacks on June 12, 2023.
J.T. Realmuto Contract and Salary
On January 29, 2021, J.T Realmmuto agreed to a five-year, $115.5 million contract with the Philadelphia Phillies. Realmuto earns an annual salary of $23.1 million.
J.T. Realmuto agreed to a $5.9 million contract with the Miami Marlins on January 11, 2019.
J.T. Realmuto Wife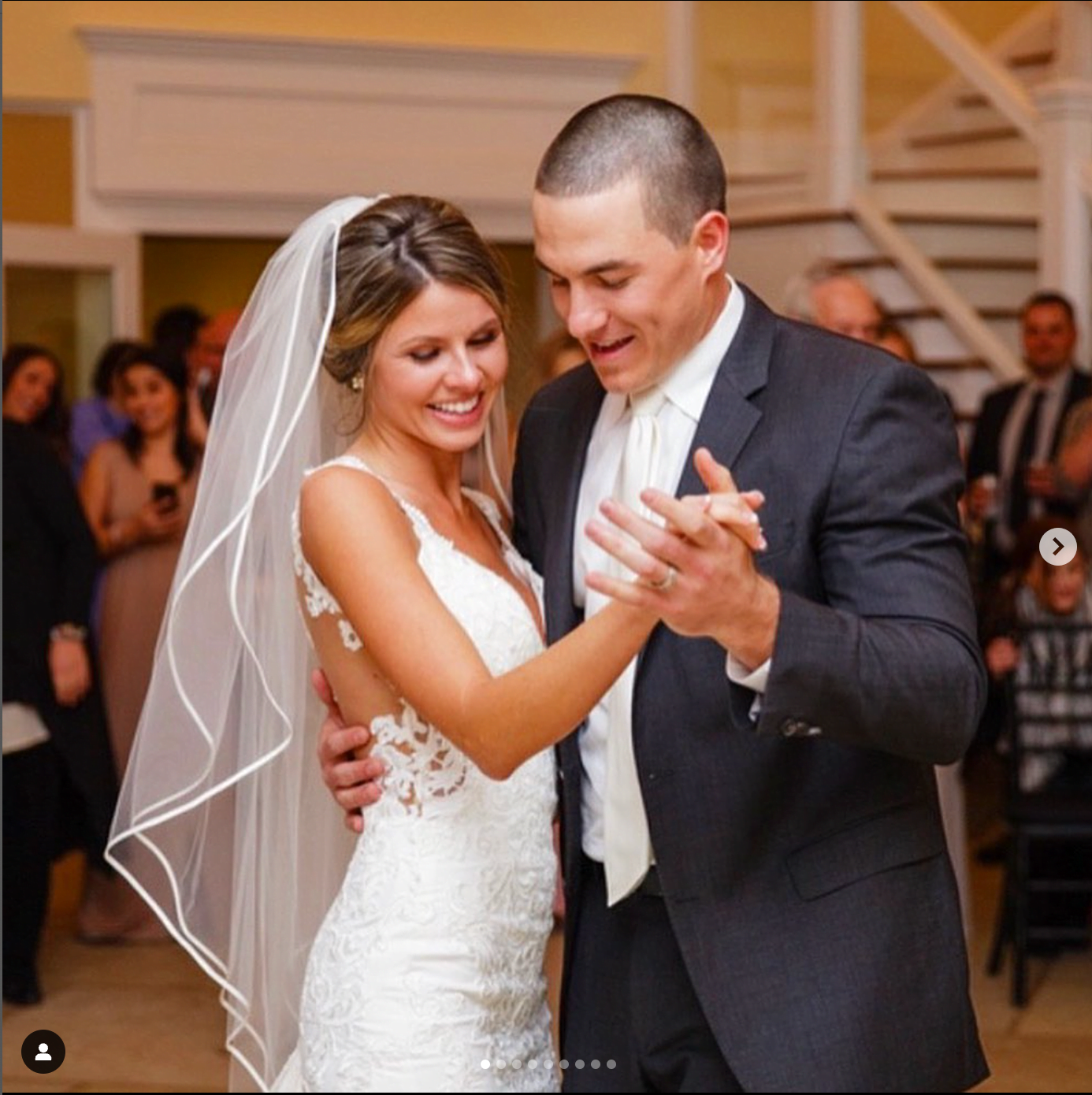 J.T. Realmuto and his spectacular wife Alexis who also goes by Lexi Realmutio got married on February 4, 2017. They have since welcomed four children and are expecting their fourth!
Alexis Realmuto
Sadly not much out there about pretty Alexis Realmuto, except that she was born Alexis Taylor Reeves on October 2, 1989. Alexius is the daughter of Elaine reeves and has two siblings, brother Chad and Britney Laine.
Her brother Chad, is the regional director of sales at Millenium Health in Hiuston, Texas; he graduated with a B.S in finance and multinational business operations from Florida State University, received entrepreneurship credential from Harvard Business School in 2019 and finally got his Executive MBA from the University of Florida in 2022.
Alexis Realmuto has over 15.1 followers on Instagram, check her out!
J.T. Realmuto Children
During the 2022 Playoffs, J.T. Realmuto and his wife Alexis revealed they were expecting their fourth child together!! They welcomed their first child, daughter Gracie Laine, on July 10, 2018; their second daughter Willa Mae graced them with her presence on July 11, 2019.
Their little prince, Cash Taylor Realmuto came into their lives on November 18, 2021. Alexis and J.T. Realmuto welcomed their second son and fourth child, Zane Tyler Realmuto, in March 2023.
Related Story: Rhys Hoskins Wife Jayme Hoskins