Andressa Perkovski
Andressa Perkovski is the loving and supportive girlfriend of Brazilian goalkeeper, Jakson Follmann. Her professional soccer player boyfriend is one of just six survivors in the crash of LaMia Airlines Flight 2933 which killed 71 people including 19 Chapecoense players.
Andressa's boyfriend was born Jakson Ragnar Follmann on March 14, 1992. The Alecrim, native played soccer behind the family home with his father while growing up. His dad now a retired police sergeant, cheers him on at the face of tragedy.
The 6-foot-1 Follmann left home at 13 to sign with Grêmio, the state's most well-known team, and later played for lesser teams in Brazil's vast interior before eventually signing with Chapecoense.
Playing time was hard to come by, however. Chapecoense's starting goalkeeper, Marcos Padilha, known as Danilo, was enjoying a dream season when Follmann arrived, and he appeared in only one competitive game, a Copa Sudamericana match that Chapecoense lost, 1-0.
Follmann was patiently awaiting his chance to shine as it was believed Padilha would transfer at the end of the season –when sadly, tragedy struck –just when the unknown team was having a fairy-tale season.
Last November, a charter flight carrying his Brazilian soccer team, Associação Chapecoense de Futebol, crashed into a muddy Colombian mountainside on the way to a match. Jakson, the now former footballer is one of only three other players who survived the Chapecoense air disaster that killed 19 of his teammates.
Jakson who barely made it out alive, lost a his right leg costing him his soccer career.
The 24-year-old has already began his long road back to recovery. In February, he tried for the first time his prosthesis. He recently revealed during an interview he is grateful to be alive and all he want is go back to normal life with soon-to-be wife, Andressa Perkovski. Meet her below.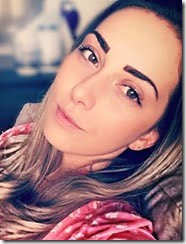 There's no doubt miss Perkovski 24, has been key in the recovery of Jakson.
After waking up in a Medellin hospital four days after the crash, Jakson said he heard the voice of is mother and that he did a lot of crying in the following days. His family, along with Andressa Perkovski have helped the young man in his recovery.
The two have been enjoying of normal couple stuff like outings to the beach, hanging out with friends and of course doctors appointments.
Andressa who is active on social media has been sharing images of her boyfriends through out the recovery process. She wrote on Instagram a month after the crash:
"A month of your rebirth, new life, hope, love, gratitude, faith,"
The stunning Andressa Perkovski holds a degree in Physical Education and  is currently pursuing her master 'in Education in Sciences / UNIJUÍ.'
Check out Andressa on Instagram here.