This pretty young lady is Mychal Johnson; she is the drop-dead gorgeous girlfriend of NBA player Andrew Wiggins, the 6'7 Canadian small forward currently signed by the Golden State Warriors who previously played for the Minnesota Timberwolves and college basketball for the Kansas Jayhawks at the University of Kansas.
Andrew Wiggins High School
Andrew Wiggins attended Vaughan Secondary School for two years, before he transferred to Huntington High School in 2011, where he averaged  24.2 points, 8.5 rebounds, 4.1 assists and 2.7 blocks per game his junior year and 23.4 points, 11.2 rebounds, 2.6 blocks, and 2.5 assists per game his senior year.
Wiggins was named 2013 Naismith High School Player of the Year, 2013 Gatorade Athlete of the Year award,  2013 American Family Insurance All-USA Player of the Year by USA Today,  and 2013 Gatorade National Boys Basketball Player of the Year.
Andrew Wiggins Kansas
Wiggins committed to the University of Kansas on May 14, 2013, he chose the Jayhawks over offers from North Carolina, Kentucky and Florida State. He averaged 17.1 points, 5.9 rebounds, 1.5 assists per game; he saw action in 35 games al starts.
He was among the top 25 finalists for the John R. Wooden Men's Player of the Year, and one of 10 finalists for the Naismith College Player of the Year award. He announced he would enter the draft after the 2013 season.
"It wasn't an easy decision," Wiggins said in a scheduled news conference of his decision not to stay at KU. "I just wish I had more time. It went by so fast."
Andrew Wiggins Family
Andrew Wiggins' family consists of his parents Mitchell Wiggins and Marita Payne-Wiggins of Thornhill, Ontario, and his sisters Stephanie, Angelica and Taya Wiggins andbrothers Nick and Mitchell.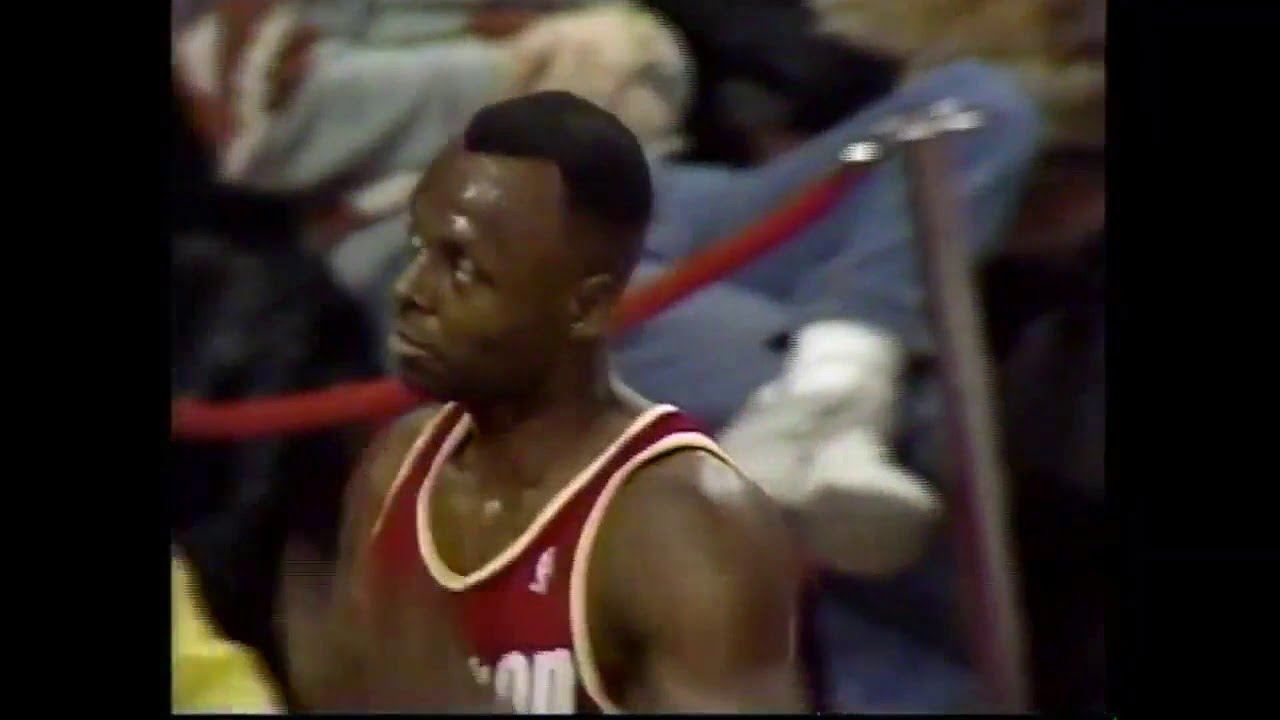 His father 6'4 Mitchell Wiggins (b. Sept. 28, 1959) played college basketball at Florida State before joining the Chicago Bulls during from 1984 to 1992, he also played for the Philadelphia 76ers and the HOuston Rockets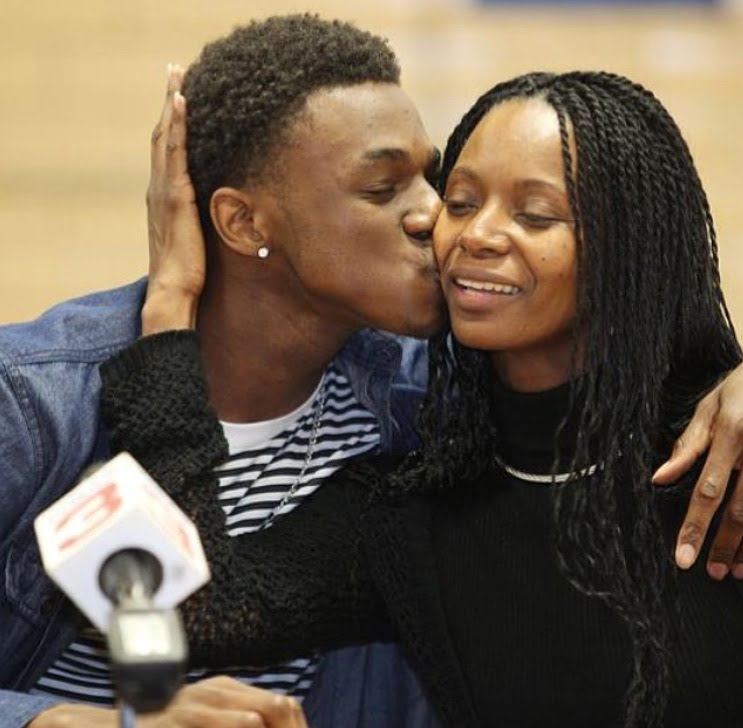 His mom Marita born on October 7, 1960 in Barbados was a member of the track and team at Florida State and a member of the Canada National Team during the 1984 and 1988 Olympic games, winning two silver medals. Marita like her husband Mitchell Wiggins are Florida State Athletic Hall of Famers.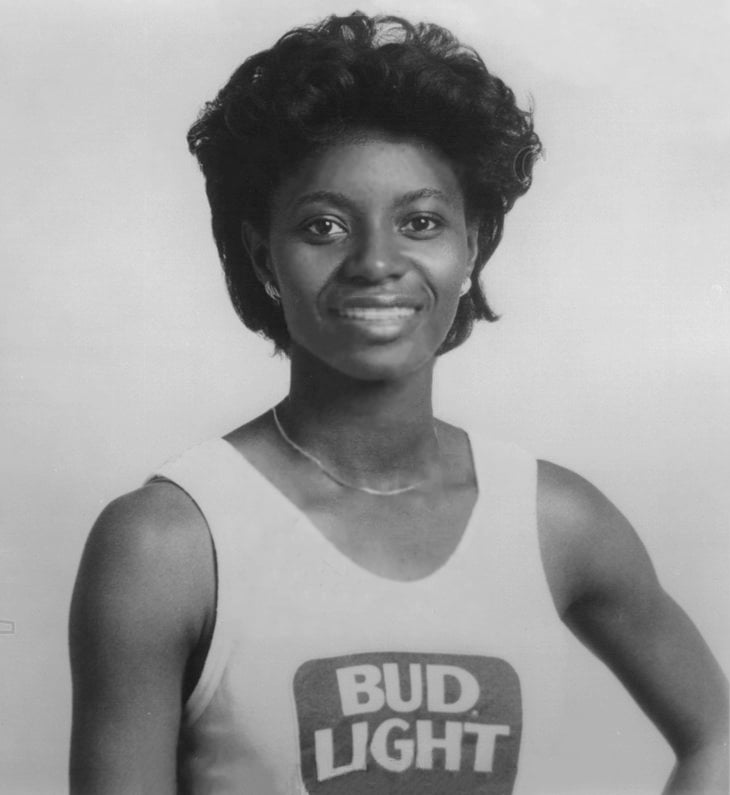 His sister Stephanie Wiggins is a real estate agent in Kingston, North Carolina, Angelica  played guard at Florida Atlantic University; while his little sister Taya is a  student at the University of Minnesota Twin Cities.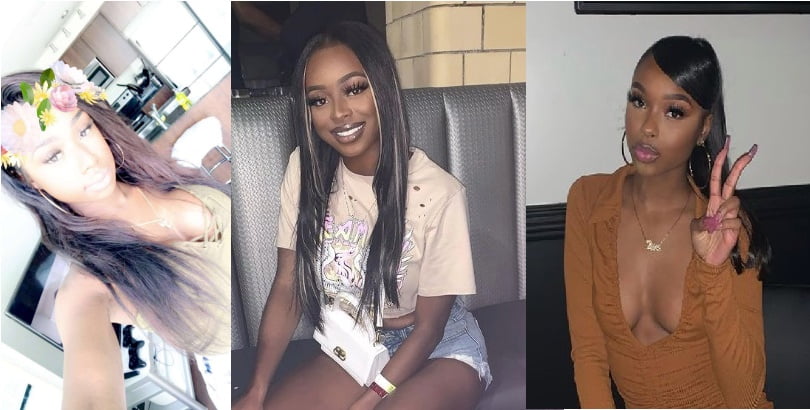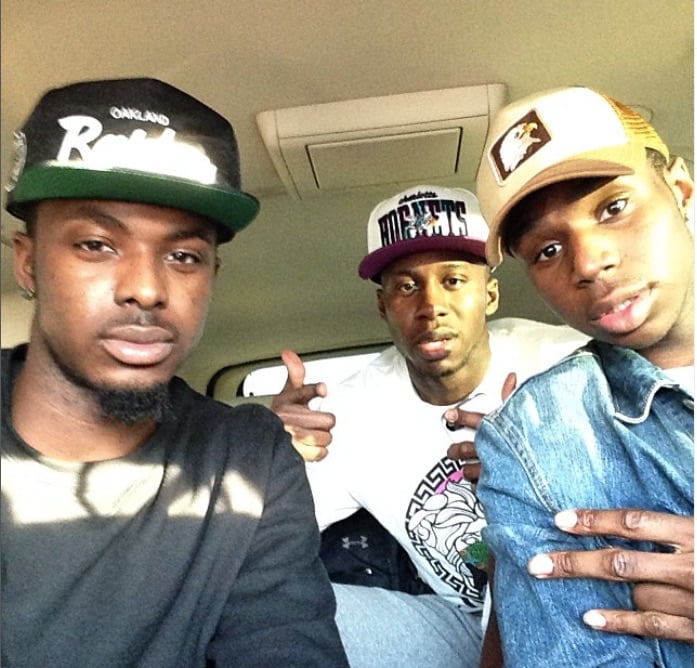 6'6 Nick Wiggins born on Feb. 4, 1991) played for Wichita State, he also received offers from Baylor, Villanova, Oregon and Pittsburgh. Nick averaged 4.9 points and 1.8 rebounds his freshman year and 5.1 and 2.3 rebounds his sophomore year.
Mitchell Wiggins Jr. holds an arts degree from Hillsborough Community College, a degree in criminal justice and a masters in business from Southeastern University. He is the owner of Assist in Tampa, Florida. Before that Mitchell worked t Wiggy's World Foundation, Zara (sales associate), Fit2Run and also served as an assistant coach at Hillsborough Community College.
Andrew Wiggins Draft
Wiggings announced he would declare to the draft on May 14, 2014, forgoing his last year of college eligibility.  On June 26, 2016, Andrew Wiggins was the first overall selection drafted by the Clevland Cavaliers during the 2014 NBA draft at the Barclays Center in Brooklyn, New York. The Cavaliers traded Wiggins on August 23, 2014, along with Anthony Bennett, to the Minnesota timberwolves and sent Thaddeus Young to the Philadelphia 76ers, in exchange for Kevin Love, Alexey Shved and Luc Mbah a Moute.
Andrew Wiggins Net Worth
As of May 2022, Andrew Wiggins net worth has been estimated at $35 million. In addition to his salary from his contract with the Timberwolves, Wiggins earns roughly $600,000 from his endorsement deals with Fitbit, BioSteel and the Chinese shoe brand Peak.
He previously had a deal with Adidas, which he first signed in July 2014, the deal according to sources was targeting Andrew for $180 million for 10 years.
Andrew Wiggins Contract
According to Spotract, Andrew Wiggins signed a five-year, $148 million contract extension with the Minnesota Timberwolves on October 11, 2017. By the end of the 2023 season, his career earnings will top $100 million.
Wiggings signed his rookie-level contract with the Cleveland Cavaliers in 2014, the four-year, $24.8 million deal included an $11,269,320 guarantee.
Andrew Wiggins Salary
Andrew Wiggins salary is $29,542,010. According to sources, Wiggins' salary will be $33.6 million next season.
Andrew Wiggins Height
The Toronto, Ontario native Andrew Wiggins stands at 6'7 (2.02 m) and weighs 89kg (197lb).
Weight 6'7 (2.02 m).
Height 89 kg (197 lb)
DOB February 23, 1995.
Hometown Toronto, Ontario, Canada.
Position Small Forward.
Team Golden State Warriors (2020).
Andrew Wiggins Injury
Feb. 01, 2022 – Knee
Jan. 21, 2022 – Foot
Feb. 19, 2021 – Health And Safety Protocols
Dec. 18, 2021 – Knee
05/13/2021 – Knee
Jan. 19, 2021 – Knee
Jan. 09, 2021 – Quad
Feb. 27, 2020 – Back Spasm
Dec. 05, 2019 – Thumb
March 12, 2019 – Left Quad Contusion
March 09, 2019 – Left Quad Contusion
Nov. 13, 2018 – Quad
Nov. 09, 2018 – Quad
Oct. 29, 2018 – Quad
Oct. 22, 2018 – Quad
Dec. 30, 2017 – Sore Ankle
Andrew Wiggins Wife
Andrew Wiggins doesn't have a wife, he is not married, at least not yet.
Andrew Wiggins Girlfriend
Andrew Wiggins girlfriend is Mychal Johnson, the mother of his two beautiful children.
Mychal Johnson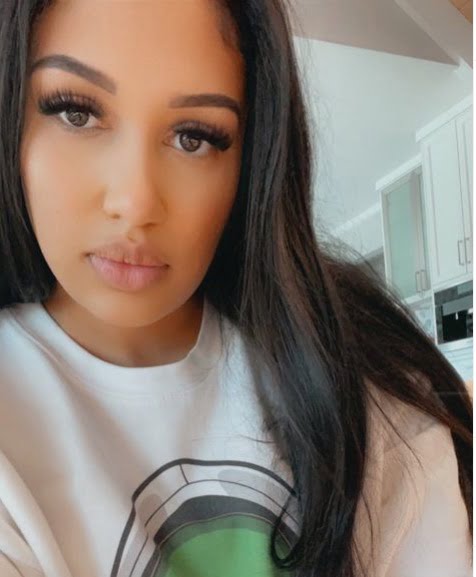 26-year-old Mychal Johnson was born in Huntington, West Virginia on November 21, 1995, one of four children born to Scott and Holli Johnson. Her dad Scott is the head coach for West Virginia Thunder AAU Team. Her siblings are Maki Scott, Mariah, and Mychelle who is dating Miles Bridges.
Mychal attended  St. Joseph High School in Huntington, West Virginia, where she was a member of the basketball team averaging 18.1 points, 7.3 rebounds, 6.1 assists.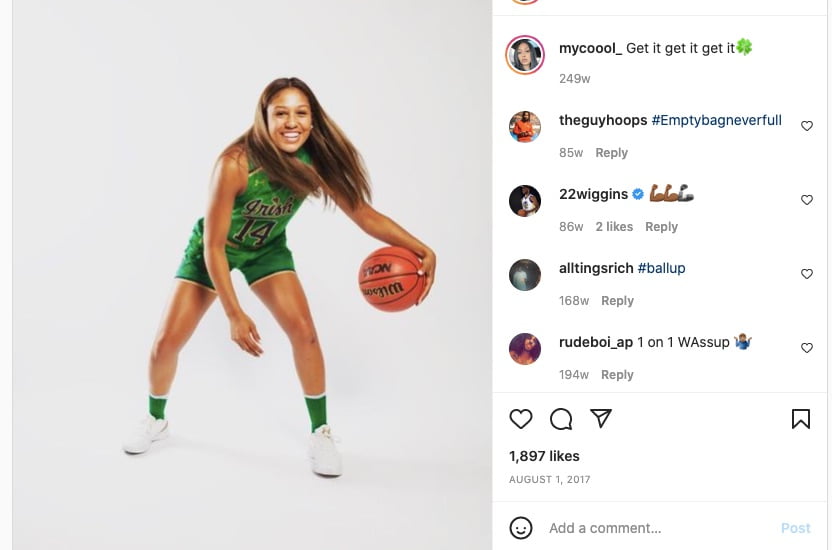 She later played college basketball for the Fighting Irish at Notre Dame; Mychal averaged 3.1 points and 1.1 rebounds per game her freshman year;  2.3 points and 1.2 rebounds per game her sophomore year, 2.1 points and 1.3 rebounds per game her junior year.
Mychal Johnson graduated from Notre Dame in 2018, with a Bachelor of business administration. Before becoming a momma, she worked as a real estate agent for Edina Realty in Minneapolis.
Mychal Johnson Instagram
Mychal Johnson posts regularly to her 12.4k Instagram followers.
Andrew Wiggins Children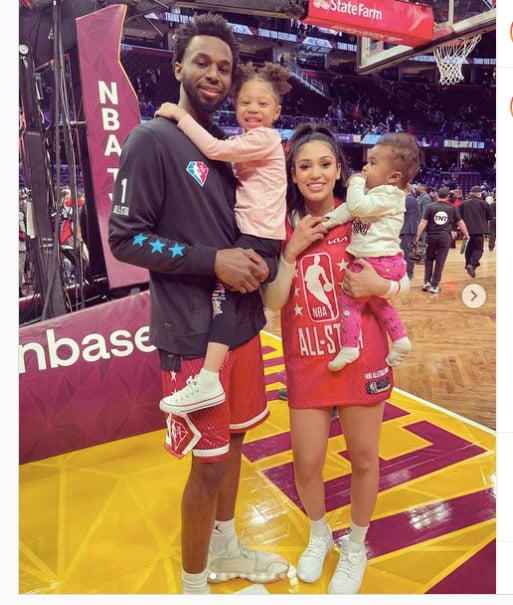 Andrew Wiggins and his lovely girlfriend Mychall Johnson have two beautiful daughters together,  Alya Wiggins born on October 11, 2018, and Amyah Milan Wiggins born on April 15, 2021.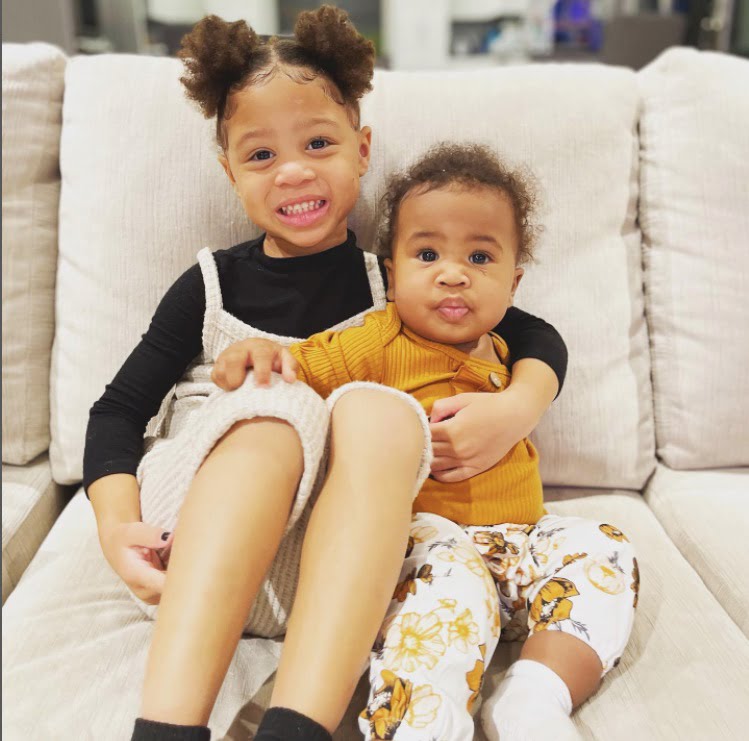 Andrew Wiggins Instagram
Andrew Wiggings has over 1.9 million followers on Instagram. You can also find Wiggins on Twitter where he has 529.7k followers and he is also on Facebook.