Anna Kasterova
Anna Kasterova is the girlfriend of Evgeni Malkin, the Russian Ice hockey center player with the Pittsburgh Penguins where he also is alternate captain.
Anna Kasterova's boyfriend Evgeni Malkin is one of two sons born to Natalia Malkin and former ice hockey player Vladimir Malkin who after quitting hockey worked at Russia's largest largest iron and steel company Magnitogorsk Iron and Steel Works. Evgeni and his brother Denis were born in Magnitogorsk where he started skating at the age of three, by the time he was five he joined his first team, he was 17 when he joined Metallurg Magnitogorsk, around that same time he helped Russia conquered the bronze medal at the 2003 IIHF World U18 Championships in Yaroslavl. He was drafted 2nd overall in the 2004 NHL Dtraft by the Pittsburgh Penguins.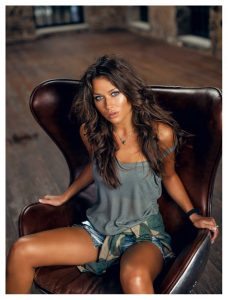 Evgeni Malkin's better half is Anna Kasterova, the Russian television personality born in Zelenograd, Moscow, Russia on September 21, 1984. Ana and Evgeni started dating in mid 2013, they found out they were expecting their first child together around September, 2015, becoming engaged in November, 2015.
Anna Kasterova the host of the television morning show Morning Russia gave birth to their son Nikita on May 31, 2016.
Some sources claimed Evgeni and Anna have gotten married this month, what do you know about that? According to this Russian site Anna and Evgeni got their marriage license in the US and exchanged vows late in May.
graduated from Moscow State Pedagogical University with a degree in Psychology. Her television career started at the age of 22 when she became editor of channel TNT's show Moscow: Instructions for Use ". After a year with TNT, Anna left and joined RTR TV channel " Russia-2 " where she became known.
Anna Kasterova became a regular on" Vesti.ru " and for a weekly program on BBC News. Anna Kasterova also became a permanent guest of the soccer talk show Blow his head .
In October 2012, Anna moved to channel NTV and started as the newface for the three-hour program "Central Television" with Vadim Takmenёvym, she joined "Grand Sport" in June 2013 and returned to "Russia-2" TV channel. On September 7, 2014 she got the lead in the reality show "I – the police".