Antoinette Ray
Antoinette Ray is the girlfriend of former YouTube sensation turned professional mixed martial arts fighter, Kimbo Slice. It is a sad time for family and fans of Kimbo, who sadly passed away at age 42.
Her boyfriend was born Kevin Ferguson, a former highs school football player, was known for his viral street-fighting videos. The heavyweight at 6-foot-2, 225 pounds, had a 5-2 professional record with four TKOs.
Slice was born in the Bahamas on Feb. 8, 1974, but grew up in South Florida. He played middle linebacker at Miami's Palmetto High.
Reports say Slice had been hospitalized earlier Monday in Margate, Florida, for undisclosed reasons, according to Coral Springs police, who had been dispatched to his residence to prevent a potential gathering outside. They said no foul play was suspected.
Kimbo was loved by fans all over specially in Miami, his underdog story moved many. After losing his home to Hurricane Andrew, Slice did a number of jobs, including working as a security guy in the strip club industry until he fought his way out to a better life. He went from being homeless, living in his car to becoming one of the first viral stars thanks to his bear knuckle fights in the streets of Miami.
As Kimbo Slice, Ferguson worked as a bodyguard for RK Netmedia, a Miami-based adult entertainment responsible for number of popular adult subscription websites, such as MILF Hunter. Rolling Stone called Slice "The King of the Web Brawlers".
He rose to prominence thanks to his YouTube videos and made his sanctioned MMA debut against former WBO Heavyweight champion boxer Ray Mercer at Cage Fury Fighting Championships 5, in Atlantic City on June 23, 2007. The match was scheduled as a three-round exhibition utilizing all professional rules of MMA combat. Slice defeated Mercer with a guillotine choke at 1:12 into the first round.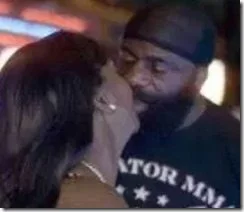 On October 11, 2007, Proelite.com announced that they had signed Slice to a deal and that he would make his debut on the November 10 EliteXC. Originally set to make his professional MMA debut against Mike Bourke, the reformed street fighter was set to face Bo Cantrell after Bourke sustained a shoulder injury. Kimbo defeated Cantrell 19 seconds into the first round by submission due to punches.
Kimbo was signed to Bellator MMA in 2015 and promoted him in a main event against MMA pioneer Ken Shamrock. Slice won the fight via TKO in the first round. His last fight was at Bellator 149 on Feb. 19 in Houston. He defeated Dhafir Harris, aka Dada5000, in a three-round decision. The result was later changed to a no-contest by the Texas commission, after Slice tested positive for anabolic and an elevated testosterone ratio.
According to his website, Kimbo Slice leaves behind partner Antoinette Ray and six children, three boys and three girls: Kevin Jr., Kevin II, Kevlar, Kassandra, Kiara, and Kevina. It is not yet clear if the couple was married, Antoinette Ray is described as his long time girlfriend in several sites.
Kimbo and Antoinette Ray's oldest son, Kevin Ferguson, Jr. AKA "Baby Slice" followed into his father's steps becoming a fighter and winning his first fight in March 2016.The couple's youngest son, Kevlar, has autism according to an "In Focus" video about Kimbo's life in 2015.
Antoinette Ray resides in Coral Springs with her children.