Troubles in paradise??? It would appear so! That is for the couple, Denver Nuggets point Guard Ty Lawson and current girlfriend Ashley Nicole Pettiford. According to court records the item was arrested after Lawson and Miss Pettiford had a nasty fight. According to Arapahoe County sheriff's officials, Lawson and his girlfriend each face charges after a fight Saturday night. You can see them in their orange suit below.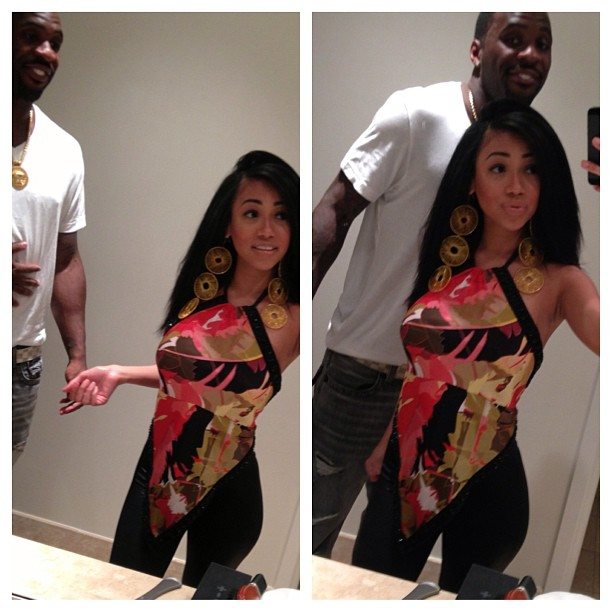 Ashley Nicole Pettiford, 24, was arrested on investigation of domestic violence-related property damage, court records state. Lawson was also arrested. The dispute happened at Lawson's home and reportedly involved yelling and screaming and damaging of cellphones. The conflict "was a mutual situation and as a result our deputies made the decision that there was probable cause to arrest both parties," said Arapahoe County Sheriff Grayson Robinson. Since the allegations were domestic violence, both Lawson and Pettiford were required to stay in jail until they could having a hearing before a judge on Monday morning. The judge issued a mandatory order of protection against Lawson that prohibits him from contacting Pettiford. A "mandatory injunction" was also issued in Pettitford's case. Both of them were arraigned and released on $1,000 bond on Monday.
Ashley Nicole Pettiford is also known as Ashley Nicole King. She is a former Bad Girls Club member. According to her Facebook page her hometown is Norfolk, Virginia. She and Lawson have been dating for the past few months and everything seemed to be just fine, you can see them in pictures jet setting to various hot spots around the country so what could have sparked their brawl??
Well King is a bad girl after all right! She participated in season 6 of the Oxygen network show and was also previously linked to Dwight Howard. King actually took things a little further when she twitted about Howard's bed performance saying he was "wack" Ouch! Classy!
Ashley's man Ty, was also linked to another member of the Bad Girl Club Natalie Nunn but had since moved on to Ashley. Ty sure knows how to pick them huh!
She has made quite a splash with over 70,000 followers on twitter she describes herself as "MsBombshell"
Don't miss the video below, it gives an idea of how good she can put on a fight! You go girl!