Audra & John Seldon
Audra & John Seldon are the proud parents to former Providence College point guard and All-American basketball player, Kris Dunn.
Ttheir son Dunn is expected to be one of the first seven players taken in the draft — possibly as high as the No. 3 pick held by the Boston Celtics.
But Dunn is not only looked after for his skill, he has shows he is a matured player, one with an outstanding story. Last year, Dunn passed the chance to be on the Draft, but no more.
Dunn listened closely to his coach telling him to turn pro, he weighed his options, and then made his decision. The NBA could wait. Twelve years after he and his older brother sold their sneakers and played one-on-one games for money just to survive the disappearance of their troubled mother, Dunn passed up millions of dollars — and returned to Providence for the 2015-16 season, to complete his degree work and improve his game.
Yes, is true Dunn, wanted to improve as a player but there was also a noble reason to his decision, to be a good role model for his two little sisters: "They're about to head off to high school and I'm just trying to show them how important education is."
Audra & John Seldon have been happily married for years, together they have two young daughters Ariana and Ashley. Audra Seldon is Kris's stepmother. John Seldon fathered Kris and older older brother John from a previous relationship.
Accoridng to The Day.com John Seldon learned that Dunn's biological mother was no longer able to provide proper care for Kris and John Jr. Seldon burned to know the whereabouts of his sons from another relationship. At the time he was living in Connecticut when he heard about the location of his sons. He drove all the way to Virginia to meet them. Kris Dunn was about 10 when he first met his father.
John Seldon is a former football great at New London and later Waterford. He played college ball in Dodge City, Kansas. John and Audra, a native of Westerly, had a life together working at Mohegan Sun.
Audra Seldon is the mother to another son, Rashad Pauley, a future New London football player, from another relationship. Of his parents he's been quoted saying
"It took me a while to really get to know my dad," Kris Dunn said. "But he always told me I'd make something of myself. I didn't always know who he was, but for some reason, I believed him. He's a great man. My stepmother is a great woman."
John and Audra Seldon, in spite of seeing their son's athletic ability, have reinforced education to their children faithfully. John Dunn, a former high school player at Montville, recently graduated from Central Connecticut with a degree in accounting.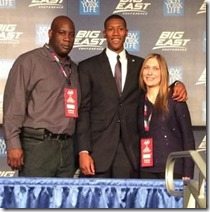 Dunn led the Whalers to an unparalleled season, tops in all of New London lore and legend. The Whalers were undefeated last year, 27-0, and won the Class L state title before a full house at Mohegan Sun Arena. They were ranked No. 1 in the state. Dunn, a good student, had colleges knocking at his door: UConn, Providence, Louisville, Texas among them.
At providence during his freshman year, he played 25 games that season and averaged 5.7 points per game.
He returned in the 2014-2015 season following shoulder surgery to earn the Big East Player of the Year and the Defensive Player of the Year awards.
You can find Audra Seldon on Twitter here and John Seldon on Twitter here.