Joann & Donald Ingram
Joann & Donald Ingram are the proud parents of 6-foot-9 former Duke forward, Brandon Ingram. Is a more than exciting day for Brandon and his whole family as he is the likely No. 2 pick in the NBA draft today.
Most experts believe the Los Angeles Lakers will pick him after LSU's Ben Simmons goes to the Philadelphia 76ers — Ingram's life is about to change drastically and those around him.
Joann & Donald Ingram welcomed their third child, Brandon Xavier Ingram, on September 2, 1997, in Kinston, North Carolina. Joann & Donald Ingram are also parents to Brandon's older siblings: older brother, Donovan, and an older sister, Brittany.
Joann & Donald Ingram have been married since March 23, 1996.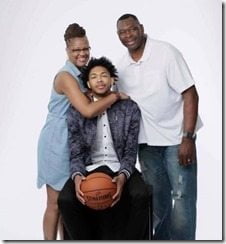 Joann & Donald Ingram son, Donovan played basketball at South Plains College (2008-10) and UT Arlington (2010-12).
Their youngest, Brandon, a 6'8″ forward who commit to Duke University and coach Mike Krzyzewski, after a standout high school career at Kinston High School, was named a five-star recruit by Rivals.com.
Ingram led Kinston to four straight North Carolina state championships while earning two straight Free Press Player of the Year Awards from the North Carolina Basketball Coaches Association and North Carolina Associated Press.
He participated in the 2015 McDonald's All-American Game, scoring 15 points while adding 5 rebounds.
According to Joann Swinson Ingram's Facebook, she is a manager at Neil Medical. She studied Business Administration at Lenoir Community College and attended Kinston High.
Donald Ingram is originally from Kinston, North Carolina. He attended South Lenoir high school and also studied at Fayetteville Tech. According to his Facebook profile, he previously worked for Crown Kinston and is employed by the Eastern Officials Association. According to Kinston.com Donald Ingram runs Martin C. Freeman's gym –is also where his son trained.
As Brandon and his whole family await tonight's draft, his mother, Joann –who probably knows him better than anybody –says about her sons apparent calm demeanor, that's just Brandon on the surface. Beneath it lies a fire that will catapult him into becoming an instant star for a struggling franchise that will need an All-Star right away.
You can find Donald Ingram on Twitter here.