Ausrine Sabonyte
Ausrine Sabonyte is the pretty sister of Lithuanian NBA player Domantas Sabonis, the power forward with the Oklahoma City Thunder. Prior to the NBA, Domantas played college basketball with the Gonzaga Bulldogs at Gonzaga University in Spokane, Washington.
In addition to that, he played with the Lithuania U-16 national team at the 2012 FIBA U-16 European Championship. He later joined the Lithuania U-18 team that played  in the  2013 FIBA Europe Under-18 Championship. Somantas then joined the Lithuania men's national basketball team that won the silver medal at EuroBasket in 2015.
Ausrine's brother the rookie of Oklahoma City Thunder who is according to media growing before our eyes. Indeed he is becoming an outstanding athlete, there is no doubt he is working his off to make his name stand own its own and he is doing is incredible quick.
That is not really a surprise at all. After all his old man is Arvydas Sabonis, the retired basketball center player who played with the Portland Blazers between 1986 to 2005.
He is not only an Olympic medalist, but also the 2010 FIBA Hall Of Fame inductee and 2011 Naismith Memorial Basketball Hall of Fame; in addition to that since October, 2011 Arvydas serves as president of the Lithuanian Basketball Federation.
Ausrine Sabonyte
Although we can keep going about Ausrine's legendary father and brother, we want to tell you a few things about this marvelous and beautiful young lady.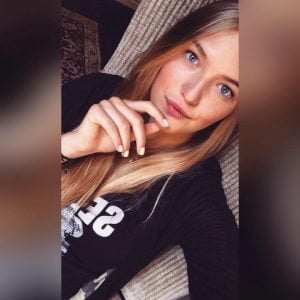 19-year-old Ausrine Sabonyte, the only daughter and youngest of four children born to Arvydas andIngrid Mikelionytė Sabonienė; she is a Lithuanian actress and the first Lithuania beauty queen.
She has three brothers Zygimantas, Tautvydas, and Domantas, the two youngest Sabonis men, were born in Portland. Her mom was only 18, when she became the first Miss Lithuania in 1988. Ingrid married 7'3″ Arvydas in 1990 at City Hall.
After 6'0″ Ausrine graduated from high school in Lithuania, she moved to Spain and subsequently to London, where she is studying business management at the University of Westminster.
You can follow her on Twitter here