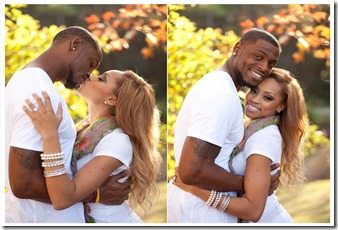 Meet beautiful Autumn Pierce, she is the gorgeous wife of 26-year-old wide receiver for the San Diego Chargers, Oluseyi Adekunleolum Ajirotutu; better known as Seyi Ajirotutu. They might not have the most common names which is just some of the many things they discover they had in common growing up. The couple has been married for over a year and have no children yet.
Autumn and Seyi met while both were students at Fresno State, they would glance at each other and smile between classes and see one another at parties and sporting events. Finally it was Autumn who made the first move by sending Seyi a Facebook message. Ant the fairy tale began.
Autumn Noelle Pierce was born on November 7, 1988, in Castro Valley, California. She is the second daughter of Paul and Flo Pierce. She has an older sister, Myah Underwood, and a darling little nephew, Kingston.  Growing up, her life was dedicated to school, sports, helping others, traveling to visit relatives in various states, vacationing in Hawaii, dancing, and having fun. As described on ourwedding.com. Autumn graduated from San Leandro High, Class of 2006.  She entered Fresno State University in January 2007.  All throughout her college experience, Autumn worked very hard to maintain her studies and hold down a job.  She graduated in 2010 with a B A in Communication Studies.  She plans to return to obtain her Master's.
The proposal is actually rather funny than romantic, Seyi proposed on November 4, 2011 while the couple was visiting his parents in Sacramento and when Autumn went to Seyi's room in the morning to make plans for the day, she noticed a little box lying on his pillow. As she says,
"He proposed to me in my PJs. You better believe I said 'Yes!' and he put a ring on it!"
Autumn wanted a romantic, elegant, opulent, and regal wedding. The couple hired Debra Hiebèrt of Très Fabu Event Planning and Design to design and produce the wedding ceremony and reception celebration. During this time, Autumn was located in southern California and Seyi was in North Carolina.
The ceremony was performed by Seyi's Uncle Olu Ajirotutu. He is originally from Africa and Seyi's grandparents and some family members traveled all the way from there as well. The couple included a "Jumping the Broom" a deep African American tradition slaves used to do to celebrate their nuptials and that now translates into "sweeping away the old and welcoming the new." But she is definitely a modern thinker, on Instagram she says
I'm married but you can look at me if you like!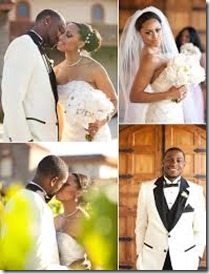 If you look them up online, you'll notice the couple had many wedding registries, including places like Macy's, Williams-Sonoma and Zgallerie. The location for the special day was the beautiful winery Casa Real.
She is currently working in San Diego in the promotional/modeling industry. Autumn and her man must be celebrating the end a three-game losing streak for the Chargers when her hubby helped Philip Rivers to give the Chargers a 41-38 victory over the Kansas City Chiefs on Sunday!
You can find Autumn or Mrs. Ajirotutu and their TUTU nation on instagram here.