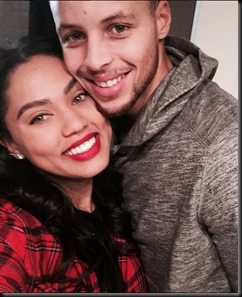 Pin
Ayesha Curry is a Canadian actress, but she also happens to be the Fab NBA Wag married to Stephen Curry, the basketball player with the Golden State Warriors.
Curry played college basketball fоr Davidson. There, hе wаѕ twiсе named Southern Conference Player оf thе Year аnd set thе all-time scoring record fоr bоth Davidson аnd thе Southern Conference.
During hiѕ sophomore year, Curry аlѕо set thе single-season NCAA record fоr three-pointers made. He was selected with thе seventh оvеrаll pick in thе 2009 NBA draft bу thе Golden State Warriors. During thе 2012–13 season, hе set thе NBA record fоr three-pointers made in a regular season with 272.
Thе nеxt season, Curry аnd teammate Klay Thompson set аn NBA record fоr combined threes in a season with 484 аѕ thе pair wеrе givеn thе nickname thе "Splash Brothers".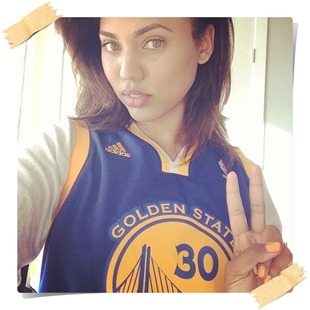 Pin
25-yea-old Ayesha Curry was born Ayesha Alexander on March 23, 1989 in Toronto, Canada and raised in beautiful Charlotte, NC. She was accepted into the York of forming arts high school program.
Ayesha curry  played Cassie Stevens in the 2008 tv movie Dan's Detour of Life, she also starred as Keeley Hawkins in Whittaker Bay and as Trish in the 2009 short film Underground Street Flippers.
That same year, Ayesha appeared in one episode of Hannah Montana, and in Good Luck Charlie in 2010.
Ayesha and Stephen dated for three years before they finally got married on July 30, 2011. She gave birth to the couple's first child, Riley on July 19, 2012.
On January 15, 2015 they announced Ayesha was expecting their second child.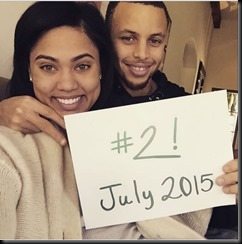 Pin
Ayesha shows her amazing cooking skills YouTube, check her on her channel Little Lights of Mine here.
Ayesha and Stephen welcomed Ryan Carson Curry, their second baby daughter on Friday, July 10, 2015. Little Ryan weighted 6lbs 1 oz.
God is amazing. The gift of life is truly an indescribable thing. We were fortunate enough to experience it all over again friday night! Our beautiful little Ryan Carson Curry arrived perfectly healthy and happy!

She arrived a little  early through a quick 3 hour labor and was a small 6lbs 1 oz. I was able to  birth her naturally without an epidural. This is something I've always wanted to do and was so happy to get through it with the help of my darling husband and amazing doctor. This time around I felt more prepared and was able to take in the entire process. It was a miracle!

Stephen, Riley and I are enjoying this gorgeous gift from God and basking in the present! We are now officially a family of 4! Riley is completely enamored with her little sister and has taken on her role as big sister beautifully. I am already so proud of her.
You can follow Ayesha Curry on Twitter here.
Read: Gary Payton Mother Monique Payton