Meet Theresa McDermott
Theresa McDermott is the proud mother of NBA player, Douglas Richard McDermott, best known as Doug McDermott. Her son was born January 3, 1992 in Grand Forks, North Dakota.
Doug McDermott attended Creighton University, where he played college basketball. Doug made headlines leading the nation in scoring in 2013–14. He was a consensus first team All-American in 2012, 2013, and 2014, and scored the fifth-most points in NCAA Division I men's basketball history.
He finished his career as the fifth-leading scorer in NCAA history with 3,150 points. As a senior, McDermott set the Creighton single-season record with 934 points and 330 field goals, and he left Creighton as its all-time leader in points, field goals (1,141), 3-point percentage (.458) and free throws made (594).
Doug was also named to the team that represented the United States in the 2011 FIBA Under-19 World Championship.
On June 26, 2014, McDermott was selected with the 11th overall pick in the 2014 NBA draft by the Denver Nuggets. He was later traded to the Chicago Bulls on draft night.
Theresa McDermott married Doug's father, Greg McDermott –a college basketball coach and the current Creighton coach. Greg coached his son thought his career at the University. As we can see, Theresa's whole life has turned around the sport.
Theresa McDermott met Greg while he played basketball at UNI. The couple ended up getting engaged by their senior year and have been going strong ever since.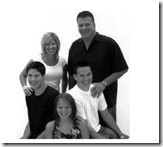 Theresa McDermott and her husband are also the parents to two other children: oldest son, Nick McDermott and the youngest of the three, daughter Sydney McDermott.
Her husband, Greg is a fourth-team all-state center for Cascade High School in 1983, McDermott would enter the IHSAA Hall of Fame in 2015 for his playing prowess as a prep.
According to his Creighton Athletics page, Greg would accept UNI head coach Jim Berry's scholarship offer to play for the Panthers. He played three seasons for Berry and two years for Eldon Miller at UNI, recording 1,033 career points and ranks 33rd on UNI's all-time scoring chart. As a junior, he ranked 16th nationally in field-goal percentage (58.7 percent) and shot 60.3 percent from the field as a senior. The 6-foot-8 center was named second-team all-conference as a junior and was a team co-captain as a senior. He received his B.A. degree from Northern Iowa in 1988. He played one season professionally in Switzerland after graduation before beginning his coaching career.
Greg has said about Theresa McDermott during a press conference, back in 2010:
My family has been a rock for me. Theresa and I have been through a lot together and she's followed every move that I've asked her to make during my coaching career.
The lovely Theresa McDermott is a breast cancer survivor. She was first diagnosed in 2006, at the time her daughter was five-years-old. In 2013 she and her husband shared their emotional ride with cancer. The couple visited breast cancer patients at Methodist Hospital.