Sylvia Velazquez
This stunning young lady is Sylvia Velazquez; she is the girlfriend of college basketball player Chris Duarte, the outstanding shooting guard for the Oregon Ducks at the University of Oregon. Sylvia and Chris have one beautiful son together, Ms. Velazquez is also a businesswoman.
Chris Duarte Family & Early Life
Chris Duarte born Christopher Theoret Duarte is the only son born to Leonardo (stepfather) and his wife Maria Luisa Duarte. Chris started playing basketball at age 13; he played at Club Deportivo Fantastico (CDF) in the Dominican Republic and later for the Dominican Republic's U16 national team.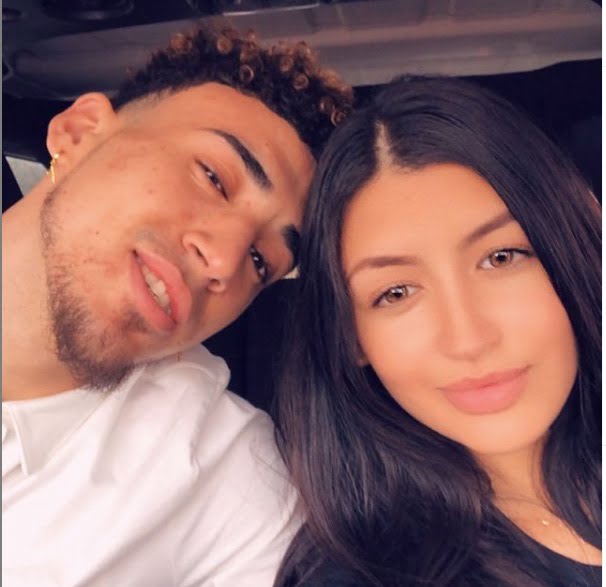 While playing with CDF, Duarte had the opportunity to attend a basketball camp in Miami, hoping to get earn a spot in a U.S high school and college later on, but Duarte didn't speak English and didn't like living in Florida, eventually went back home.
Thankfully  Guillermo "Giz" Beitler found him and saw his potential, so he searched for a suitable school, where he would learn English and play basketball; that school was Redemption Christian Academy's boarding school in Massachusetts.
Chris also had the chance to play for Dana Dingle at the New York Lighting AAU program, where he was the director at.
"It's not as easy as people think, especially when you speak a foreign language and some people are helpful and some people don't have the patience to help you," Dingle said. "Depending on who you're around, it can get to the point to where it's so hard that it's not even worth the effort and people just quit because it's frustrating. If you want something so bad but you know you need help and people are not willing to help you, it becomes frustrating. I'm glad that he didn't give up from when he first got here and he learned to trust people and allowed people to help him."
Chris felt homesick, he missed his mom, friends, luckily, Dana Dingle had a soft spot for him and Chris spent his summers living with Dana and his wife, they loved him!
"With him, no problems, no worries," Dingle said by phone from New York. "Everything was neat, clean, fold the clothes up, clean the dishes. It was unreal. If I put my wife on the phone, she'd be like, 'Why don't you get more kids like Chris?' He's the only kid that's ever cooked from the international kids I had that ever knew how to cook."
Chris Duarte College
After high school, Chris Duarte attended Northwest Florida State College in Niceville, Florida where he played under coach Steve DeMeo. Duarte earned first-team all-Panhandle Conference honors his freshman year; was awarded Panhandle Conference Player of the Year,  MVP of the 2019 NJCAA all-star game, and 2019 national player of the year by the NJCAA.
He transferred to Oregon in 2019, made his debut with the Ducks on November 5, 2019, against Fresno State. Chris was named All-Pac-12 Honorable Mention and Pac-12 All-Defensive Honorable Mention, all-international third team by NetScouts Basketball
Chris Duarte Stats
His freshman year at Northwest, Chris averaged 12.1 points, 6.7 rebounds, and 2.0 steals per game.
His sophomore year he averaged 19.4 points and 7.3 rebounds per game.
In Oregon, Duarte averaged 12.9 points, 5.6 rebounds, and 1.7 steals per game during the 2019-2020 season.
During the 2020-2021 season, he averaged 16.7 points, 4.7 rebounds.
Chris Duarte Age, Height & Weight
Chris Duarte is 23 years old, he was born on June 13, 1997. His height is 6'6″ or 1.98 m and weighs 86 kg. (190 lb).
Chris Duarte Jersey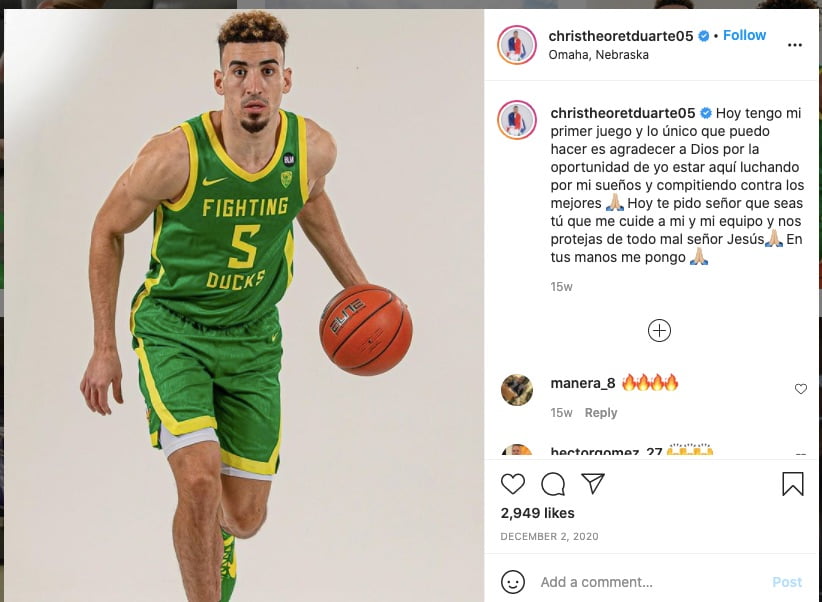 Oregon Ducks fans interested in purchasing Chris Duarte #5 Jersey you can get it at Shopcollbasketball  and you can also get your at the OUbasketballjersey store
Is Chris Duarte from Canada?
No, Chris Duarte was born in Puerto Plata, in the Dominican Republic, he moved to the United States for high school; Barbrown.com reported he was raised in Montreal; however, he attended Redemption Christian High School in Troy, New York.
Matt Prehm from 247Sports joined John Canzano n his BFT Podcast and said Duarte was born in Canada and moved to Puerto Rico at an early age.
"His story would be absolutely phenomenal to read about and tell," Prehm said. "… this is guy who was born in Canada, at a very early age moved to the Dominican Republic… he's on their national team… went to New York for high school prep school and found himself at the JUCO level… won the national JUCO player of the year and then signed with Oregon."
We found that Chris was born and raised in the Dominican Republic, he left his family and his beloved Dominican Republic when he attended high school, first in New York and later in Massachusetts.
"I was here without money, without family to take care of me," Duarte said. "It was really hard being on the road for four hours, not be able to eat but peanut butter and jelly.
After Chris Duarte averaged 18.4 points per game is without a doubt a top prospect in the NBA draft; NBC sports are pretty certain he will be drafted in the first round.
"Really good. 54 percent from the field, 44 [percent] from three, 80 [percent] from the free-throw line," said Pac-12 coach told Matt Pennie.. "[Duarte] has really good size at 6'6″. Has a strong frame. He moves well with or without the ball. You don't really need to run stuff for him. He can create his own shot, and when he's away from the ball he knows to go backdoor when the lane's open can dunk. He has this uber confidence to pull up from three. He'll pull up in transition. He's incredibly efficient. He had 22 points against Arizona on 10 shots."
Chris Duarte Girlfriend
Chris Duarte met his drop-dead gorgeous girlfriend Sylvia Velazquez while he attended Northwest Florida State College in Niceville, FL. He was at a bar with friends and was introduced to Sylvia through mutual friends, spent the whole night talking and the rest, as you all know, is history, they have been together for the past three years.
"She doesn't like going out at all and that night she went out," Duarte said. "(I) saw a pretty girl. My friend told me, 'Hey Chris, she's Latina.' I was shy to talk and we started talking, we never stopped talking."
"Every time he tells me stories, I cry because it's so sad, but at the same time it makes you realize how strong of a person he is and how determined," Velazquez said. "He told his mom he wanted to come to the United States for an opportunity. The sad thing is that he had to leave his mom to get an opportunity for him to become somebody. At the same time, it's a sacrifice for his mom and for him. Coming here 15-16 years old alone, having nobody but himself. That's the sad part for me.
"I felt good energy from him. We're both Spanish; we both have the same background in our cultures. We had things to talk about. It felt comfortable. I felt like I could be myself." Sylvia said.
Chris Duarte GF Sylvia Velazquez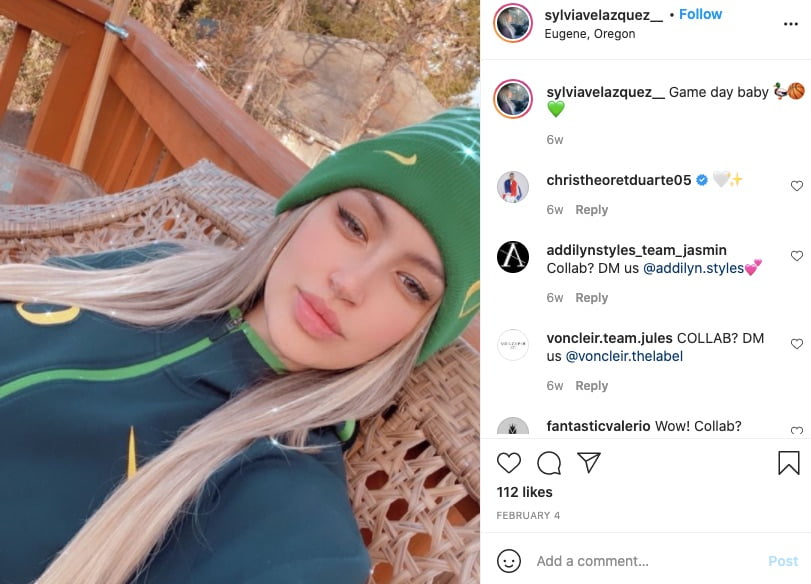 24-year-old Sylvia Velazquez was born in Puerto Rico, her family lives in Jacksonville, Florida; she found out she was pregnant in May 2019, at the time Chris was already playing in Oregon. Near the time she was getting ready to welcome their son, Chris broke his right pinky and underwent surgery on February 27th, the night before Sylvia went into labor, Chris was told he couldn't fly to be with her.
"The doctor was like, I wouldn't recommend flying because you just had surgery," Velazquez said. "Chris was like, 'No, I have to see my son.' He made it the next day and it was supposed to be a surprise, but me and him, we can't keep surprises from each other. I was so happy
"He woke up every few hours with me with a broken pinky to help me feed the baby, to help me change him. I couldn't ask for a better father for my son."
Chris Duarte and Sylvia Velazquez welcomed their adorable son, Chris Duarte Jr. on February 26, 2010.
After an hour of just pushing, I finally received the biggest blessing of my life. I love you Christopher Jr. like nothing else💙 thank you for making us parents. Sylvia posted on IG.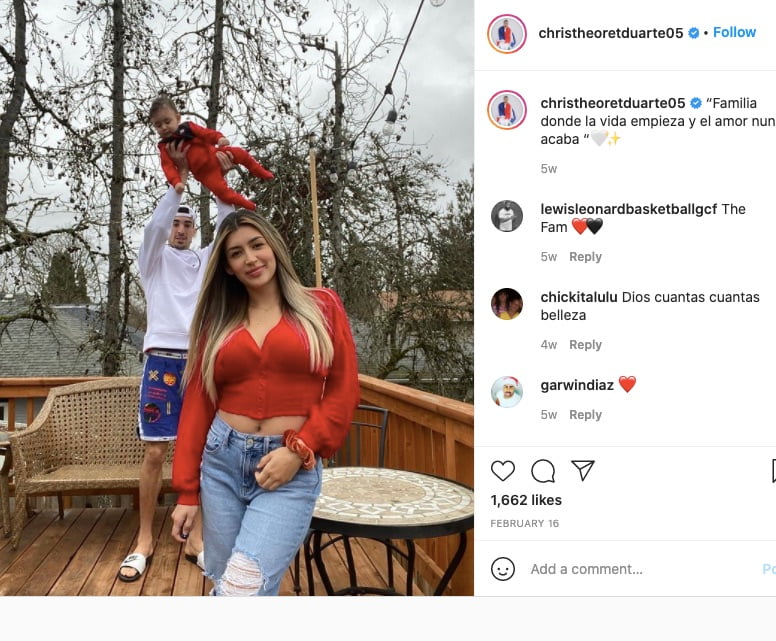 Sylvia's brother Victor Joel Velazquez is a staff sergeant for the United States Air Force. We did tell you she is a businesswoman right? Sylvia Velazquez is the owner and designer behind Color Waves Clothing, she has tons of amazing clothes, there, you should really check it out!