Jared Goff Girlfriend
This statuesque lady is Christen Harper; according to recent news, she is the current girlfriend of NFL player Jared Goff, the young and talented quarterback for the Detroit Lions, under head coach Dan Campbell.
SportsGossip, received the tip about this story initially.
Jared is hiding her from everyone except some friends. She was at the game last weekend but sat with the Whitworth clan and not his family and friends from home.
During a photoshoot with Sports Illustrated, Christen said she met Jared Goff on the dating app called Raya. They started dating in 2019.
"I was truly not looking for anything at the time," said Harper. "I had just gotten out of a long relationship and I was trying to stay single for a year. Then I met him and the rest is history, baby." 
Christen Harper
Well, there is no hiding now, check out Christen Harper's five Facts that all of you Goff fans should know about.
5'9″ Christen S. Harper was born on May 28, 1993, in California; she is one of two children born to Daria and Michael Harper, ages 60 and 64, respectively.
Christen has an older brother named Shane, a former left-wing hockey player who played for the Florida Panthers 2016-2017, before joining several AHL's teams and eventually with the Russian team the HC Lada Togliatti.
Prior to dating Goff, Christine dated former Colorado Rockies pitcher Andrew Rohrbach; who recently filed a lawsuit against the Rockies for negligence.
Ms. Harper started modeling as a kid, but it wasn't until she grew up that she started taking it seriously; nowadays, she is represented by Wilhelmina and LA Models. She holds a bachelor's degree from Cal State University of Northridge and acting at Baron Brown Studio.
In addition to modeling, Christine has some acting experience. Back in 2004, she appeared in the short film Seven's Eleven; two years later made a cameo in Entourage's episode titled One Day in the Valley. Recently, she portrayed Caroline in Ali LeRoi's dramatic film The Obituary of Tunde Johnson and as Auggie in Matt Kane's dramatic/sci-film film Auggie alongside Richard Kind and Larisa Oleynik.
Jared Goff asked Christen Harper to marry him on June 16, 2022, in Cabo San Lucas.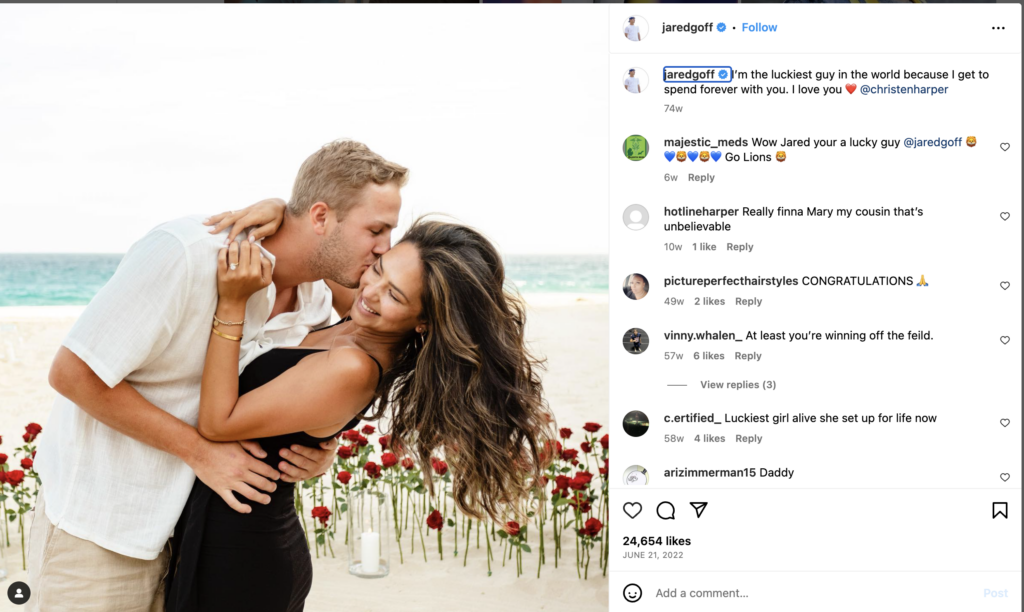 Jared Goff NFL Career
Los Angeles Rams
On April 28, 2016, during the 2016 NFL Draft, Jared Goff was picked first by the Los Angeles Rams. This move came after a trade with the Tennessee Titans for the first pick. Notably, Goff became the second Rams quarterback to be taken first overall in six years.

June 9, 2019, Goff's rookie year (2016) saw him sign a four-year contract, worth $27.9 million in guaranteed money, along with an $18.6 million signing bonus.

Goff started as the Rams' starting quarterback in mid-November, taking over from veteran QB Case Keenum. His professional debut and first NFL start were against the Miami Dolphins, where he completed 17-of-31 attempts for 134 yards.

Overall, Goff's rookie season saw him make seven starts, with the Rams losing all games he started. He completed 112-of-205 passes for 1,089 yards, five touchdowns, and seven interceptions, along with 16 rushing yards and a touchdown.
Sean McVay became Goff's new head coach. In his season-opener against the Indianapolis Colts, Goff marked his first professional victory and achieved his first career game with at least 300 passing yards.

Noteworthy performances include a 33–0 shutout victory over the Arizona Cardinals and a 51–17 win against the New York Giants, which led to Goff being named NFC Offensive Player of the Week.

Despite a loss to the Philadelphia Eagles, the Rams clinched the NFC West for the first time since 2003 after a victory against the Tennessee Titans.

Goff sat out of the regular-season finale against the 49ers and was named the PFWA Most Improved Player.

His second professional season resulted in 3,804 passing yards, 28 touchdowns, and seven interceptions, along with 51 rushing yards and a touchdown in 15 games.

He was named to his first Pro Bowl as an injury replacement and was ranked 38th on the NFL Top 100 Players of 2018.

Goff began the 2018 season with a victory over Oakland Raiders, throwing for 233 yards and two touchdowns. He continued his strong performance with consecutive 354-yard games against Arizona Cardinals and Los Angeles Chargers.

Goff's Week 4 victory over Minnesota Vikings was a career highlight, where he threw for a record 465 yards and five touchdowns, achieving a perfect quarterback rating of 158.3. This performance earned him the title of NFC Offensive Player of the Week and NFC Offensive Player of the Month for September.

Despite a career-high four interceptions in a game against Chicago Bears, Goff ended the season on a high note with a victory over San Francisco 49ers, finishing 2018 with 4,688 yards – the second-highest single-season total in franchise history. His performance earned him a spot in his second straight Pro Bowl.

The Rams finished the 2018 season atop the NFC West, advancing to the playoffs. Goff demonstrated solid performances against Dallas Cowboys and New Orleans Saints, becoming the youngest quarterback to win an NFC Championship Game.

Goff and the Rams advanced to Super Bowl LIII against New England Patriots. Despite a tough game dominated by defenses, Goff completed 19 of 38 passes for 229 yards.

Goff was ranked 32nd by his fellow players on the NFL Top 100 Players of 2019.

In April 2019, the Rams exercised the fifth-year option on Goff's contract. By September, Goff signed a four-year extension worth $134 million with a record $110 million guaranteed, later surpassed by Patrick Mahomes in 2020.

He tied the NFL record for completions in a regular-season game with 45, matching Drew Bledsoe's 1994 performance. Despite throwing for 395 yards against the Seattle Seahawks, the Rams suffered a narrow loss.

Goff continued his strong performance against the Cincinnati Bengals, and Arizona Cardinals, the latter of which earned him the NFC Offensive Player of the Week award.

Goff ended the 2019 season with 4,638 passing yards, 22 touchdowns, and 16 interceptions. His 626 pass attempts led the league that season, while his 394 pass completions set a single-season franchise record. The Rams finished with a 9–7 record.
A Week 11 road victory over the Tampa Bay Buccaneers saw Goff throwing for 376 yards, three touchdowns, and two interceptions.
Two weeks later, Goff's 351 passing yards and a touchdown helped the Rams secure a 38-28 road victory over the Arizona Cardinals.
During Week 16 against the Seattle Seahawks, Goff had 234 passing yards before leaving the game with a broken thumb. This injury led him to miss the regular-season finale against the Cardinals.
Goff finished the 2020 season with 3,952 passing yards, 20 touchdowns, 13 interceptions, 99 rushing yards, and four touchdowns in 15 games.
During the Wild Card Round against the Seahawks, Goff started as a backup but was brought into the game after John Wolford suffered a neck injury.
In the Divisional Round against the Green Bay Packers, Goff completed 21 of 27 passes for 174 yards and a touchdown, but the Rams lost 32-18 on the road.
Detroit Lions
On March 18, 2021, Goff was traded to the Detroit Lions, along with a couple of future draft picks, in exchange for quarterback Matthew Stafford.

Goff's debut with the Lions was against the San Francisco 49ers, completing 38 of 57 passes for 338 yards, three touchdowns, and an interception. Despite a late rally, the Lions lost 41-33.

In Week 7, Goff faced his former team, the Los Angeles Rams, where he threw for 268 yards, a touchdown, and two interceptions. The Lions lost 28-19 on the road.

During Week 10, Goff suffered an oblique injury against the Pittsburgh Steelers, leading to Tim Boyle starting the following week.

Goff returned for the Lions' Thanksgiving game against the Chicago Bears, throwing for 171 yards and two touchdowns in a close 16-14 loss.

Against the Minnesota Vikings, Goff led the Lions to a narrow 29-27 victory, snapping a 15-game losing streak. He was named NFC Offensive Player of the Week for his performance.

Goff helped the Lions win three of their last four games, finishing the season with a 3-13-1 record.

Goff ended his first season with the Lions with 3,245 passing yards, 19 touchdowns, eight interceptions, and 87 rushing yards in 14 games.
In the season opener against the Philadelphia Eagles, Goff threw for 215 yards and two touchdowns in a narrow 38-35 loss.

Goff led the Lions to a 36-27 victory over the Washington Commanders, throwing for 256 yards and four touchdowns.

In Week 2 against Washington, Goff set a Lions franchise record with his sixth straight home game with two or more passing touchdowns.

Despite throwing four touchdowns and a career-high 378 passing yards against the Seattle Seahawks, the Lions lost the game 48-45.

Goff finished his second season with the Lions with 4,438 yards, 29 touchdowns, and seven interceptions in all 17 games. He was named to his third Pro Bowl as an alternative.

In Week 6, Goff led the Lions to a 20-6 victory over the Buccaneers, earning NFC Offensive Player of the Week. He completed 30 of 44 passes for 353 yards and two touchdowns.

Jared Goff Contract and Salary
On September 3, 2019, Jared Goff signed a four-year, $134 million contract extension with the Los Angeles Rams. The deal included a $25 million signing bonus, $57,042,682 guarantee and an annual salary of $33.5 million.
On April 24, 2020, a notable modification was made to Goff's contract with the Los Angeles Rams. A significant portion of his salary, $9 million to be exact, was transformed into a bonus. This strategic move freed up a substantial $7.2 million in cap space for the team.
Fast forward to March 24, 2021, and we see a similar story unfolding with Goff's new team, the Detroit Lions. In a commendable financial maneuver, the Lions converted a whopping $20 million of Goff's salary into a bonus. This savvy action cleared a significant $15 million in cap space, providing the team with much-needed financial flexibility.
Read: Jared Goff Mother Nancy Goff