Meet Holly Campbell
Holly Campbell is the wife of Miami Dolphins Tight Ends coach and now current interim coach for the team, Daniel Allen Campbell.
Following the news of coach Joe Philbin getting fired, the Miami Dolphins have also found his replacement. It is only logical the Dolphins had someone in mind, that someone is TE Dan Campbell.
Her man originally joined the Dolphins prior to the 2010 season as a coaching intern/offense. This year, he entered his fifth season as Miami's tight ends coach.
Holly Campbell as well as her man, has been put in the spotlight overnight! Want to find out more about the new Mrs. head coach?
Holly was born Holly Charla, 41-years-ago. Her hubby is facing a huge but not impossible task. The 39-year-old has a two-week break to prepare the a talented but struggling team. The former TE was drafted by the New York Giants in the third round of the 1999 NFL Draft.The Texas native, played college football at Texas A&M.
Campbell joined the Dolphins after 11 years of playing experience with the New York Giants (1999-2002), Dallas Cowboys (2003-05), Detroit Lions (2006-08) and New Orleans Saints (2009). The former tight end appeared in a total of 114 games with 75 starts and caught 91 passes for 934 yards and 11 touchdowns.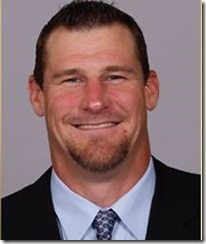 Although, he didn't play due to a knee injury in training camp, he won a Super Bowl XLIV with the New Orleans Saints. He spent the entire season on injured reserve and at 33 decided to retire.
After retiring he began a coaching career, starting as a coaching intern for the Miami Dolphins in 2010 and getting promoted to tight ends coach in 2011.
Holly Campbell has been married to Dan since 2005, making this year their 10th-year-anniversary!
Dan is described as a family man, while he's not on duty, he goes home to Holly in Texas. They are the proud parents of two children, a son, Cody, and their daughter Piper.
Not much more is known about Holly Campbell, but we have a feeling that might change, sooner rather than later!
Comments, thoughts? Think he'll do a good job?
Tell us in the comments below!