Cindy Gruden
Meet Cindy Gruden; the lovely and supportive wife of former broadcaster now NFL coach, Jon Gruden. Her husband is back as coach of the Oakland Raiders, he also coached the Tampa Bay Buccaneers. Keep reading to know Cindy Gruden's biography.
Read: Rich Bisaccia wife Jeanne Bisaccia
Cindy Gruden's husband was born Jon David Gruden AKA Jon Gruden, on 17th August 1963 in Sandusky, Ohio. His father, Jim, later served as a professional football regional scout, running backs coach and director of player personnel for the Tampa Bay Bucs. He has two brothers, Jay Gruden who is also an NFL coach and James –a radiologist.
College
Before becoming a big-shot coach, Jon played football in college. He attended Clay High School in South Bend, Indiana. After graduating from high school in 1981; Gruden attended Muskingum College in New Concord, Ohio. After one year, he transferred to the University of Dayton and lived at 3 Evanston –where he was a three-year letterman and backup quarterback for the Flyers. Gruden holds a degree in communications.
Immediately after his college graduation, he became the assistant coach at the University of Tennessee during the 1985–1986 season.
In 1992 he was hired to serve as the special offensive assistant/wide receivers coach with the Green Bay Packers. After three seasons in Green Bay, Gruden became the offensive coordinator of the Philadelphia Eagles. Gruden then was chosen to be the Raiders' new head coach for the 1998 season.
After compiling a 40–28 win-loss record (including playoffs) in four seasons with the Raiders, Gruden became head coach of the Tampa Bay Buccaneers in 2002. Jon had won the Super Bowl championship (XXXVII) in his first year with the Buccaneers. Tampa fired him on January 16, 2009, after seven seasons with the team.
 NFL  Broadcasting and  return to coaching
Gruden joined ESPN as a color analyst on its Monday Night Football telecasts. The following year he created the Fired Football Coaches Association. The Raiders hired him in January 2018.
Mrs. Gruden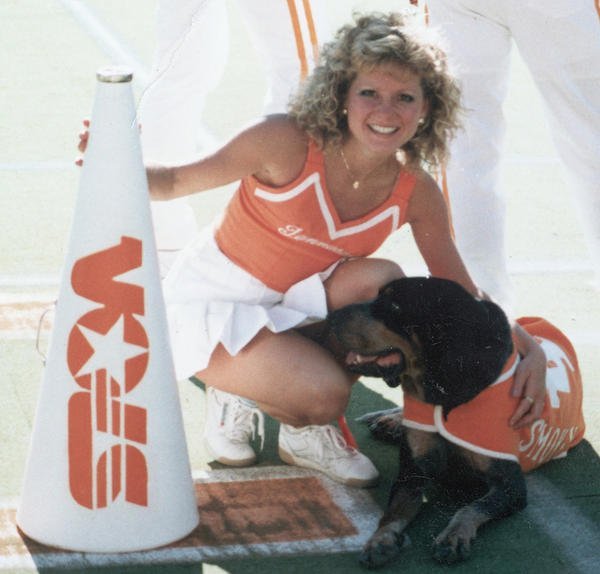 Cindy Gruden was born Cindy Brooks.
Cindy Gruden tied the knot to Jon Gruden in 1991. The blonde met her future husband while attending college. Now, they have been married for 25-years.
According to online info, Cindy and Jon met at the University of Tennessee where she was a cheerleader and he was part of the football program.
Cindy has been quoted saying about her husband, back in the day when she met him
"He was a gofer," "I know I was amazed at all the parking tickets he had at Tennessee. The coaches would send him down to The Strip (Knoxville's main drag) to get something to eat for everybody, and of course parking was just terrible, so he'd just get a place and get a ticket. I don't know if he ever paid all those tickets."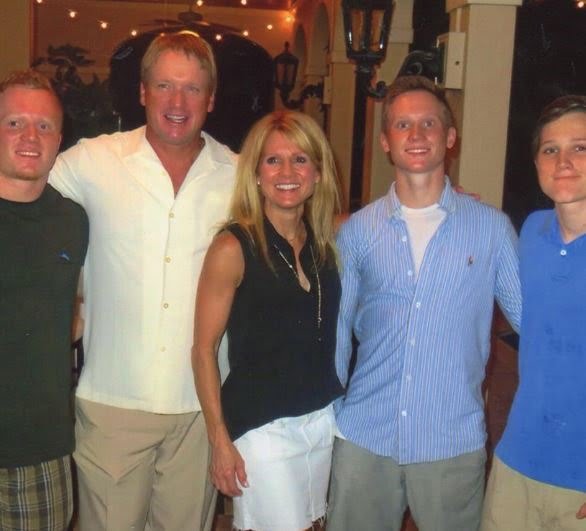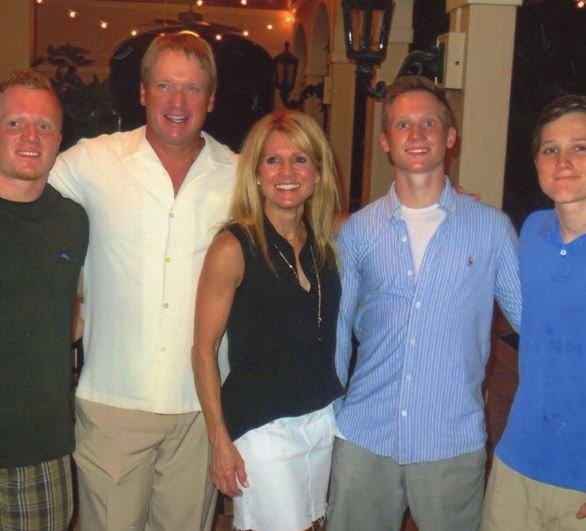 Together the couple is the proud parents of three sons, Deuce, Michael and Jayson Gruden. Eldest son, Deuce Gruden is an American football running back.
Like most coach's spouses, the mom of three participates05 in a variety of philanthropic endeavors. In 2015, the Moffitt Cancer Center dedicated the Gruden Huddle Room at the Moffitt McKinley Outpatient Center in recognition of their support.
According to her Facebook page, Cindy Gruden, and her family live in Tampa, Florida.