Colleen Rowlands
Colleen Rowlands is the gorgeous soccer WAG of Welsh international and Arsenal midfielder, Aaron Ramsey. The couple has been married for two years and have one child together.
Her footballer husband was born on December 26, 1990. He joined Arsenal in the summer of 2008 from Cardiff City. Ramsey joined the Cardiff City youth academy as a youngster, signing his first contract with the club in 2007.
His senior debut came a month later, when he took part in the match against Hull City where he proved to be a talented footballer. In 2008 Ramsey accepted the offer of Arsenal and signed for 'The Gunners'. His first years with the club were shaded by serious injuries, but in 2013/2014 season the Welshman made a huge step up, scored 10 goals and made 8 assists in the Premier League and netted a winner in the FA Cup final on May 2014.
In 2005 Aaron was invited to the youth national team. In 2008 he began to play for 'The Dragons' senior squad and became its captain in 2010, thus being the youngest footballer to ever captain the Wales national team.
Aaron has represented and captained his country and in the summer of 2012 I played at the London Olympics for Great Britain. He was named back to back Welsh Young Player of the Year in 2009 and 2010. He was also Arsenal Player of the 2013/14 season.
Her man has been with Arsenal for eight years since his $7.5 million move from Cardiff in 2008. He's recovered from a devastating leg break to become one of the best midfielder in the Premier League, firing 26 goals in the last two years. His form has improved so much that Spanish giants Barcelona have been linked with the player.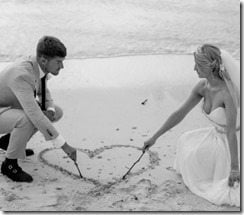 Colleen Rowlands became Mrs. Ramsey in June of 2014. The couple met when they were both youngsters and are high school sweethearts. They tied the knot at Caldicot Castle in Monmouthshire, Wales.
Like her Arsenal and Wales player hubby, she is also from Cardiff. The blonde beauty is very private about her stuff. Not many details are known about her despite going from girlfriend to officially Mrs. Ramsey.
She rarely makes public appearances but does keep her Instagram updated with photos of great-looking dishes, hinting she is obviously into cooking.
She has over 15K followers on the social media platform, where she says about herself: "Showcasing my amateur cooking skills for enthusiastic foodies like myself."
But her skills are not only limited to cooking delicious food, Colleen Rowlands is also a total babe and judging by her images, she has done some modeling in the past as well.
Last November Colleen Rowlands and her hubby welcomed the arrival of their first child. Colleen gave birth to an adorable baby boy. Colleen Rowlands currently resides in London with her boys.
You can check out Colleen Rowlands who also goes as Colleen Ramsey on Instagram here.