Cristina Morales
Cristina Morales is the wag dating soccer star, Gary Medel. Her boyfriend is a defensive midfielder and currently he is playing from Internazionale and the Chilean National Team, Cristina's man is one of Chile's most loved players.
Dubbed Chile's Pitbull, Gary Alexis Medel Soto rose into prominence after leading Chile national team to 2015 Copa América glory. He was from a middle class family born in Santiago, Chile on 3rd August, 1987.
He began playing football as a youth player from age twelve from Universidad Católica. During those days, he used to play as a forward player. In his senior debut in 2008, Medel scored a phenomenal bicycle kick against Bolivia in a qualifier for the 2010 World Cup. That same year he set up the winner against Argentina — the only time Chile has defeated its biggest rival in a qualifier — and he went on to win honors as the best player of the group stages in South Africa, according to FIFA's Castrol Performance Index.
He was offered a contract by the Boca Juniors in 2009. He accepted that offer and he first joined them in the loan. After that he joined, Spanish club Sevilla in 2011 and English club Cardiff City in 2013.
Of the close to 300 matches of his professional career, perhaps none sum up Gary Medel better than the 2010 Super Clasico between Boca Juniors and River Plate. Having scored the opener in one of football's most fearsome derbies.
While at Sevilla, if not playing, he would often watch the game in the stands with supporters. Cardiff fans took him to their hearts too, particularly early on in the campaign, the passion he showed for the Bluebirds, set him apart.
He joined Internazionale on 9th August 2014, after playing a FIFA World Cup in 2014 from Chile National Team.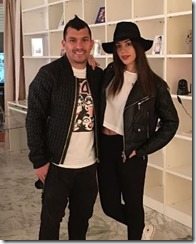 Lovely Cristina Morales was born in Spain, she is a sports journalist. She hold a degree in Communication Science from the Universidad de Gales.
Cristina Morales has worked for Granada CF TV. She and Medel have been dating for three and half years.
Cristina Morales is the mother of the couple's daughter. Though her man is the father of two young boys, Cristina gave birth last year to an adorable baby girl whom the couple named Alessandra.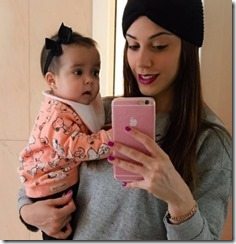 Both Cristina Morales and her baby daddy are super vocal on social media about the love for each other. The 28-year-old player often post tender messages saying how much he misses Morales. In return, Morales who is at home in Milano taking care of their baby daughter, posts images of the adorable baby girl along with loving messages of support for her man.
She has over 100K followers on Instagram.
You can check her out on Twitter here.