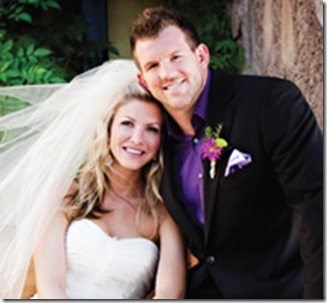 Isn't that a lovely couple? You might recognize the current ranked #9 Light Heavyweight in the world Ryan Bader, but the lovely woman next to him is his wife and mother of his children, Daisy Bader.
Daisy and her beau were married at the end of October 2010, the happy couple became first time parents just last year when they welcomed a baby boy on April 22! And this year for the second time to a beautiful baby girl.
To the couple's wedding attended HW Champ Cain Velasquez, CB Dollaway, and Jay Glazer. Daisy Earnhardt looked gorgeous the day of her wedding, she comes from a beloved Arizona family, the Earnhardts who are the owners of Earnhardt Ford dealer. To her wedding the girls wore dresses in different shades of purple and every little detail was taken care of! She looked absolutely spectacular!
A funny tip about their wedding/fight day was that they actually gave out "tickets" for invitations just as if it was a fight people were coming over to witness! The "bout" as they called it, took place on October 30 2010 at Encanterra Country Club, San Tan Valley Arizona.
They currently live in Chandler, AZ; on her twitter Daisy says:
Loving Momma x2, Proud UFC Wife, Conservative, Pro-Life, ASU Grad, Power MMA and Fitness, Oopsie Daisy Baby Accessories

Home of the Devils
On an article from a few years back it said the vivacious blonde changes car every month or so, but while she's certainly beautiful and wealthy, there's no denying Earnhardt is down-to-earth.
'When I think of a socialite, I think of someone who's snobby, high-maintenance and into brand names."
During her single years Daisy worked full time at Earnhardt Ford, where she helped coordinate marketing events. She grew up in Queen Creek, graduated from Gilbert High School in '99 and went on to Arizona State University, where she graduated with a bachelor's degree in communication in 2004.
The daughter of Tex's son Hal, Daisy has three siblings: Dodge, who is being groomed to take over the family business; Derby, an ASU business major; and Dream. She was described as the East Valley's version of Paris Hilton and with her looks she can certainly pull it off don't you think!
Follow the gorgeous gal on twitter here.