Tim Tebow, the two-time national champion, first round NFL draft pick, and Heisman trophy winner is in the news, but this time is not about his football prowess. Tebow played three years in the NFL for the Denver Broncos, New York Jets and New England Patriots.
The 28-year-old showed to be a true leader and a top notch human being when a man suffered a heart attack on the same Delta flight he was in. According to reports Tebow and the flight crew leapt into action over the weekend to help a man experiencing a medical emergency.
According to one of the passengers on the flight, Tim approach the family of the man experiencing the medical emergency and offered his support with a prayer. The passenger who wrote about the story on a Facebook post said: "He met with the family as they cried on his shoulder! I watched Tim pray with the entire section of the plane for this man. He made a stand for God in a difficult situation"
Another passenger who sat right behind Tim also shared a photo of the former Florida quarterback –who has not spoken about the incident.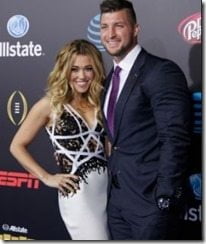 Pin
Everyone familiar with the player knows it is not the first time he shows public displays of his Christian beliefs. As a matter of fact is something that plays in every aspect of Tebow's life, including his romantic side.
We are sure there are a lot of women out there who would kill for a chance with Tebow but things are not so simple. He was in an alleged relationship with ex Miss Universe Olivia Culpo and was also romantically linked Camila Belle, Lindsey Vonn, Dianna Agron, Brooklyn Decker, Jessica Biel, Taylor Swift and most recently to actress Nina Dobrev.
Back in February he told Ellen DeGeneres he was single and revealed what he looks in a partner saying:
"Obviously someone that I'm extremely attracted to, but I think there has to be more there. There has to be depth. Obviously you have to have similar beliefs you have to have chemistry, character, but there has to be something more than just glitz and glamour"
There you have it ladies…Tim Tebow is currently a college football analyst for the SEC Network, which launched in August 2014. He appears mainly on the SEC Network as co-host of SEC Nation, a traveling pre-game show. The son of missionaries, also contributes to a variety of ESPN platforms including SportsCenter, ESPN Radio, and the network's Heisman Trophy coverage, offering in-depth perspective as a legendary SEC player himself.